Turks and Caicos
Art Galleries & Studios
The Grace Bay region on Providenciales is the center for art galleries and luxury shopping in the Turks and Caicos. Most shops and galleries tend to be found in one of the shopping plazas in Grace Bay, including the Saltmills, Regent Village, Ocean Club West Plaza, and Ports of Call. Several plazas are in close proximity to each other, so it's convenient to browse many galleries on foot.
As may be expected, the incredible marine environment and spectacular beaches of the Turks and Caicos serve as an inspiration for much of the art created locally. Every artist has their own perspective, interpretation, and media, yet the ocean, and blue, turquoise, and topaz are generally the prevailing theme and colors. There are thousands of paintings to browse through, including colorful works done with acrylic, oil, and watercolor.
There's a wide array of Turks and Caicos scenes represented, including well-known coasts such as Grace Bay Beach, Mudjin Harbour, Sapodilla Bay, and Blue Hills, as well as often-overlooked yet beautiful beaches such as Northwest Point, Bambarra Beach, and Three Marys Cays.
Sculpture
Sculptures can also be found in our local galleries, albeit the collection isn't quite as extensive as it is with paintings. Many pieces are either wood carvings, or additive works that incorporate driftwood, shells, conch, and corals. Glazed ceramic tiles are another colorful option.
Local Artists
The Turks and Caicos supports a fascinating collection of artists, both from the islands and abroad.
If you're looking for something unique, several local artists and galleries specialize in original paintings. Making Waves, a working studio and gallery at Ocean Club Plaza for artist Alex Skye, is one such location.
There's a great selection of fine art photography as well. As with paintings, ocean and beach scenes are popular, and prints on a wide range of media are available, including face-mounted acrylic, aluminum, canvas, and matted prints. Prints can be found in sizes ranging from tiny desktop examples, to large format prints that are several feet wide. Many photographers are able to accommodate custom sizes, triptych displays, unique mediums, and specific beaches and locations that may hold special significance.
Silk, glass, ceramic, and glazed works offer another interesting perspective. Many of these crafts are perfect gifts or reminders of your vacation in the Turks and Caicos.
Exporting Art From the Turks and Caicos
Bringing a large artwork back home from the Turks and Caicos can be a daunting task, especially for larger pieces. Several local shops are happy to help with international shipping, and also have unmounted paintings that are easier to carry back on your return flight. Crating can also be arranged through local galleries.
Art Classes
One activity that's popular with locals and visitors alike is art and craft classes that are hosted by local studios. These events are a great way to meet local talent and practice techniques, and are offered as scheduled classes or privately.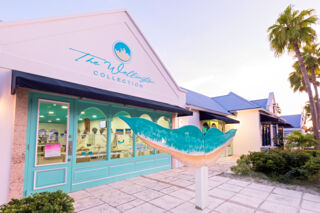 The Wellington Collection
The Wellington Collection is a jewelry, gift, and art shop found in central Grace Bay at the Saltmills Plaza. The store features a wide range of unique handmade souvenirs and paintings, nearly all of which are creations of local artist and jeweler Wellington Williams.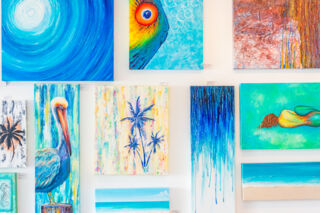 Driftwood is a quaint working studio and art gallery of local artist Lucie Winton. Explore a collection of original paintings, textiles, ceramics, and crafts. Organized art classes are also offered, and are popular with visitors and locals alike.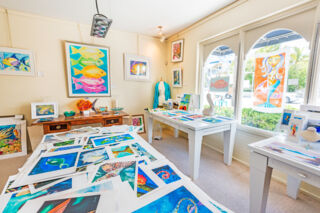 Displaying a wide selection of work from local artists, this impressive gallery offers paintings, watercolors, jewelry, sculptures and more. Located at the Saltmills Plaza in central Grace Bay and within easy walking distance of many resorts.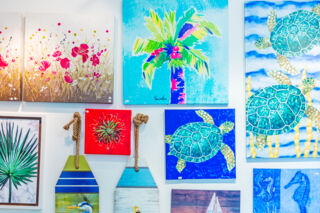 ArtProvo is an arts and crafts gallery in central Grace Bay at the Regent Village. Browse paintings, fine art photos, jewelry, seashells and more.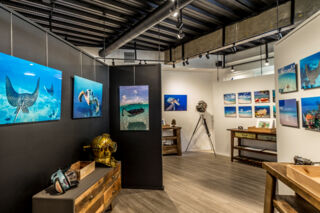 Brilliant Studios Gallery
Explore exquisite fine art prints at the Brilliant Studios Gallery at the Saltmills Plaza in Grace Bay. Brilliant Studios is an award-winning and long-established boutique wedding and portrait studio in the Turks and Caicos, and their new gallery reflects the passion they have in capturing the incredible vistas of the Turks and Caicos.
Making Waves is a small yet select art gallery and working studio in Grace Bay. There's a colorful collection of original paintings to explore, as well as unique crafts.