Providenciales
Gift & Souvenir Shopping
The Island of Providenciales offers a wide offering of gifts and tourist souvenirs. Most of the tourist-oriented gift shops are located at a shopping plaza in the Grace Bay area of Providenciales, within easy walking distance of the majority of hotels and resorts.
Many of the local shops sell mass-produced tourist souvenirs, such as shot glasses stamped with 'Turks & Caicos', but they are increasingly also selling locally produced artwork, gifts, and other souvenirs.
Prices for locally produced souvenirs are more expensive, but in our opinion, the quality and uniqueness of these products make them a better option than the typical generic 'I ❤ the Caribbean!' t-shirts you find at other Caribbean cruise ports.
What's Local?
The locally made and authentic Turks and Caicos gift and souvenir options have been steadily increasing over the last few years.
Today, there's fashion, flavors, jewelry, arts, and crafts to choose from.
Designer Fashion
Many of the luxury retailers have begun to offer some of the well-known international fashion brands, and there's also a selection of home-grown Turks and Caicos designers, including the silk scarves and resort wear of Sea Sage, the Caribbean lifestyle clothing of Konk Apparel, and the casual yet refined I Want To Live On An Island shirts.
Sea Sage
Sea Sage offers a unique collection of elegant silk and print scarves, swimwear, pillows, and kaftans, with colors and print designs that are inspired by the natural beauty of the Turks and Caicos.
Konk Apparel
Konk Apparel is about an active lifestyle and offers limited-run accessories and clothing. The conch, a popular symbol of the Turks and Caicos, is incorporated into the Konk Apparel logo and also factors into many pieces. The selection includes hats, shirts and tops, backpacks, sunglasses, and more.
I Want To Live On An Island
These vibrant and stylish shirts convey a simple yet common sentiment held by visitors and locals alike. 25% of the proceeds from this brand directly go to children's education in the Turks and Caicos.
Jewelry
Atleys is a Turks and Caicos jewelry designer that primarily works with silver, and incorporates sea glass and semi-precious stones. It's often possible to have items personalized.
Some of the local jewelry features conch pearl settings. These very rare pearls are produced by the queen conch, and may be one of a number of beautiful hues, including pink, peach, white, or orange.
Foods and Drinks
Turk's Head Beer and Bambarra Rum are our two local alcohol flavors. The beer is brewed on island and is offered in lager, IPA and amber types. Both Bambarra Rum (named after the Bambarra settlement on Middle Caicos) by the bottle and Bambarra Rum Cake is available.
TCI Coffee Roasters roasts organic Arabica beans in Grace Bay on Providenciales. There are quite a few blends to choose from, which can be had either ground or as whole beans.
Several varieties of hot sauces and seasonings, made from locally grown produce, are offered at many shops on Providenciales.
Locally made caramel, topped with excellent sea salt from Salt Cay, is a great idea for those with a sweet tooth.
Art and Crafts
Handmade woven crafts make up some of the more authentic gifts, the designs and construction techniques of which were derived from necessary basket-making and boat-building trades of time past. These items include baskets, dolls, and mats. A little common yet still available are model Caicos Sloop sailboats.
There's a wide array of original paintings and watercolors offered in the art galleries on Providenciales. These works cover every aspect of Turks and Caicos life, including our beaches, landscapes, and people.
If you're looking for the perfect reminder of your vacation in the Turks and Caicos, a fine art landscape photograph of our exquisite beaches and coastlines is another option.
A newer and intriguing gift idea is the Mystical Seas boutique coloring book by local artist Alizee Zimmerman, which features patterns and settings inspired by the Beautiful by Nature Turks and Caicos.
Gift Shops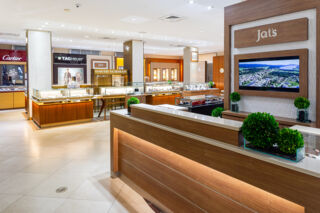 Known for high quality standards, an outstanding selection of international luxury brands, and attentive personalized support, Jai's has been the leader in luxury duty free shopping in the Turks and Caicos Islands for over 20 years.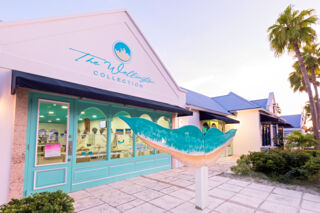 The Wellington Collection
The Wellington Collection is a jewelry, gift, and art shop found in central Grace Bay at the Saltmills Plaza. The store features a wide range of unique handmade souvenirs and paintings, nearly all of which are creations of local artist and jeweler Wellington Williams.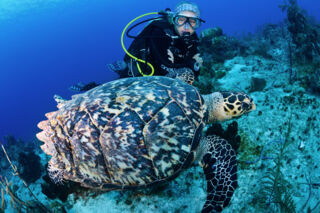 Dive Provo offers a wide array of services, from one, two and three-tank dives, to custom charters and night dives. Nitrox, PADI courses, snorkeling trips, and camera rental are also available. Dive Provo's retail store and booking location in Grace Bay has one of the best selection of masks, fins, snorkels, and activewear on Providenciales.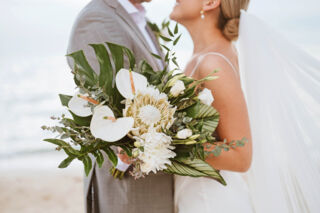 Flowers by EA are leading florists in the Turks and Caicos, with a shop in central Grace Bay on Providenciales. Specializing in boutique destination wedding and event arrangements.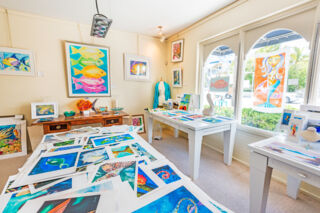 Displaying a wide selection of work from local artists, this impressive gallery offers paintings, watercolors, jewelry, sculptures and more. Located at the Saltmills Plaza in central Grace Bay and within easy walking distance of many resorts.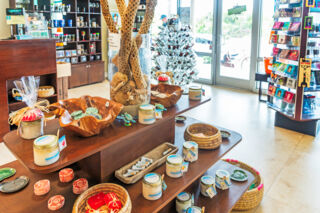 Flavors of the Turks and Caicos
FOTTAC is a boutique retail shop in Grace Bay that specializes in food and drink products that represent or are made in the Turks and Caicos. Explore rum and rum cakes, hot sauces, candy, and more.
Located in the Graceway Plaza, Unicorn Bookstore stocks books, games and toys. Many hard to find books on the Turks and Caicos are sold here.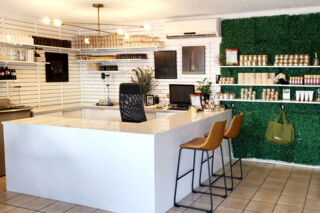 Based in Caicos Café Plaza in Grace Bay, the small family-owned and operated company creates all-natural skincare products using organic, locally grown flowers including frangipani, bougainvillea, wild orchid, gardenia, and many more.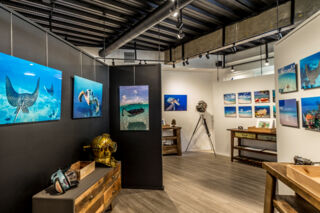 Brilliant Studios Gallery
Explore exquisite fine art prints at the Brilliant Studios Gallery at the Saltmills Plaza in Grace Bay. Brilliant Studios is an award-winning and long-established boutique wedding and portrait studio in the Turks and Caicos, and their new gallery reflects the passion they have in capturing the incredible vistas of the Turks and Caicos.