Providenciales
Getting Around & Transport
Car Rentals, Taxis, and More!
Although Providenciales is a relatively small island at 38 square miles (98 sq km), getting around can be both difficult and expensive if you don't have a car. If you'd like to explore the island or see more than what is within walking distance of your accommodation, we recommend that you rent a car for at least part of your stay. Taxis are widely available on Providenciales, yet tend to be a bit expensive.
The Turks and Caicos does not have any organized public transportation. On Providenciales, illegal and unlicensed 'jitney' taxis have taken the place of bus services. We advise avoiding these completely due to their erratic and dangerous driving, and occasional overinflation of rates charged to tourists.
Driving and Vehicle Rentals
Rental cars and jeeps are the most cost-effective method of transport. Outside of the central Grace Bay region, attractions, restaurants, and shops tend to be spread out across the island, with transit distances that are typically too far for walking.
As is the case in the UK and many British Commonwealth countries, we drive on the left. Roundabouts are frequently used, and there are no stoplights anywhere in the country. The speed limit is 40 mph (64 km/h) on highways, and 20 mph (32 km/h) through settlements. Nearly all of the main roads on the island are paved.
If you're unfamiliar with roundabouts and driving on the left, we strongly suggest that you look at Driving in the Turks and Caicos.
Be aware that local rental agencies generally hold renters financially responsible for any damage that occurs while driving off-road. Attempting the rough roads out to the remote Northwest Point National Park, Malcolm's Road Beach, and West Harbour Bluff in a low-clearance car often results in vehicle damage.
Local drivers can be dangerous and reckless, so you are advised to remain alert. Be prepared for cars to stop suddenly in the road or to cut in front of you for no apparent reason.
Choosing a Rental Vehicle
On Providenciales, we recommend renting a car, jeep, or SUV instead of scooters or specialty vehicles (such as 4x4 buggies and tricycle roadsters). Reasons include cost, safety, and protection from the sun.
Outside of the Grace Bay and Bight regions, scooters should be driven with great caution. On Leeward Highway and throughout much of the island, speeding and reckless driving is very common.
Existing Damage on Vehicles
Important: Inspect your rental vehicle before hiring and ensure that any/all damage is recorded. Do not accept a verbal assurance that any damage present won't be attributed to you.
If you notice any damage or broken features on your vehicle, ensure that these issues are recorded on your rental agreement. This especially applies to scooters and specialty vehicles.
There have also been reports of mechanical issues being noticed by renters before leaving with the vehicle. After these issues were brought to the attention of employees of the rental agency, the renters were assured that they wouldn't be held accountable. After returning the vehicle, the renters were billed for repairs.
If your vehicle appears to be in poor condition or not operating properly, either ask for a replacement or use a different rental agency. Unlike the other islands in the country, most of the rental fleets on Providenciales are relatively new and in good condition. There is no reason to rent a poor-condition vehicle.
Taxis
There are usually taxis waiting at the main resorts, at the Providenciales International Airport (PLS), and at the Graceway IGA on Leeward Highway. If you're not at one of these locations, you'll probably have to call for one.
Most taxis are metered and there is a government fixed rate for distances, but it's a good idea to confirm the cost to your destination before beginning your journey. Be sure to confirm that the quoted rate is for your entire party, and not per person.
Cycling
We generally don't recommend cycling outside of the Grace Bay region of Providenciales. This is due to several reasons, including reckless drivers, a lack of cycle lanes, and the intense heat and sun.
Several resorts and villas offer complimentary bicycle use, and rentals are available from several businesses.
More information on recommended routes, distances, and rentals can be found in our cycling section.
Popular Transport Businesses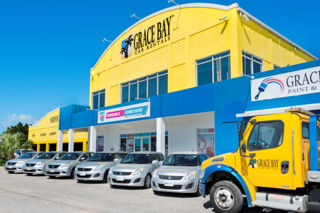 Grace Bay Car Rentals has one of the largest fleets in the Turks and Caicos, with a wide selection of car, minivan, SUV and 4x4 options. Delivery or pickup from your accommodation or the airport included. The main Grace Bay office is located within easy walking distance of most resorts on the island.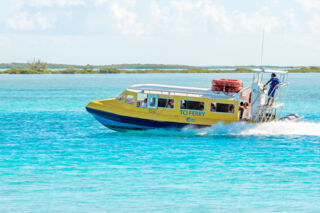 Located at Heaving Down Rock Marina on the east end of Providenciales, Caribbean Cruisin' is the primary passenger ferry service operator in the country, with routes from Providenciales to North and South Caicos. They also provide jet ski rentals and tours, boat charters, and excursions, and water sports.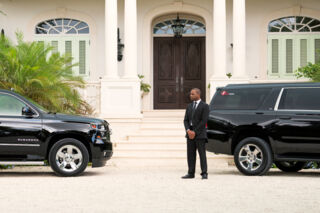 Fast Track Transport is a luxury private car service, with punctual and impeccable rides via Chevrolet Suburban SUVs or BMW 5 Series cars. VIP car service is perfect for airport transfers or general transportation needs at Providenciales and Grace Bay.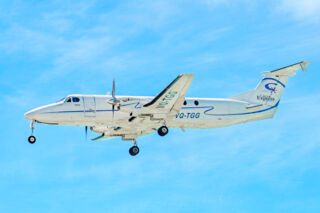 Caicos Express is a Turks and Caicos airline that offers scheduled domestic and international flights to many cities, and also offers custom charters as well.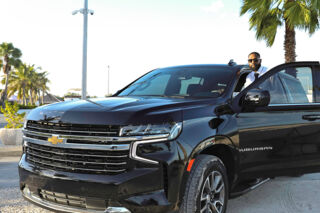 LIV Transport is a professional private car service, based on the island of Providenciales. The company provides punctual transport via elegant and modern full-size luxury SUVs. Services include Providenciales airport transits and general VIP car service for Grace Bay and the island.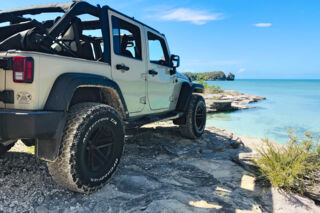 Explore Providenciales by Jeep Wrangler! Our premium and modern soft top jeeps are the perfect complement to a vacation in the Turks and Caicos. Discover beautiful and secluded beaches. Personal, friendly, and professional service.
South Bank Marina is an upscale marina, port of entry, and vessel service and repair site that caters to yachts and recreational vessels. High-quality fuel is available, as well as a wide range of repair, maintenance, and marine concierge services.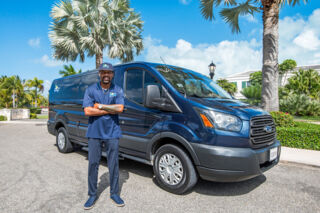 Sea Breeze Taxi and Tours
Sea Breeze Taxi and Tours provides reliable transportation services throughout the island of Providenciales. Specializing in airport pickup and drop-off, island tours, grocery trips, bar-hopping and much more.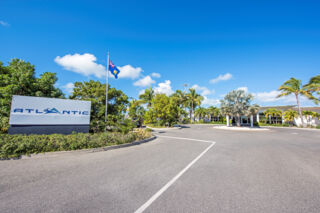 Atlantic Aviation is a full-service private aircraft fixed-base operator, located at the Providenciales International Airport. The facility offers a wide complement of ground and concierge services, has their own modern fuel depot and distribution, and 11 acres of aircraft parking onsite.