Turks and Caicos
Skincare & Beauty Shopping
For those spending time on an island in the tropics, skincare is of the utmost importance. While time spent in the sunshine and saltwater can be nourishing for the soul, it can also do a number on your skin. And that's why skincare is so important—for all people, but especially for those who are constantly exposed to the elements in a tropical environment.
Luckily, the Turks and Caicos is home to a handful of local skincare companies that help both those who call the islands home and those who come for a short stay to keep their skin healthy and moisturized to counteract the aging effects of the sun, and the drying effects of saltwater and wind.
Local Brands
Island Organics
One of the best-known skincare companies in the country is Island Organics—a family-run business that started in 2014 out of the home of Arlene Hall. Back then, Arlene would experiment with traditional medicinal ingredients from the local bush to create a soothing ointment for her daughter's psoriasis. She concocted soap recipes with ingredients such as neem, moringa, purslane, and aloe vera, to name a few, before she expanded to include internationally sourced oils in her creations.
Today, The Studio by Island Organics is found in Saltmills Plaza. Here, visitors can shop from an extensive collection of soaps, as well as bath bombs and mosquito repellents.
Salt Cay Salt Works
Another local skincare company using local resources for their products is Salt Cay Salt Works. Once the center of the salt industry in the Caribbean (hence its name), the tiny island is still home to salinas from which salt can be harvested.
Salt Cay Salt Works has taken advantage of the local resource, utilizing the local salt to create bath salts, as well as culinary salts. The local Salt Cay-based company also makes soaps using natural ingredients and the essential oils of frangipani, coconut, mango, and ginger.
Wildflower Skincare Lab
Meanwhile, on Providenciales, new skincare company Wildflower Skincare Lab launched in 2021. Based in Caicos Café Plaza in Grace Bay, the small company creates all-natural skincare products using locally grown flowers, such as frangipani and bougainvillea with a range that includes anti-aging, spa, cleansers, sunscreen, and baby products.
Wildflower is the first ever 100% custom skincare facility of its kind in Turks and Caicos which gives visitors and locals the opportunity to meet with a certified formulator to create custom skincare formulas on the spot based on your requests.
For those who call the Turks and Caicos home, shopping from local skincare companies not only offers the opportunity to support local businesses, but also provides a sustainable way to shop for skincare products rather than relying on products that are imported from afar.
For visitors, it's a chance to take home an authentic piece of the Turks and Caicos—a souvenir that not only will remind them of their time in the islands, but will also be a useful product for their skin using natural, island-based ingredients.
Whether shopping for lotions, sunscreens, or body wash, shoppers who are looking to support local skincare companies in the Turks and Caicos have some high-quality options to choose from.
Local Shops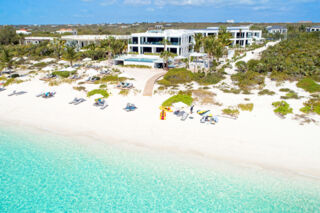 The water sports shop at H2O Resort on Long Bay Beach offers a wide collection of beach and water sports clothing, sunglasses, footwear, Sun Bum sunscreen products, water bottles, and kiteboarding equipment.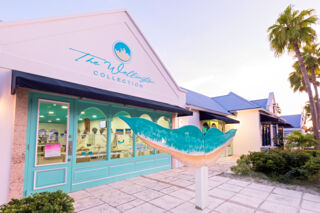 The Wellington Collection
The Wellington Collection is a jewelry, gift, and art shop found in central Grace Bay at the Saltmills Plaza. The store features a wide range of unique handmade souvenirs and paintings, nearly all of which are creations of local artist and jeweler Wellington Williams.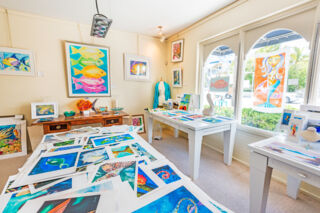 Displaying a wide selection of work from local artists, this impressive gallery offers paintings, watercolors, jewelry, sculptures and more. Located at the Saltmills Plaza in central Grace Bay and within easy walking distance of many resorts.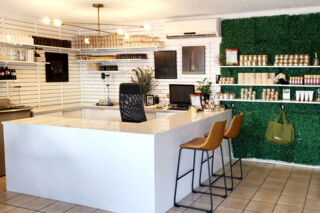 Based in Caicos Café Plaza in Grace Bay, the small family-owned and operated company creates all-natural skincare products using organic, locally grown flowers including frangipani, bougainvillea, wild orchid, gardenia, and many more.