Turks and Caicos
Destination Wedding Guide
An Incredible Tropical Wedding Destination!
Special thanks to Tropical Destination Management for providing photographs.
Imagine getting married in the Turks and Caicos Islands on a beautiful, white sandy beach with sparkling turquoise water in the background. For many, it's truly a dream wedding setting.
The popularity of the Turks and Caicos as a destination wedding choice has expanded greatly in recent years, boosted by a few high-profile celebrity weddings.
This guide offers information and hints on hosting the perfect Caribbean destination wedding.
Planning your Turks and Caicos Wedding
The first step to planning a Turks and Caicos wedding is to decide which of our islands is the perfect destination for your special day. Each of our islands and cays is unique, with its own beaches, atmosphere, and levels of development. The island of Providenciales is home to world-famous Grace Bay Beach and hosts much of the tourism in the country. However, our less-populated boutique islands should also be in the running when seeking a place for a wedding.
The next consideration is the venue for the ceremony and dinners. One of our stunning white sand beaches is an obvious choice of a setting, yet many of the resorts also feature event halls, some larger villas have beautiful gardens and courtyards, and there's a wide selection of churches on Providenciales and Grand Turk.
Many of the luxury resorts on Providenciales offer tailor-made wedding packages for couples and their guests, although you may opt for a more secluded ceremony at one of the private beachfront villas.
The all-inclusive Beaches Turks & Caicos resort (part of the Sandals group) offers their trademark WeddingMoons package, which includes planning services, dinners, photography, and spa visits.
Wedding Planners
It's highly recommended that you work with a local wedding planner to help manage all aspects of the event.
There's a great number of arrangements and bookings that have to be made for an island event, and a wedding planner will know who's reliable and where to find everything. In addition, if you'll be importing any food or items, you'll have someone to take care of local customs duty processing and shipping.
Catering and Wedding Cakes
The dinners and wedding cake are essentials, and require thought and ample time for reservations.
You have the options of reserving with and dining at a restaurant, or utilizing the services of a caterer and hosting at a location of your choice. There are several long-standing and experienced catering companies.
The local caterers will be able to offer insights into cuisine and flavor selection. As a tropical archipelago, our authentic dishes of course center around fresh seafood, yet almost any food or ingredients can be imported by air.
Romantic dinners can be set up right on the beach at several beachfront restaurants, or one of the island's private chefs can cater to your villa. Local businesses maintain an arsenal of tents, tables, chairs, lamps, and place settings for outdoor dining.
Wedding Photographers
Capturing and preserving the important moments of tying the knot is especially important.
Providenciales supports most of the photographers in the Turks and Caicos, however many of these professionals will be willing to travel if you'd like to host a wedding on one of our family islands.
We highly recommend that you browse the galleries of the local studios to find a photographer who fits your desired style.
The selection of local businesses offering boutique video services is a bit more limited. A few of the studios have full-time and skilled videographers.
Flowers and Décor
It's important that choices and bookings for flowers, decor, place settings, and ambiance are made well in advance of your important date as flowers and other items will likely have to be imported, and the choice of local décor and settings is limited, and may be reserved by other events and weddings.
Local Flowers
If you're looking to avoid importing flowers, there are a few options.
The Turks and Caicos is home to several stunning native flowers, yet due to the limited numbers of these plants the common choice are features made from the bougainvillea, a landscaping plant that features vibrant blooms that may be purple, red, pink, peach, or white.
The Wedding Ceremony
The ceremony has to be performed by a local Justice of the Peace, a minister, or a registrar. It can happen anytime and anywhere. See Wedding License and Legal Requirements for a detailed list of the documents you'll need.
DJs and Entertainment
Providenciales offers the best selection of DJs, musicians, and bands. In terms of live music, the options range from local genres to pop and rock.
Accommodations
There's an excellent array of hotels and villas to choose from in Turks and Caicos, spanning luxury resorts, quiet hotels, and rental villas of every size.
If several room bookings are to be made, you'll want to contact the resort or hotel directly as you'll likely be able to get a rate that's better than what's posted online.
Depending on your party size, one of the larger vacation villas may be perfect for the entire wedding party, as some of the more expansive mansions offer more than ten rooms.
It's important to be aware of the tourist seasons in the Turks and Caicos. The winter "high season" has greater arrival numbers than the late summer and fall months, and due to this the rates are higher and rooms may be limited during the high season. If you're planning your wedding for this time, you'll want to book well in advance. For more information, see Best Times to Visit.
If you're looking for privacy, consider the boutique island retreats of Parrot Cay and Pine Cay. Both of these sites feature all-inclusive resorts with a great array of amenities.
Honeymoons
There are many options for starting your new life together, from the family-oriented Beaches Resort, to the exclusive Amanyara, to a good balance at one of the beachfront luxury resorts right on Grace Bay. There's a wide range of things to do, from horseback riding down the beach, to one of our many water sports, to getting out in the wild and visiting some of our beautiful natural sights.
If you're looking for a quiet setting and unique experience, a great honeymoon spot is one of our smaller islands. There isn't much development on these pristine islands and cays, and you'll likely have an entire beach to yourselves.
Featured Businesses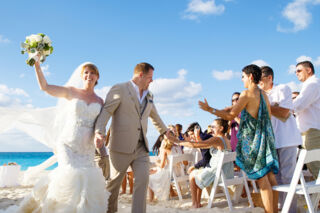 Tropical Destination Management
Tropical Destination Management has been planning weddings and events on island for over 8 years. From intimate weddings for two to groups of two hundred they can make your dream wedding into a reality. They will assist you with everything from photography, to entertainment, to caterers and décor.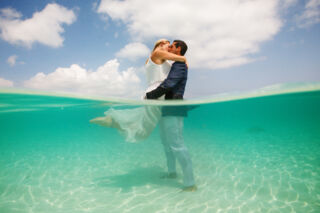 With over 20 years' experience operating in the Turks and Caicos, award-winning Brilliant Studios specializes in destination wedding and family photography.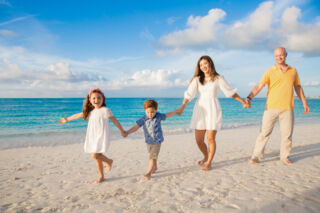 Paradise Photography is a full service photography company specializing in weddings, portraits and events, and boutique video production.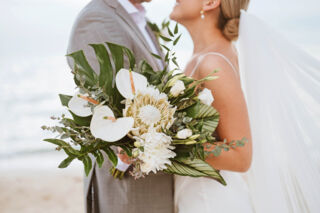 Flowers by EA are leading florists in the Turks and Caicos, with a shop in central Grace Bay on Providenciales. Specializing in boutique destination wedding and event arrangements.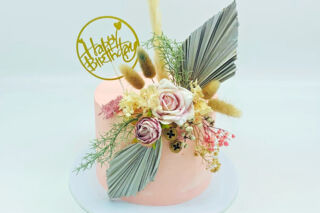 The Cake Lady offers custom and specialty cake and dessert creation for special events, including birthdays, weddings, anniversaries, and more. Choose from a very wide collection of flavors, with styling of your choice.