Providenciales
Water Sports & Beach Shopping
As a tropical island vacation destination, there's a wide selection of shops on Providenciales offering everything you'll need to enjoy our exquisite beaches and ocean.
Generally, you'll be able to find most water sports and beach items at one of three locations on Providenciales: at a shopping plaza in the tourism district of Grace Bay, at Graceway Gourmet supermarket in Grace Bay, or at the Do It Best building center on Leeward Highway.
Purchasing Items May not be Necessary
Keep in mind that many accommodations, especially vacation rental villas, offer a wide range of amenities, which typically includes the complimentary guest use of beach chairs, umbrellas, towels, snorkeling gear, beach toys and floats, and kayaks and stand-up paddleboards.
Contact your accommodation for information on what they may provide.
Buy at Home or in the Turks and Caicos?
Almost anything you'll need can be found on Providenciales, yet it's undeniable that the local prices will typically be much higher than what you'll pay back home due to customs duties and import costs in the Turks and Caicos.
For low-value items such as inflatable beach toys, local prices will be about double the average cost in the United States, and with greater cost items such as high-quality dive and snorkel masks, the rate difference is typically a little less at 50%-80% more.
Another consideration is the luggage restrictions of airlines, which are becoming increasingly strict.
Snorkeling and Diving Equipment
We have extensive reefs and marine sights, and as such, you'll have no difficulty finding the perfect snorkel mask or fins for your underwater adventure.
For a proper fit, it's essential that there's a sufficient selection to choose from. Everyone's different, and a poorly fitting mask will seriously detract from your snorkeling experience.
Higher-quality masks and equipment, and expert advice on fitment, is generally only found at the dedicated dive shops. Low-cost mask, snorkel and fin sets can be purchased at many gift shops and grocery stores.
With proper care and storage, a decent snorkel set will last years. If you'll be making regular visits to a tropical destination, consider purchasing high-quality equipment.
Beach and Ocean Attire
There's a great selection of shops in the Grace Bay area that offer all types of beach and ocean attire. You'll be able to find rash guards, bathing suits, T-shirts, and footwear for adults and children. Shops such as the Blue Surf Shop, the Dive Provo, and the Caicos Adventures shop offer the widest collection of ocean and sun apparel.
Toys and Beach Chairs and Umbrellas
Graceway Gourmet and Do It Best offer the best selection of beach toys, umbrellas, and chairs on the island.
Waterproof Cameras
Blue Surf Shop carries a range of GoPro cameras and third-party water sports accessories.
Fishing Gear
See Providenciales Fishing for information on where to buy fishing gear. Keep in mind that fishing licenses are required, and there are many protected areas in the Turks and Caicos where fishing is prohibited.
Scooter Bob's
and
Walkin Marine
are the primary sources of fishing equipment in the Turks and Caicos.
General Water Sports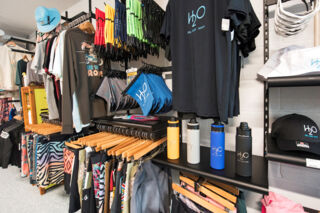 The water sports shop at H2O Resort on Long Bay Beach stocks a wide range of beach and ocean attire, sunglasses, footwear, sunscreen, water bottles, and kiteboarding equipment. Kiteboarding gear rental is also provided.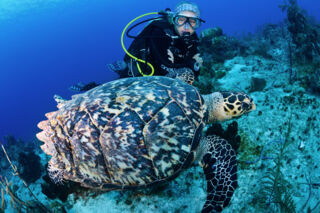 Dive Provo offers a wide array of services, from one, two and three-tank dives, to custom charters and night dives. Nitrox, PADI courses, snorkeling trips, and camera rental are also available. Dive Provo's retail store and booking location in Grace Bay has one of the best selection of masks, fins, snorkels, and activewear on Providenciales.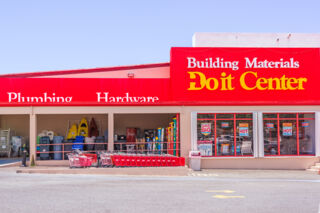 Building Materials Do It Center
Local Do It Center selling building supplies, tools, hardware, home décor and beach supplies.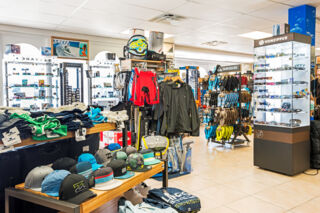 Blue Surf Shop provides a great range of water sports, active, and outdoor clothing and accessories. Explore a collection of polarized sunglasses, swimwear, water sports equipment, backpacks, and much more.
Fishing, Bait and Tackle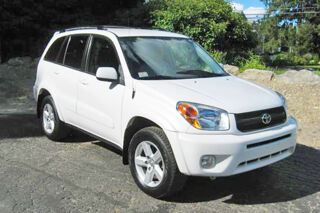 Scooter Bob's had been family-owned and operated since 1984, and is the oldest car rental company in the Turks and Caicos. The rental fleet includes jeeps, cars, vans, trucks, scooters, SUVs, and bicycles. Daily and weekly rental rates available. No-hassle and fast airport pick up–simply walk up and drive away with no wait!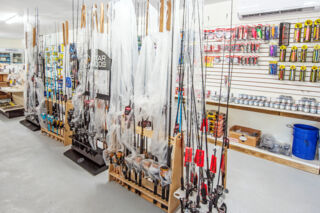 Established on Providenciales for almost thirty years, Walkin Marine is a retail shop for marine, fishing, and boating supplies, and a service center for small to mid-sized watercraft and vessels. Their location is near Downtown and Blue Hills, and about a 10-minute drive from central Grace Bay.