Turks and Caicos
Fresh Fish and Seafood Markets
Locally caught seafood has always been a staple fare in Turks and Caicos cuisine, and fresh fish, conch, and lobster, caught only minutes or hours prior, can often be found at several locations on Providenciales. There are several small dedicated fish markets around the island, and the larger supermarkets usually stock local seafood as well. Fresh seafood is also often sold in the central Downtown area near Town Center Mall by local fishermen who trade from coolers in the back of trucks.
The small fish markets and the informal sales offered from coolers in the back of pickup trucks at Downtown Providenciales typically offer much better rates than what can be found in the grocery stores, often at about half the supermarket prices.
Commercial fishing in the Turks and Caicos typically takes place via small 'conch boat' vessels, with two or three fishermen per boat. The ocean waters surrounding the Turks and Caicos are some of the cleanest in the world, so our seafood is exceptional. Fish (snapper and grouper) is usually caught on or near the barrier reef that encompasses the Caicos Islands, Caribbean spiny lobster is found on the barrier reef at inshore reefs, and queen conch is collected from relatively shallow Caicos Banks. South Caicos is the fishing capital of the Turks and Caicos, and exports seafood both locally to other islands, and internationally.
The larger grocery stores and a few fish markets also import seafood, including shrimp (which can't be viably fished commercially locally), salmon, and tilapia, which is used as a low-cost alternative to local grouper.
Prices and the Best Places to Buy Seafood in Turks and Caicos
Local seafood is typically sold by weight, and prices vary due to the catch and demand. At fish markets, grouper and snapper is roughly $8-10 per pound for whole fish, $14-17 per pound filleted, lobster tail is around $14-18 per pound, and conch is around $9-14 per pound.
Types of Fish and Seafood Available
Locally caught fish available in the Turks and Caicos includes several types of snapper, grouper, jacks, mackerel, queen conch, Caribbean spiny lobster, and sometimes deep-sea species such as tuna, mahi-mahi, and wahoo.
Prices are at seafood markets. Grocery stores and supermarkets typically have considerably higher prices.
Local Seafood Availability and Prices
Spiny Lobster
Common During August-April Open Season
$14-18 per Pound Tail
Queen Conch
Common
$9-14 per Pound
Yellowtail Snapper
Common
$8-10 per Pound Cleaned Whole Fish
Red Snapper
Somewhat Common
$12-18 per Pound Filleted
Gray Snapper/Mangrove Snapper
Common
$12-18 per Pound Filleted
Mutton Snapper
Common
$12-18 per Pound Filleted
Lane Snapper/Candy Snapper
Common
$8-10 per Pound Cleaned Whole Fish
Nassau Grouper
Common During March-November Open Season
$12-20 per Pound Filleted
Hogfish
Sometimes Available
$12-20 per Pound Filleted
Red Hind
Sometimes Available
$12-18 per Pound Filleted
Rock Hind
Sometimes Available
$12-18 per Pound Filleted
Cero
Uncommon
Prices Vary Widely
Mackerel
Uncommon
Prices Vary Widely
Mahi-mahi
Uncommon
Prices Vary Widely
Wahoo
Uncommon
Prices Vary Widely
Blackfin Tuna
Uncommon
Prices Vary Widely
Yellowfin Tuna
Uncommon
Prices Vary Widely
Skipjack Tuna
Uncommon
$8-10 per Pound, Filleted
Fishing Seasons
A few popular types of local seafood are subject to fishing seasons, and are not available year-round. The Caribbean spiny lobster season is open typically from August to mid-April. The Nassau grouper season is typically open from March to November. Conch does have a fishing season in the Turks and Caicos, yet it only applies to exports, and conch is usually available fresh and in restaurants year-round.
Best Fresh Seafood Restaurants
The Turks and Caicos has many popular and well-known fresh seafood restaurants, including establishments such as Bugaloo's Conch Crawl, Da Conch Shack, and Omar's Beach Hut. In our opinion, some of the best places to sample fresh seafood and local cuisine are Mangrove Bay Restaurant, located near Downtown and South Dock Road on Providenciales, and Sunset Café & Bar on South Caicos, which is located at Cockburn Harbour near the fish plant and docks.
Catch Your Own Fish
Catching your own fish is also an option! Local fishing charters are happy to take you out to some of the excellent fishing water around the Turks and Caicos, and help you catch snapper, grouper, mahi-mahi, tuna, wahoo, and more. They'll help clean your catch, after which you'll be able to cook it yourself, or take it to a local restaurant.
Local Seafood Markets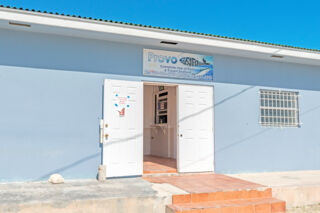 Provo Seafood is located directly on the docks at Five Cays on Providenciales, and located next to the popular Omar's and Bugaloo's restaurants. Stop by for the freshest seafood on Providenciales. The day's catch typically is brought in around late afternoon. Conch, lobster, snapper, and grouper is typically available.