Turks and Caicos
Post Offices, Shipping, & Courier Services
All of the main populated islands in the Turks and Caicos have a government-run post office. These offices hold mail for pickup, are able to send mail, and sell stamps. Local post offices do not offer the additional range of financial services found at many post offices in the USA, UK, and Europe (such as money orders).
There is no general postal service delivery in the Turks and Caicos, and everyone collects their mail directly from their island's post office..
Air and Sea Freight
There are several ways to send parcels, freight, and cargo to the Turks and Caicos, most of which are much less expensive by volume than either the postal system or a courier parcel service. For information, see Shipping, Air, and Sea Freight.
Many of the services offered on Providenciales especially cater to small shipments and less than container loads (LCL).
Stamps and Postcards
A mailbox is located in the Regent Village car park in Grace Bay, Providenciales, and at the Cruise Center in Grand Turk. Otherwise, post needs to be dropped off at one of the local post office branches.
Stamps and cards can be purchased from many gift shops in the Grace Bay area of Providenciales, and at the Cruise Center in Grand Turk (and at all post offices). Required postage for postcards is $0.40 for British Commonwealth destinations (such as Canada and the United Kingdom), and $0.80 for all other countries (including the United States).
Turks and Caicos Postal Code
The postal code for the Turks and Caicos is TKCA 1ZZ.
In the past, the country never relied on a postal or zip code. BWI (British West Indies) was occasionally used in lieu of an actual code, but is rarely seen today.
The use of the UK format postcode TKCA 1ZZ is now becoming increasingly common.
Courier and Delivery Services
Courier services are available on Providenciales and Grand Turk.
Providenciales has local branches of FedEx, DHL, UPS, and IBC (International Bonded Couriers). Except for IBC, delivery is typically offered and complimentary.
Grand Turk does not have local branches of any couriers, but delivery of FedEx shipments is provided.
For packages where customs duty is payable, a customs clearance fee (typically $15 to $25) is usually applied in addition to the duty amount.
Be advised that other international courier companies without local branches are often able to send packages to the Turks and Caicos. However, there may be extra fees applied by the local partner courier or airline that handles the final import into the country. If possible, consider using either FedEx, DHL, or UPS.
Post Offices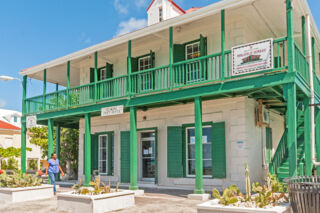 One of the beautiful old colonial buildings on Front Street in Cockburn Town, the Post Office is a great place to browse the colorful and interesting Turks and Caicos stamps, and of course, send letters and packages!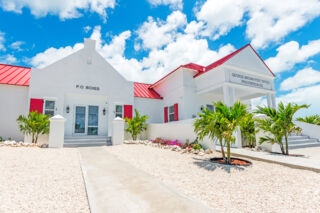 Providenciales Post Office (The George Brown Post Office)
The Providenciales Post Office is located in the Downtown region of the island, and near the airport. The complex, finished in June 2019, is christened after George Brown, who was the first known postmaster in the Turks and Caicos. This is the primary post office for Providenciales, the only other site being a small satellite collection of postal boxes at the Regent Village in Grace Bay.
Shipping and Courier Services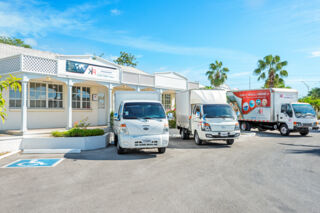 KR Logistics offers professional, insured, and accredited relocation services, moving, customs brokerage, and shipping, and has connections to certified relocation associations across the world. Move to or from the Turks and Caicos with peace of mind.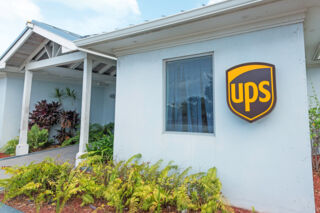 This is the main Turks and Caicos branch of UPS. The office is located on Old Airport Road in Downtown Providenciales. Shipments both into and out of the country are handled at this location.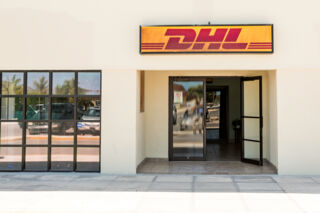 DHL Turks and Caicos offers both incoming and outgoing courier and parcel services. Limited domestic services are offered as well.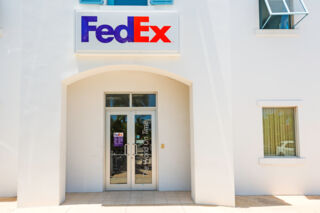 FedEx is primarily based on Providenciales with a mobile service on Grand Turk. Both international and domestic courier and package services are offered.