Providenciales
Duty-Free Shopping
Many countries impose a tax or customs duty on some types of imported goods or items. Generally, luxury items such as jewelry, alcohol, leather goods, and perfume are more likely to incur customs duty, and are also more likely to have higher duty rates than food and other essentials.
Duty-free items are typically imported under a special arrangement to be sold without paying any government tax, and is primarily for tourists returning home. Many destinations offer duty-free shopping to visitors as it benefits local shops and encourages sales that would not otherwise happen. Duty-free items are generally only available to visitors, and not residents of the country they are offered for sale in.
Duty-free goods, when combined with the customs duty exemption that many returning residents are allowed when entering their home country, can result in significant savings on some items. In many cases, the discounts will range from 30-50% off the typical price in a visitor's home country.
Residents and visitors to the Turks and Caicos are allowed certain customs exemptions, so it's possible for visitors to purchase duty-free items such as alcohol prior to departure from their home country, and then bring the products into the Turks and Caicos to consume during their stay. Visitors can then do the same on their return, and bring duty-free items home.
Where is Duty-Free Shopping Available?
On Providenciales, duty-free shopping is only available at the Providenciales International Airport (PLS). This is due to the difficulty in ensuring that the goods sold are taken out of the Turks and Caicos. The airport is home to Jai's, which features top-tier jewelry and luxury goods, and several stores which carry alcohol and tobacco products.
On the island of Grand Turk, the Cruise Center offers a decent collection of shops with duty-free jewelry, perfumes, and luxury goods. Duty-free alcohol and tobacco products are not available on Grand Turk. There are several international chain duty-free shops at the cruise port, including Dufry, Diamonds International, Milano Diamond Gallery, Columbian Emeralds International, and Effy Jewelry.
Drinking Age and Purchasing Alcohol
The Turks and Caicos has a minimum drinking age of 18. Identification may be requested by shops and stores for persons appearing younger than 21.
Returning With Goods to Your Home Country
Many countries allow returning residents to bring in certain amounts of goods without incurring customs duty. There's often a monetary value limit, and an allowance of alcohol, tobacco products, and perfume.
The customs duty exemption limits are typically detailed on a country's customs landing card, which are filled out by arriving passengers.
Popular Duty-Free Shops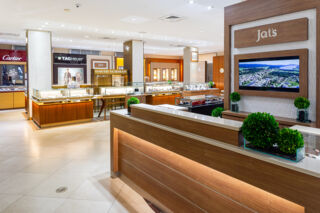 Known for high quality standards, an outstanding selection of international luxury brands, and attentive personalized support, Jai's has been the leader in luxury duty free shopping in the Turks and Caicos Islands for over 20 years.