Turks and Caicos
Photographers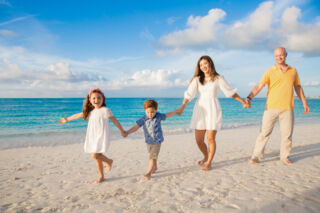 Paradise Photography is a full service photography company specializing in weddings, portraits and events, and boutique video production.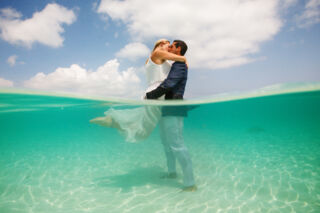 With over 20 years' experience operating in the Turks and Caicos, award-winning Brilliant Studios specializes in destination wedding and family photography.
A family or personal photo shoot should definitely be on your things-to-do list when visiting Providenciales. There are several excellent Turks and Caicos photography studios that will provide you with the perfect souvenir to take home with you. A photo session on location at the amazing turquoise waters of Grace Bay Beach can also be a fun experience.
Whether you're looking for a classic snapshot or a vintage look, your local photographer will help you capture that perfect moment. Many of our local photographers have won international awards and have worked with international magazines, such as Condé Nast Bride.
Photographers are able to work on location at your resort or villa accommodation, or can recommend a beach setting depending on your preferences. There are some amazing villas in Turks and Caicos, which are perfect for families, destination weddings, and event shoots.
The Best Photographers in Turk and Caicos
Every local studio and photographer has their own style, so we recommend browsing several galleries to find a look that you like. Some photographers specialize in certain areas as well, such as underwater or drone images and video.
The Turks and Caicos has attracted excellent and talented photographers from around the world, who've come to work in the incredible natural environment here. Many of our professionals have had backgrounds in international wedding photography and fashion, and have had works featured in national US magazines and publications.
A few of the larger resorts in the Turk and Caicos, such as Beaches and Club Med Turkoise, also have in-house photographers and videographers, which specialize in portrait, wedding, and honeymoon captures.
Beaches and Sunset Photo Shoots
There is a wonderful selection of beaches on Providenciales, including coasts suitable for sunrise and sunset shoots. Of course, there's no guarantee of an incredible and colorful display, however chances are in your favor.
Grace Bay Beach, consistently voted one of the best beaches in the world by countless travel and culture guides, is of course one of the most popular backdrops for photographs.
The prime sunset and sunrise shooting times are quite limited, so it makes sense to book well in advance with your chosen studio. There really is no substitute for a romantic sunset.
Another unique option is a combination island boat cruise and photo shoot, so the best moments and memories of your vacation can be captured. These private packages are put together by the photographer boat charter company and visit many incredible locations across the secluded cays and beaches around Providenciales. The photographer is able to capture great pictures during the trip, both candid shots and posed portraits, and are much better for illustrating the actual stories of a visit to our archipelago. There's a great collection of sunset charters and island hopping cruises to choose from, including trips aboard romantic sailboats and luxury yachts.
Drone Clear kayak Photography
Overhead clear kayak photos and video taken by drones has become very popular in the Turks and Caicos, as the images can look exceptional, and are perfect for social media.
Drone photography is available from several companies, including both the clear kayak tour guides, as well as photographers that specialize in just clear kayak and aquatic lifestyle photo shoots.
Underwater Photos
As a tropical destination with a spectacular marine environment, another great setting for photos is in or under the water. The beauty of the blue and turquoise water and white sand in our archipelago is a brilliant backdrop for images.
Underwater and over-under (split photos with half above and half below the water surface) photo shoots are available from a few of the local photographers. These interesting shots are a favorite with trash the dress wedding photo sessions.
Underwater photography is notoriously difficult, so having a professional with the right equipment on hand will give you the best chance of getting beautiful ocean shots.
Engagement, Wedding, Honeymoon, and Babymoon Photo Shoots
As is the case with family portraits, the Turks and Caicos and the Caribbean in general is the perfect backdrop for Wedding, honeymoon, and other events. The Turks and Caicos offers a small yet select group of award-winning professional wedding photographers, and their work has been recognized by leading international wedding media outlets.
Both photography and videography is offered, and our local studios are proud to show off their portfolios to prospective clients. There are also a couple of galleries to browse, which display fine art prints and large-format landscape shots.