Turks and Caicos
Fashion & Clothing Shopping
It's always 'resort season' (a term coined by the fashion industry) in the Turks and Caicos Islands, and there are a number of establishments stocked with just the right tone of white or the perfect level of billowy to keep visitors looking their best while on vacation. Whether it's linen, gold, or glamour you're after, there's something to suit all styles on Providenciales. Fashion treasure troves abound on the islands.
Resort Shops
The Boutique at Wymara is tucked away next to the resort's spa and houses a luxurious selection of beach and resort wear, including the Okaicos swim and lifestyle collection. The Turks and Caicos-inspired brand puts fit, form, and function at the core of its designs, while promoting positive mental health and support through mindful marketing. The apparel company's men's athletic stretch swim shorts are a favorite, offering a chic and comfortable replacement for faded, stretched-out swim shorts.
The Palms Turks and Caicos plays host to The Palms Courtyard Shops. These thoughtfully curated stores provide an upscale shopping experience that includes an art gallery, gourmet mini-market, and the Palm Shop, which offers a collection of gifts and branded apparel. Most notably, however, is Wish: a luxurious resort boutique catering to both men and women. Brands such as Bogosse, Velvet, and Taj adorn the airy boutique where service is attentive and transports one to what feels like a private shopping experience.
Coco Boutique, located at the Grace Bay Club, has a bespoke collection of clothing, swimwear, and accessories, as well as a fun and eclectic variety of beach toys and essentials. The large space is tastefully presented and makes for a pleasant shopping experience.
Shopping Plazas
Should visitors want to incorporate the highstreet into an afternoon of shopping, there are a number of locally owned stores that offer carefully selected apparel and accessories that cater to everyone's taste and budget. For those that enjoy sun, sea, and sports, don't pass by Blue in the Saltmills Plaza without stopping in. This bona fide (and only) surf shop on Providenciales stocks popular surf brands, which include beach necessities such as hats, sunglasses, reef-friendly sunscreens, and a wide range of Yeti products to keep your beach snacks and drinks cold. Stepping into Panoply Boutique, located at The Shops in Grace Bay, is like stepping into the perfect beach home, with flowing silk gowns, swimsuits, and a great selection of men's apparel. A brand synonymous with Turks and Caicos and available at Panoply (as well as other select boutique stores) is Sea Sage. Amy Brown, the brand's founder, creator, and Providenciales resident, considers each detail of the products while infusing the spirit of the islands.
Channeling the tropics through print, pattern, and luxury fabrics, Sea Sage includes resort wear, homeware, and swimwear, with elegant silhouettes and, Sea Sage continues to expand and establish itself as a global lifestyle resort brand extending island dressing to any location. fusing a tropical aesthetic with vibrant artistic vision, Sea Sage designs elegant silhouettes and stylish signature prints.
Situated adjacent to Seven Stars Resort is One Season Plaza, a small upscale retail center in Grace Bay, home to several shops and boutiques. Just across the road is Caicos Café Plaza, home to two popular stops for the seasoned shopper. Rumeurs Boutique is an eclectic collection of jewelry, accessories, apparel, and homeware all sourced in Bali or inspired coastal living. Take your time in this interesting space as there are unique finds around every corner. If, however, you are after a bespoke keepsake or a personalized gift, stop in at Atelys. A self-taught jewelry designer, Atelys Adrian is the creator of unique silver pieces which may include larimar, semi-precious stones, pearls, and sea glass.
With so many stores to explore, there's no excuse not to look your best or to return home with a meaningful and bespoke reminder of your holiday in the Turks and Caicos.
Clothing and Fashion Shops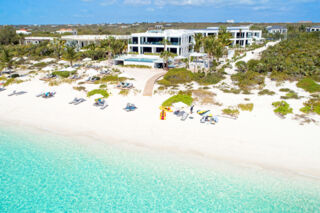 The water sports shop at H2O Resort on Long Bay Beach offers a wide collection of beach and water sports clothing, sunglasses, footwear, sunscreen, water bottles, and kiteboarding equipment.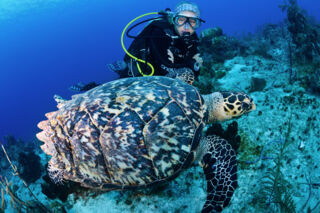 Dive Provo offers a wide array of services, from one, two and three-tank dives, to custom charters and night dives. Nitrox, PADI courses, snorkeling trips, and camera rental are also available. Dive Provo's retail store and booking location in Grace Bay has one of the best selection of masks, fins, snorkels, and activewear on Providenciales.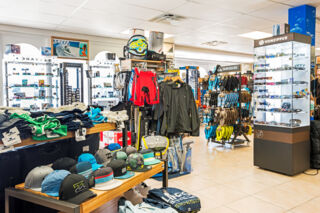 Blue Surf Shop provides a great range of water sports, active, and outdoor clothing and accessories. Explore a collection of polarized sunglasses, swimwear, water sports equipment, backpacks, and much more.