Turks and Caicos
Top Things to Do for Kids
The natural environment of the Turks and Caicos makes for the perfect playground for families with children. Along with our unrivaled beaches, there are beautiful wetland and coastal environments filled with marine and bird life to explore, and exciting water sports.
The environment of the Turks and Caicos is quite safe, so get out and explore! There are no poisonous snakes here, and the most dangerous insect anyone could likely find is the common paper wasp. Although the flora and fauna in the country is generally innocuous, there are some plants that can cause rashes if touched. See Poisonous Plants, Insects and Animals.
The Turks and Caicos also has a collection of babysitting and child care services, and kid's camps that are hosted by some of the local resorts and water sports companies.

Discover Our Incredible Beaches
The primary attraction in the Turks and Caicos is of course our beaches, and there's a wealth of incredible and varied beaches to discover. Some of the beaches on Providenciales especially stand out as being a great site for kids, due to their shallow and calm water, and unique setting.
The sheltered Taylor Bay and Sapodilla Bay beaches near Chalk Sound National Park on Providenciales are two such coasts. The ocean at these south coast beaches is shallow, calm, and a little warmer than what's found on the north coast at Grace Bay Beach and Leeward Beach.
The secluded Turtle Tail Beach is another great spot, and offer much the same conditions as Taylor Bay and Sapodilla Bay. Several small rocky islands are also found off the coast, too. The famous Grace Bay Beach, Bight Beach, and Leeward Beach are also excellent and obvious coasts to visit as well.

Go Snorkeling
Snorkeling is another must-do activity for adults and children alike. There are many great locations to explore, including several easy to access reefs that start directly off the beach.
The Bight Reef is a great place to start. This reef is located in central Providenciales and is home to a menagerie of colorful reef fish, stingrays, turtles, and more. The surrounding lush seagrass also hides starfish, eagle rays, and turtles.
Smith's Reef is another great spot, and is a larger and more complex network of reefs and coral heads found near Turtle Cove. The outer reefs of this system are a little too far out for younger kids, yet there's a plenty to see right off the beach.

Boat Cruises and Excursions
A boat charter is one of our top-rated activities, and there's a tremendous range of vessels, destinations, beaches, and snorkeling reefs to visit.
Most charters are great for kids, and many of the popular tour boats offer water slides, wake tube riding, beach BBQs, and more.
Half Moon Bay, which an extensive sandbar that has filled in between two uninhabited islands, features an exquisite beach on its north side and a shallow and sheltered lagoon to the south, is a top place to visit by boat. There are beautiful coasts to explore, an unparalleled beach, trees for shade, and iguanas scurrying about.
Water Cay, Pine Cay, and Fort George Cay are also very popular places to visit, and collectively have miles of deserted beach to discover.
Most excursions include refreshments, lunch, snorkeling and more.

See the Iguanas at Little Water Cay
Little Water Cay is a small uninhabited nature reserve island that's located near Leeward on Providenciales, and the best place in the country to see the docile and unique Turks and Caicos Islands Rock Iguana.
These large lizards are critically endangered due to their very limited range, so visiting Little Water Cay gives the chance of seeing a threatened species in its native environment.
Many boat cruises to the Caicos Cays, and kayaking, paddleboarding, and eco-tours stop at Little Water Cay, so if you're already planning on one of these activities, it's probably not necessary to make a special trip to the island.

Horseback Riding at the Beach
Horseback riding on the beach is very popular with all ages. Provo Ponies, the oldest and best known stable in the Turks and Caicos, operates in the Long Bay region of Providenciales. Much of the typical ride takes place on the beach, and there's the option to wade out in the amazing and shallow turquoise waters of the beautiful beach.
Provo Ponies is very well-equipped for rides with kids, with gentle ponies and horses, and very knowledgeable and experienced guides.

Wetland Ecotour
A guided kayaking or paddling boarding ecotour is an amazing way to experience our unique tropical environment, and offers an all-too-rare chance to see marine wildlife in their natural habitat.
Green turtles, stingrays, starfish, conch, and baby lemon sharks and nurse sharks are common sightings in the nature reserves. The red mangrove habitat islands of Mangrove Cay, Donna Cay, and the Princess Alexandra Nature Reserve are found close off Providenciales.
Also within paddling distance is the iguana sanctuary of Little Water Cay (Iguana Island). These iguanas are a large herbivore lizard that is quite approachable, so it's easy to get a close-up view of these interesting animals.

Learn a New Water Sport
Sailing, swimming, kiteboarding, diving, and wakeboarding lessons are also a great activity for children, and the Turks and Caicos is an incredible destination to pick up a new water sport at.
Provo Swim School offers swim instruction for all ages, but also specializes in infant self-rescue training, which gives babies, toddlers, and young children the skills and confidence to float, swim, and survive in the water.
Sailing is a very popular activity with both local and visiting kids. Hobie Cats are the most common vessels to sail and many resorts have at least one or two of these little catamarans. The Provo Sailing Academy has several different types of Hobie Cats, Picos, and Laser sailboats, all of which are unsinkable and easy to sail.
With modern kites and gear, kiteboarding is easier than ever, and most kids can begin to get on the water after only a few hours of professional instruction.

Annual Events
Held at the calm and beautiful Bambarra Beach on Middle Caicos, the Valentine's Day Cup is a model sailboat race, where beautiful handmade miniature Caicos Sloops compete in shallow water.
The Valentine's Day Cup is a popular event for persons of all ages, and it's common to see both old and young racing their model sailboats.

Parasailing
Parasailing is another great thing to do for all ages. All parasailing takes place off the north coast of Providenciales at Grace Bay and the Bight Beach, and there's an incredible range of sights, including the intricate barrier reef, the beach, clear turquoise water, the resorts, cruising boats, and even possibly JoJo the Dolphin!
Most parasail boats are set up to have up to three passengers per flight, which makes the experience even more fun!

Kid's Camp
Kid's camps are organized eco-tours or boat cruise adventures that are especially geared towards children. A few water sports businesses and resorts on Providenciales offer programmes, such as Big Blue Collective, which is one of the primary water sports businesses in the Turks and Caicos. Big Blue hosts a kid's camp experience for a few weeks every July for children between the ages of 9 and 16. Their camp combines a great range of learning and fun activities, including snorkeling, cliff jumping at West Caicos, wetland eco-tours, and much more.

Potcake Place
Did you know that the Turks and Caicos and Bahamas has their very own breed of dogs? Potcakes are a mid-sized dog that's a mixture of terriers and other breeds that were introduced into the tropical Atlantic in the late 1700s and 1800s, and may even have ancestors with the small barkless hunting dogs introduced to the Caribbean region by the Lucayans.
Potcake Place is a non-profit rescue charity, located at the Saltmills Plaza in Grace Bay. The charity's primary goal is to place stay local dogs in caring homes, and they encourage visitors and locals to take foster puppies out for socialization walks on Grace Bay Beach! Fair warning: you may very well may end up with a new pet if the family visits Potcake Place!
Great Tours and Activities for Kids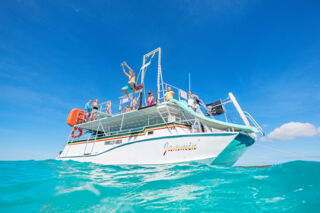 Ocean Outback Adventures offers fun cruises on western Providenciales on a comfortable and stable 40' catamaran that has a slide, trampoline, swing, and jumping board. Complimentary drinks, rum punch, and snacks. Exciting for all ages!
Learn More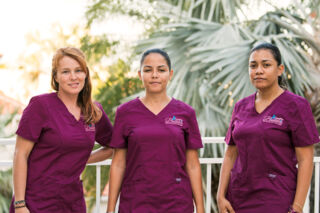 Babysitting Buddies is a professional child care and babysitting service, based on Providenciales. The experienced and dedicated sitters at Babysitting Buddies are able to provide services at homes, villas, and hotels.
Learn More