Turks and Caicos
Top Things to Do for Kids
The natural environment of the Turks and Caicos makes for the perfect playground for families with children. Along with our unrivaled beaches, there are beautiful wetland and coastal environments filled with marine and bird life to explore, and exciting water sports.
The environment of the Turks and Caicos is quite safe, so get out and explore! There are no poisonous snakes here, and the most dangerous insect anyone could likely find is the common paper wasp. Although the flora and fauna in the country are generally innocuous, there are some plants that can cause rashes if touched. See Poisonous Plants, Insects and Animals.
The Turks and Caicos also has a collection of babysitting and childcare services, and kid's camps that are hosted by some of the local resorts and water sports companies.
Great Tours and Activities for Kids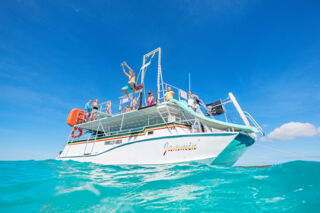 Ocean Outback Adventures offers fun cruises on western Providenciales on a comfortable and stable 40' catamaran that has a slide, trampoline, swing, and jumping board. Complimentary drinks, rum punch, and snacks. Exciting for all ages!