Our Opinion
Stand up paddle boarding and kayaking are the two main ways to explore the beautiful wetlands of the Turks and Caicos. Stand up paddle boarding does offer a better view of wildlife in the water, but kayaking is a more efficient and less exhausting way to cover distances. Although both watersports are easy to learn, basic kayaking skills are definitely easier to pick up and most will be able to paddle after only a few minutes of practice.
5
star rating for
Providenciales Kayaking
by
Visit Turks and Caicos Islands
This page refers to kayaking on Providenciales. For information on this activity throughout the country, see our overview article. You may also be interested in the similar activity of stand up paddle boarding.
Kayaking on Providenciales can generally be broken into two areas: flat water cruising in Grace Bay and off the south coast, and mangroves and wetlands eco tours.
Due to the large number of resorts and hotels, Grace Bay tends to have the highest number of kayakers, but other regions on Providenciales offer more in terms of wildlife and scenery.
Many of the resorts and quite a few villas offer complimentary kayak use, so if this watersport is important to you, inquire before booking.
Rentals and Eco Tours
Several businesses on Providenciales provide kayak rentals, and delivery to a rental villa or house is available. It's advisable to call or email ahead of your excursion to make reservations and get info on weather conditions.
Big Blue Collective is the only business at this time offering kayak eco excursions. Based on the east side of Providenciales across from the Princess Alexandra National Park, they offer guided tours in the protected areas on Providenciales along with full day adventures to the expansive wetlands found off of North and Middle Caicos.
Eco Kayaking Locations
The three areas shown below offer the best kayaking spots on Providenciales.
Although conditions in these locations are generally good, be aware of wind and currents when kayaking. To avoid unnecessary fatigue, begin by heading upwind or against the current so your return journey is easier.
Princess Alexandra Nature Reserve
The Princess Alexandra Nature Reserve and surrounding small keys is the best location for casual kayakers who want to experience more wildlife than what can be seen in the Grace Bay area. Found off the east end of the island, this nature reserve consists of small islands, sheltered mangroves colonies, and the popular iguana sanctuary of Little Water Cay (Iguana Island).
Chalk Sound National Park
Chalk Sound is a sheltered lagoon on the southwest of Providenciales. This scenic area has hundreds of small rocky islands in shallow turquoise water. On many of the larger islands, the indigenous Turks and Caicos Rock Iguana can be found, along with Bonefish and Barracuda in the surrounding water.
Frenchmans Creek and Pigeon Pond Nature Reserve
The four and a half square mile Frenchmans Creek and Pigeon Pond protected area is located on the west coast of Providenciales and offers a large network of mangrove shallows. In this area, Pelicans are common, and in the water small sharks, bonefish and conch can be seen. Due to the remoteness and difficulty of accessing this nature reserve, it may be best to organize a tour through a watersports operator.
There's also a large number of cays and rocks around Providenciales. Some of these sites, such as the rocks off of Turtle Tail Beach, are also fun to explore.
Local Events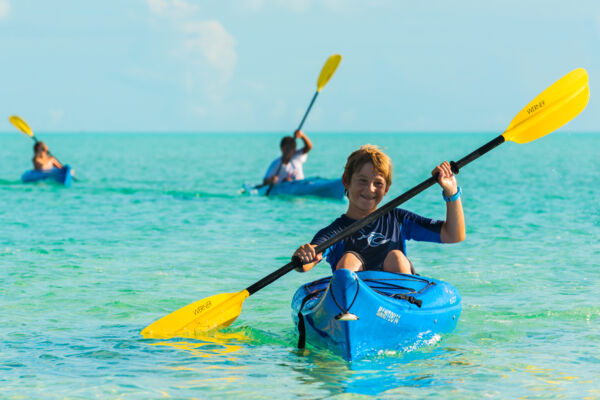 The country's biggest water sports event, the annual Windvibes includes several classes of kayaking competitions. There are events for children, men and women.
Because Wndvibes is an amateur event, it's never known who will take the top titles. If you're in the country when the event takes place, we highly recommend competing.
Necky sit-in touring kayaks have traditionally been the craft of choice for the races.
Local Businesses
Last reviewed by an editor on 5 December 2018.