Turks and Caicos
Babysitting and Childcare Services
As a family friendly destination, the Turks and Caicos is popular among travelers with kids of all ages. If you're traveling with kids of your own and hoping to spend an adult-only day or evening out, you're in luck. You have several reliable and trustworthy options to choose from when it comes to professional babysitting and nanny services in Turk and Caicos, regardless of where on the island you're staying.
Whether you're looking for a babysitter to stay with your young ones in the evening while you go out for dinner, or you need someone to entertain your kids during the day while you enjoy some time at the spa, you'll have no problem finding the right sitter for you.
Babysitting Companies
Staying at a private home or villa? You'll still have plenty of babysitting options. Most villa management and concierge companies will be able to recommend and arrange a trusted babysitter for your family. If you're traveling with a baby, you'll find many villas can also provide a crib or pack-and-play.
Most childcare service providers on the islands require their nannies to be certified in First Aid and CPR. It's typically possible to arrange babysitting services on our less-populated outer islands when notice is given. Note that some services may require a transportation fee.
Resort Kids Clubs
If you're planning to stay at a resort during your time on Providenciales, be sure to check if it offers childcare options. Many hotels on the island, including West Bay Club, Grace Bay Club, The Palms, Seven Stars, and others include complimentary kids clubs.
The age requirements of each kids program vary depending on the resort. For example, the Conch Kritters Club at The Palms accepts children ages 4 to 12, while Kids Town at the Grace Bay Club resorts accepts older kids as well. Usually, arrangements must be made with your resort ahead of time to confirm there's space for your child. If you're requesting a babysitter outside of kids club hours, be sure to give at least 24-hours notice.
Operated by trained professional childcare providers, these programs usually include a variety of activities to suit kids of all ages. Most clubs include crafts, games, and outdoor activities weather permitting. However, you'll find most kids programs are only available during the day. If you're looking for a babysitter for the evening, many resorts also offer professional babysitting services for an additional fee. Most hotel concierges will be able to arrange a babysitter for you directly through the resort or a trusted babysitting service.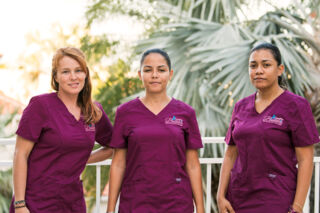 Babysitting Buddies is a professional childcare and babysitting service, based on Providenciales. The experienced and dedicated sitters at Babysitting Buddies are able to provide services at homes, villas, and hotels.