Providenciales
Boat Cruises and Charters
Turquoise Water, Secluded Beaches, and Pristine Reefs!
Next to relaxing at one of our incredible beaches, boat cruises and charters are the most popular activity on Providenciales, and a must-do. Most Turks and Caicos boat tours offer a great blend of perfect beaches, a pristine marine environment, our signature turquoise ocean water, and food, drinks and music.
Along with offering spectacular views of the Turks and Caicos ocean, excursions often include visits to the iguanas at Little Water Cay, and stops on the amazing beaches of Half Moon Bay, Water Cay, Pine Cay, or Fort George Cay, and snorkeling.
Half Moon Bay, a beach that filled in between two islands, is a destination that the whole family will enjoy. The ocean and beach are great, our unique iguanas can be seen, and there's a shallow lagoon to explore with interesting marine wildlife.
Depending on where you're staying, cruises may either pick you up on the beach outside your hotel or resort (if you're staying in Grace Bay), or (in some cases) offer free transport to and from your accommodation.
Excursions are typically half or full-day activities. It varies by business, yet lunch is often included when the cruise spans the midday hours.
The uninhabited cays and islands in the Turks and Caicos are fun and fascinating to explore. There aren't many uninhabited islands still remaining in the Caribbean, and discovering one of these gems makes for the perfect tropical vacation experience.
Most excursions can be booked as private boat charters, which is great for large groups and those looking for additional privacy and tranquility.
Snorkeling
Most Turks and Caicos boat charters include complimentary use of snorkeling equipment and often stop at snorkeling sites, but be aware that weather and ocean conditions can greatly affect your experience depending on the location. A dedicated snorkel or scuba diving excursion will typically provide the best underwater experience.
Nearly all of the beach and BBQ cruises (the most popular type of cruise) head to the uninhabited Caicos cays to the east of Providenciales. There are definitely amazing snorkeling sites in this region, including the popular reef at Leeward Cut.
For those looking for the best underwater experience, consider selecting a dedicated snorkeling cruise. You'll be more likely to visit the best sites that the conditions allow for.
Snorkeling adventures often visit the barrier reef that surrounds the Turks and Caicos, and this pristine system abounds with colorful fish and vibrant corals. The most popular barrier reef site is found at Leeward Cut, and on calm days this site offers plenty of marine wildlife to view. When offshore, a guide from the crew will typically lead snorkelers for safety.
Fishing
The best rod and line fishing is typically had away from the beach cruising spots, so fishing isn't usually offered with the typical excursion.
Conch "fishing", where conch is collected with snorkel gear, is often an activity on beach BBQ tours.
Sport fishing, especially in the case of bonefishing and deep-sea fishing, is typically only offered on private charters.
Private Charter?
As is the case with most things in life, you generally get what you pay for. A private tour can cater to exactly what you'd like to do and will be less crowded. Shared boat cruises tend to have more of a "party vibe".
For 2-5 passengers, a shared cruise will cost quite a bit less, yet private charters may be the perfect choice and less expensive for larger groups and families.
In most cases, a private charter is the only option if you want to do something other than the typical cruise to Little Water Cay and Half Moon Bay (amazing places to visit and by no means a poor choice!).
West Caicos is a good example. Due to the longer boat trip out, there are no scheduled tours to this beautiful island, yet there's great coral and snorkeling, cliff jumping, and the abandoned Victorian-era Yankee Town historical site to explore.
Fort George Cay is another great adventure that's a bit closer to Provo. On the west side of this island is a spectacular beach, and on the east side, you can snorkel and see late 1700s cannons in the ocean where Fort Saint George once stood.
Many of the boutique and charter vessels are a bit more interesting and appealing as well, and may be sailing catamarans or luxurious cruising yachts.
A custom yacht charter is a great choice if you're staying on the private islands of Parrot Cay or Pine Cay, as the tour can start directly off the beach fronting your resort.
Businesses
There's a wide array of local businesses offering boat charters. Our various local excursion companies operate a wide variety of vessels, which includes small powerboats, sailboats, and luxury cabin cruisers. If you have a preference, inquire before you book.
Reservations and Booking
As with most activities and accommodations in the Turks and Caicos, you'll typically get the best rates on boat trips by booking directly with the local tour company.
During the winter "high season", availability can be limited, so you may want to make a reservation a bit in advance.
Private boat charters typically have more stringent cancellation policies, especially when canceled with short notice.
Most boat tour companies are able to accommodate custom charters if requested, even if such trips are not advertised.
Charters that operate from a fixed location, such as Big Blue Collective at Leeward, often get out to the day's activities in a more timely manner than excursions that pick up guests from the beach. It's fun to meet the boat in front of your resort, yet it can take up valuable snorkeling and exploring time waiting for everyone.
Turks and Caicos Boat Charter Companies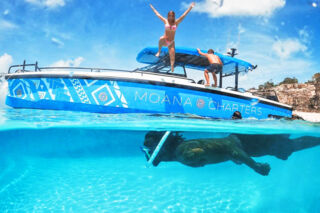 Moana Charters is a luxury private day charter company, based in the Turks and Caicos Islands. Discover amazing beaches, uninhabited cays, beautiful reefs, and much more. Choose from sporty Axopar day yachts, or a spacious and luxurious Windy yacht with air-conditioned cabin.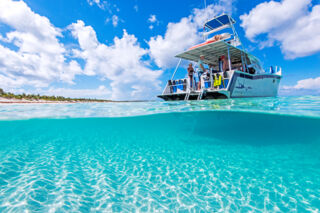 Big Blue Collective offers the widest variety of half and full day charters to places near by, like Half Moon Bay and Ft George or out to French Cay, West Caicos and beyond. Snorkel gear is always provided while scuba divers can add a tank or two to any charter. Whether an adventurous group, a small family or a relaxed party, Big Blue you will experience the difference and escape the ordinary.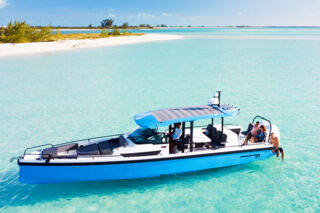 Okeanos Charters is a private luxury charter, with custom adventures to the beautiful beaches, cays, and reefs that surround the Turks and Caicos. Discover paradise at your own pace.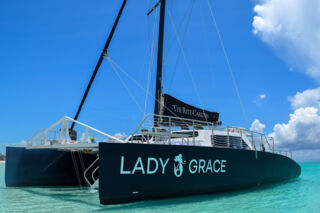 Lady Grace is an elegant 64-foot sailing catamaran, and features a full range of luxury amenities. Choose from private charters, sunset sails, snorkel adventures, and more.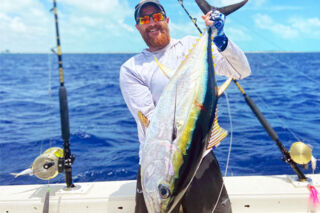 Grand Slam Fishing Charters
Grand Slam Fishing Charters has been chasing game fish in the Turks and Caicos for more than 20 years. Catch wahoo, mahi-mahi, tuna, marlin, snapper, grouper, and more with the pros. Fishing, snorkeling, and beach cruising charters are also available, and are fun for all ages.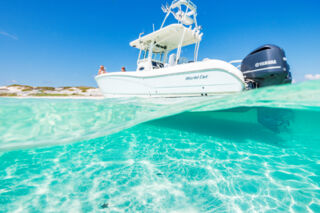 Jedi Charters specializes in unpretentious and off-the-beaten-path boat excursions that are fully customized to guest preferences. Snorkel on beautiful reefs, explore deserted beaches, or experience an exhilarating kite downwind safari across the turquoise waters of the Caicos Islands.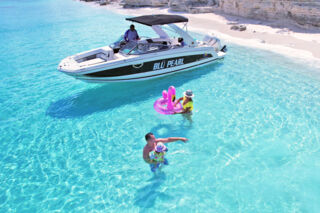 Island Adventure TCI is a small and locally-owned eco-tour company that specializes in clear kayak wetland tours and private boat charters. Excursions are family-friendly, and are great for experiencing the natural beauty of the Turks and Caicos.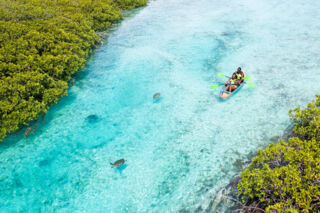 Turks Ventures is a small eco-tour, water sports, and boat charter based on Providenciales, with a focus on fun and interesting tours to many beautiful locations in the Turks and Caicos. Excursions include an economical water taxi service to Half Moon Bay, Little Water Cay, and the floating bars.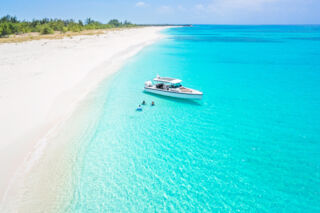 Ocean Frontiers is a boutique and private eco-friendly charter that visits the incredible and secluded locations that make the Turks and Caicos such an amazing destination. Discover spectacular beaches, reefs, and sights aboard a luxurious 37-foot Axopar boat.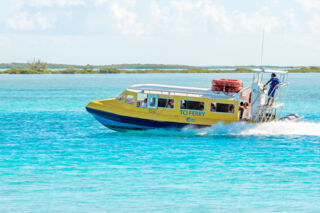 Located at Heaving Down Rock Marina on the east end of Providenciales, Caribbean Cruisin' is the primary passenger ferry service operator in the country, with routes from Providenciales to North and South Caicos. They also provide jet ski rentals and tours, boat charters, and excursions, and water sports.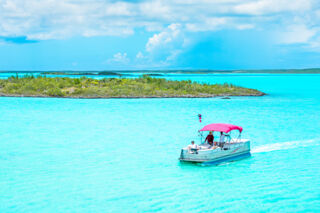 Las Brisas Chalk Sound Tours
Discover the incredible turquoise hues and sights of Chalk Sound National Park on Las Brisas Restaurant's boat tour–a favorite attraction for decades. Choose from mid-day snorkeling adventures and evening sunset cruises. Las Brisas is located on the waters of Chalk Sound and quite close to Sapodilla Bay and Taylor Bay. Kayak and paddleboard rentals are also available.