Turks and Caicos
Event Planners
The Turks and Caicos is a unique choice for hosting a conference or other event. We have direct flights from many North American and Caribbean cities, including New York, Washington D.C., Boston, Chicago, Toronto, Miami, Dallas, and Philadelphia.
We also offer a wide range of accommodations, and many resorts offer significant discounts for groups. We're a stable British Overseas Territory, English is our sole language and the US Dollar is our official (and only) currency.
Your guests will definitely appreciate the year-round excellent weather and the world's best beach. There's a great selection of water sports, a top-10 Caribbean golf course, and fun outdoor activities.
Locations and Islands
Providenciales is the only island equipped to host larger conferences. In addition, all international flights arrive here so it's the logical island choice. For smaller conferences, you can host them on any island, however, there'd be the additional domestic transportation costs from Providenciales to another island. Most resorts and the primary conference hall location choices are in Grace Bay on Providenciales.
The Outer Islands
Our smaller and less-inhabited islands are spectacular destinations, yet in addition to the transport considerations, they do not feature the facilities and infrastructure suitable for a large gathering.
All scheduled international flights to the Turks and Caicos land at the Providenciales International Airport (PLS). The Grand Turk JAGS McCartney International Airport (GDT) is capable of accepting international charter flights. The airport and airstrips on our smaller islands are domestic only, and not suitable for jets and large aircraft. Both of the country's FBOs are located on Providenciales.
Venues and Facilities
Several of the larger resorts on Providenciales, including the Shore Club and Beaches Turks & Caicos, feature conference halls, complete audio/video equipment and on-site technicians.
Two other auditoriums are available for rental, Brayton Hall in central Providenciales, and Tropicana Club near Grace Bay. We recommend that you contact your preferred business directly to get the best rates.
If your group size isn't large, one of the smaller meeting rooms at the Grace Bay resorts can be a good option and provide privacy in a professional setting.
Importation of Materials and Merchandise
The government customs department will have to be contacted for duty waivers and special approvals for temporary imports of demonstration equipment, sample merchandise, and literature and media. The customs department is generally efficient, yet allow for ample time to resolve unusual import issues.
Freight and Shipping
Ocean freight from Florida for a typical shipment may take 2-3 weeks between delivery to the shipper in the United States and clearance and release of the consignment at the port in the Turks and Caicos. It may be possible to have a local freight forwarder hold the shipment until required, or have a concierge service clear and store the shipment.
Air freight, postal service, and the standard international courier services are available as well, and are feasible for smaller shipments.
Catering and Craft Services
There are several catering businesses on Providenciales, and these firms offer dining solutions for events large and small. Due to the planning and possible necessary imports, for large groups, we advise contacting your chosen caterer well in advance of event dates.
If contacted in advance, local restaurants are typically willing to accommodate large groups.
Transport
Providenciales offers a wide range of rental vehicles, taxi services, and charter bus services. See Getting Around, and Driving Information.
Accommodations
Providenciales has a wide selection of accommodations and lodging options, from expansive all-inclusive resorts to secluded rental villas. If you're booking a conference room at a resort, you'll often be able to arrange a package deal for accommodation and dining as well.
There are several luxury villa and villa enclaves with multiple units, which can be ideal for smaller meetings.
Team-Building Events
The Turks and Caicos is an ideal destination for outdoor team-building exercises and events. There's an incredible range of water sports to learn or enjoy, boat charters, and beaches where BBQs, parties, and dinners can take place.
Local Businesses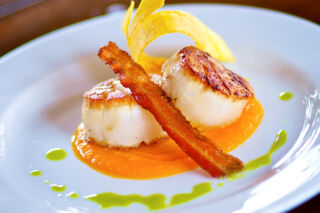 Caicos Catering is a gourmet private chef and catering service, based on Providenciales. With more than thirty years of dining and restaurant experience and a professional facility, Caicos Catering can provide exceptional dining for events small and large, from an intimate dinner at a villa, to wedding dinners and corporate events.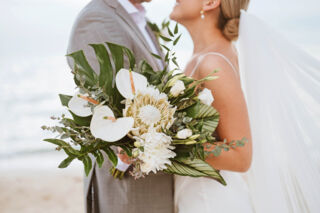 Flowers by EA are leading florists in the Turks and Caicos, with a shop in central Grace Bay on Providenciales. Specializing in boutique destination wedding and event arrangements.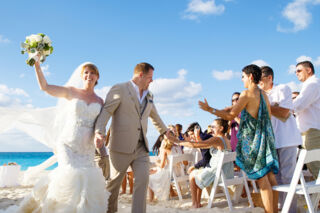 Tropical Destination Management
Tropical Destination Management has been planning weddings and events on island for over 8 years. From intimate weddings for two to groups of two hundred they can make your dream wedding into a reality. They will assist you with everything from photography, to entertainment, to caterers and décor.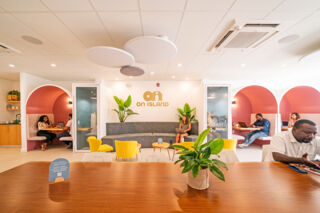 A fresh environment to focus, On Island is the first coworking space in Grace Bay, Providenciales, Turks and Caicos. Comfortable like working from home, but without all the distractions, On Island is a shared space for quiet, productive work in the day transforming into a community event space in the evening.