Turks and Caicos
Domestic Flights & Ferries
This page offers information on the domestic flights and ferries that provide transport between the islands in the Turks and Caicos. North Caicos and Middle Caicos are the only two islands in our archipelago that are connected by a causeway.
The Turks and Caicos has two international airports: Providenciales International Airport (PLS), and the Grand Turk JAGS McCartney International Airport (GDT). However, only Providenciales welcomes regularly-scheduled international flights.
Most of our developed islands and cays have domestic airports and airstrips, although they are generally unsuitable for jets and larger aircraft.
Domestic Flights
There is daily service between Providenciales and Grand Turk, which is home to the nation's capital city of Cockburn Town. This flight may have a 10-minute layover in South Caicos.
There are flights between the tiny island of Salt Cay and both Grand Turk and Providenciales. These flights are not daily, yet fly a few times per week (schedules change frequently based on demand). Usually, there is a flight in the morning and a return in the late afternoon, allowing for day trips, and also for local residents to travel to other islands for food, supplies, and business.
South Caicos is connected with flights to Providenciales, and to Grand Turk.
Our central islands, North Caicos and Middle Caicos, both have airports, yet there are no scheduled services. With the completion of the North Caicos-Middle Caicos causeway, the Middle Caicos Airport (MDS) has been decommissioned. The increased popularity of the ferry service from Providenciales to North Caicos resulted in the Providenciales-North Caicos scheduled route being unprofitable, and it consequently was canceled.
The private islands of Pine Cay and Ambergris Cay also have airstrips, yet there are no scheduled services. The uninhabited island of West Caicos is home to an abandoned dirt airstrip.
Local Airlines
The Turks and Caicos has two local airlines, interCaribbean, and Caicos Express.
interCaribbean offers routes to several Caribbean countries, including the Bahamas, Cuba, Jamaica, Haiti, the Dominican Republic, Puerto Rico, and Antigua, as well as domestic flights between our islands.
Caicos Express mainly flies domestic routes, yet now offers flights to Cap Haïtien and Port au Prince in Haiti, and Santo Domingo and Santiago in the Dominican Republic as well.
Only local airlines fly between our islands. None of the major international airlines provide services.
Rates and Check-in
Local airfares between our islands vary in price, yet round-trip tickets start at about $135 per person. Reservations are highly recommended. Check-in 45 minutes prior to domestic flight departure is advised.
Charter Flights
Both local airlines offer charter flights to many of the country's smaller islands, whether they are served by regularly-scheduled services or not. The prices are generally negotiable, but are typically only cost-effective for groups of about 6 or more.
Local Aircraft
Nearly all of the airplanes flown by local Turks and Caicos airlines are small propeller and turbo-prop planes.
Aircraft interCaribbean operates includes the dual-pilot Embraer Brasilia EMB120 (30 seats), the De Havilland DHC-6-300 Twin Otter, and an Embraer ERJ-145LR, the only jet flown by a local airline.
Caicos Express Airways flies a Beechcraft 1900, and Cessna 402 (9-seat) planes.
Luggage
Due to the small size of the aircraft used on domestic flights, luggage space is often limited. Our airlines try to work with customers, yet please be aware that oversize and extra baggage fees may apply, and large amounts of luggage may be delayed to later flights if aircraft are at capacity.
Passenger Ferries
Small passenger ferry services are offered between Providenciales and North Caicos, Providenciales and South Caicos, and Grand Turk and Salt Cay.
Small passenger ferry vessels, which seat between 10 and 40 people, are used for these routes. The ferries do not offer the capacity for cars and vehicles.
Technically, there are luggage weight restrictions on most ferries, yet these are rarely enforced.
Reservations are not typically required for the ferry services, yet are recommended for large groups, or when holidays or events are taking place.
Providenciales—North Caicos
The Providenciales to North Caicos ferries (30 minutes each way) operate several times per day, and travel between Heaving Down Rock Marina (Walkin Marina) and Bellefield Landing on North Caicos. These services are convenient for day trips. Rates are $40 per person one way, and $65 round trip.
Providenciales—South Caicos
The Providenciales to South Caicos route (90 minutes) typically travels three times per week between Heaving Down Rock Marina (Walkin Marina) and Cockburn Harbour. Rates are $120 round trip for adults, and $80 for children.
Grand Turk—Salt Cay
The ferry between Grand Turk and Salt Cay runs three days per week, departing in the morning from Deane's Dock on Salt Cay and landing at Government Dock (South Dock) on Grand Turk. It returns in the early afternoon. Travel time is a little less than an hour.
Car and Barge Ferries
There are cargo barge routes in the country that transport heavy freight, trucks, and other vehicles, yet due to the travel speed and schedule, these are unfeasible for transporting people and vehicles for day trips and short stays.
Domestic Airlines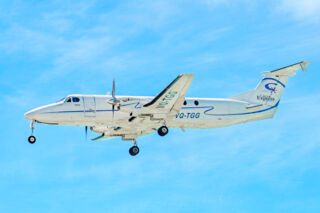 Caicos Express is a Turks and Caicos airline that offers scheduled domestic and international flights to many cities, and also offers custom charters as well.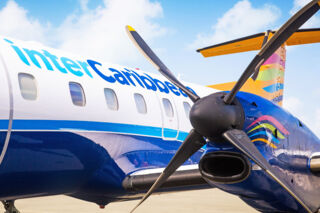 interCaribbean Airways is an airline that provides scheduled domestic and international flights in the Turks and Caicos. They operate a fleet of Embraer EMB120 30-seat aircraft, Twin Otter 19-seat aircraft, and Embraer ERJ145 twin-jet aircraft.
Local Ferries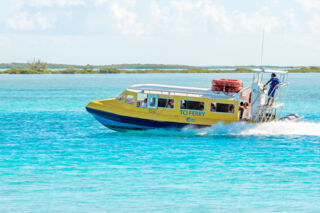 Located at Heaving Down Rock Marina on the east end of Providenciales, Caribbean Cruisin' is the primary passenger ferry service operator in the country, with routes from Providenciales to North and South Caicos. They also provide jet ski rentals and tours, boat charters, and excursions, and water sports.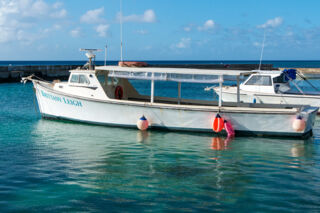 This ferry service is scheduled for three days per week and runs on Tuesday, Wednesday and Friday. It travels between Deane's Dock on Salt Cay and South Dock on Grand Turk. Travel time is about one hour.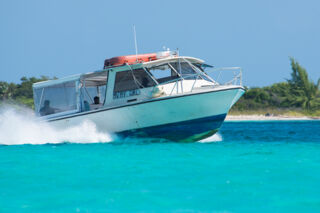 This ferry service travels between Heaving Down Rock on Providenciales and Bellefield Landing on North Caicos. We recommend calling ahead to verify the schedule.