Turks and Caicos
Catering
With its world-renowned beaches and a wide selection of luxury properties to choose from, the Turks and Caicos is a popular location choice for destination weddings and other events. And to complement those offerings, the islands are also home to a fantastic selection of private chefs and catering services, with a vast variety of cuisines on offer.
Menu items range from our local island flavors, to European and Asian cuisines, vegetarian and vegan options, American barbecue, Caribbean flavors, and more. And regardless of your preferences and dietary requirements, most menus can be customized to meet your needs.
Whether you're planning a party, a wedding, or a corporate event—or you simply want to be catered to in the privacy of your hotel room or villa, our local catering businesses will work with you to design the ideal menu for you. They can also provide all the equipment you may need, including tents, chairs and tables, lighting, cutlery, place settings, and linens. If you're hosting an event that requires professional servers and staff, many catering companies can also accommodate you.
What's the occasion?
It's a good idea to have ready an idea of what you're looking for regarding catering services. If you're looking to cater for a small cocktail reception or family reunion at a private villa, items such as furniture (chairs and tables) probably wouldn't be required.
Some venues, such as on the beach for a BBQ dinner or bonfire, will require more planning and set-up, and equipment such as chafing dishes, tables, chairs, and more would be required.
Of course, for events such as birthdays and other festive parties, you'll want to ensure you hire a good DJ, musician, or band.
Yachts
Some businesses offer or specialize in providing catering services to yachts and private aircraft. It's advised to contact a business in advance to make sure any specialty products can be sourced.
Catering Services in the Turks and Caicos
Here are a few of the local catering options to choose from on Providenciales.
Caicos Catering
Caicos Catering is a leading private chef and catering service, based on Providenciales. Headed by Doug Camozzi and Melissa Hartling, the company draws from many decades of experience of working in the restaurant and dining industry in the Turks and Caicos, and likewise has the facilities to accommodate events large and small. A wide menu of options is available, and Caicos Catering is also able to assist with beach events such as BBQs and bonfires, and the rental of event equipment, including chairs, tents, tables, and more.
Habour House & Eatery
A locally owned and operated private chef and catering business, Habour House specializes in local dishes such as lobster, fish, and conch, prepared with a modern flair. Typical menu options include baked mac-and-cheese, fried snapper, surf and turf, conch ceviche, and more. The catering company can also accommodate special requests.
Top o' the Cove Deli
Top o' the Cove is a well-known New York-style deli that has been serving the Turks and Caicos for more than 20 years. Setting itself apart from other catering services, Top o' the Cove is the only New York-style deli in Providenciales, specializing in freshly baked breads, pastries, pizza, soups, gourmet desserts, and more. The team at Top of the Cove are known across Providenciales for their friendliness and attention to detail, and they're able to accommodate both small events and large gatherings.
Grandma's Boy Kitchen and Catering
The team at Grandma's Boy Kitchen and Catering is passionate about creating memorable experiences with delicious food, prepared with fresh, locally sourced ingredients. Offering fine dining services with a Caribbean twist, the staff at Grandma's Boy Kitchen and Catering will work with you to understand the vision for your event and ensure it comes to life as you intended. The company can provide catering services for weddings and other events, as well as a private dining experience on the beach.
Crackpot Kitchen
A popular restaurant among both locals and visitors, Crackpot Kitchen has been in the catering business for more than 15 years. The restaurant specializes in local dishes, served with innovation and creativity, such as conch fritter lollipops and curried conch spring rolls. Crackpot Kitchen offers plated, buffet, and beach barbecue serving styles, depending on your preferences. The staff are friendly and willing to work with customers to create the perfect ambiance for their event.
Coyaba Restaurant
Operating in Turks and Caicos for more than 20 years, Coyaba is a well-established fine dining restaurant located in the heart of Grace Bay, known for combining Caribbean and European flavors to create a deliciously unique dining experience. Their exquisite catering service gives visitors the opportunity to experience their original spin on fine dining from the comfort of their hotel room or villa. Whether you'd like catering for a wedding or an event, Coyaba's catering services are sure to be a delightful addition to your special event.
Kissing Fish
Owned by the popular Bay Bistro Restaurant, the Kissing Fish Catering Company has been operating on Providenciales for more than 20 years and caters to events of all sizes. Events can be hosted at Bay Bistro's restaurant on Grace Bay Beach, or at another private venue of the client's choice. Kissing Fish Catering will cater on or off the sand, with customers having the option of choosing from one of the chef-inspired buffets, plated menus, or customizing their own menu. The catering company offers gourmet dinners, beach barbecues, full-service buffets, grill stations, and personal chef services.
Catering Services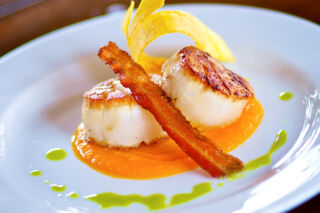 Caicos Catering is a gourmet private chef and catering service, based on Providenciales. With more than thirty years of dining and restaurant experience and a professional facility, Caicos Catering can provide exceptional dining for events small and large, from an intimate dinner at a villa, to wedding dinners and corporate events.