Providenciales Taxis
Providenciales has an abundance of taxis, and you won't have a problem finding one at the Providenciales International Airport (PLS) or at your hotel or resort, or in the central Grace Bay area.
Understand
Nearly all taxis are larger transportation vans, and many are Ford E-Series vehicles. They can carry up to 7 passengers, and around 5 if there is a large amount of luggage.
Some taxis on Providenciales exceed the 40 MPH speed limit. If your taxi is driving recklessly, please ask that the driver remain within the speed limit.
Fares
Expect to pay around $28-34 for two people from the airport to a Grace Bay hotel or resort.
Although there are statutory fares for certain routes, such as the airport to Grace Bay, these are not always adhered to. Thus, you are advised to agree on your fare before setting off. It's important that you clarify if the fee stated is per passenger or total. Some taxis state a fee that is per passenger, and tourists are then surprised when the total is multiples of that.
Taxi Companies
We recommend that you keep the number of a local taxi service in case one is needed while on your trip.
We have not received any complaints for the taxis listed below. However, we have received complaints for other taxis who have charged exorbitant rates which required police intervention. This concerns us greatly as taxis are typically the first and last contact visitors have with the people of our islands, and it can have a severly damaging impact on their perception of our country.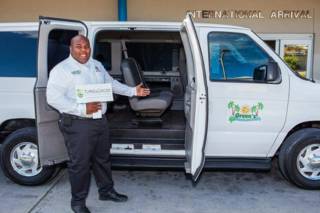 Green's VIP and Taxi Services
Green's VIP and Taxi Service is committed to providing a professional and personalized level of service to all our clients. We have established a reputation and guarantee to provide you with punctual, courteous, and well-trained drivers.
Learn more