Providenciales
Taxis & Transport Services
Providenciales has an abundance of taxis, and you won't have a problem finding one at the Providenciales International Airport (PLS), at the larger hotels or resorts, or in the central Grace Bay area.
Taxi pickup at almost any location on Providenciales is also easy to book by phone or email. Due to the island's small size, transit and wait times rarely exceed 20 minutes, and most taxi companies are able to respond in about 10 minutes.
General Taxi Information
Taxis generally operate on a shared basis, especially from the airports. Multiple different guests going in the same general direction will be carried by the same taxi. Some taxis operate on a private basis (and charge a higher fare due to this).
Nearly all taxis in the Turks and Caicos are larger transportation vans, such as the Ford E-Series or Chevrolet Express vans. These vehicles offer ample space and can comfortably carry more than seven passengers with luggage.
The Turks and Caicos generally does not have any smaller taxi cabs or cars that are common elsewhere in the world.
Shared Airport Taxi Shuttle Fares
These are prices for shared taxis, in a queue.
There may be other passengers in the taxi.
These fares are not applicable to pre-booked, private taxis, which are higher.
Price each for first two people, additional people pay half rate each.
Distance
Price
Airport to Turtle Cove
$16
Airport to Graceway IGA Supermarket
$20
Airport to Beaches Resort
$27
Airport to Most Grace Bay Resorts
$28
Airport to Shore Club at Long Bay
$45
Airport to Chalk Sound
$36
Airport to Blue Haven at Leeward
$43
Airport to Amanyara Resort
$86
Some taxi drivers on Providenciales greatly exceed the 40 mph (64 km/h) speed limit. If your taxi is driving recklessly, please ask that the driver remains within the speed limit.
One somewhat unusual aspect of taxis in the Turks and Caicos and some other Caribbean destinations is that taxi sharing is a common practice. Most taxi use on Providenciales consists of shuttling guests to and from the airport, and there is often more than one party wanting to make the same trip at the same time.
The Turks and Caicos does not use a taxi medallion system of licensing as is used in the larger American cities, yet the local business licensing system does control the total number of taxis via a quota system.
Taxi Fares and Rates
The Turks and Caicos Road Traffic Ordinance dictates a taxi rate structure, with statutory fares for certain routes and distances. However, keep in mind that these rates are not always adhered to, and may be interpreted differently. Taxi meters are not used in the Turks and Caicos.
We advise that passengers confirm the total trip price, including all passengers and luggage, with their taxi before departing. It's important that you clarify if the fee stated is per passenger or total. Some taxis state a fee that is per passenger, and tourists are then surprised when the total is multiples of that.
Expect to pay around $28-34 for two people from the airport to a Grace Bay hotel or resort.
The official taxi rate schedule is largely based on travel to and from specific sites on Providenciales, and primarily between the Providenciales International Airport and hotel and resort locations on the island.
Some outlying locations on Providenciales may have slightly higher fares, as the taxi driver is unlikely to find passengers for the return trip. This includes beaches such as Sapodilla Bay and Taylor Bay, the Chalk Sound area, and the remote Northwest Point, Malcolm's Road coast and Amanyara resort region of Providenciales.
Taxis are a very convenient way to get around, however they are expensive. An economy rental car will be by far the least pricey method of transport, with total daily rates starting at about $40.
Island Tours
If you'd like to see the sights and sounds of the Turks and Caicos, a taxi tour can be a great option. Most of our drivers are friendly and very knowledgeable about everything Turks and Caicos, and are the perfect guide for island tour excursions to the best beaches, natural sites and attractions that can be difficult to find for visitors.
Discover often-overlooked beaches such as Long Bay, Turtle Tail, Sapodilla Bay, Taylor Bay, and Blue Hills. See Cheshire Hall Plantation, the Hole in Long Bay, and the rock inscriptions at Sapodilla Hill. Your taxi driver can also recommend a great island restaurant for lunch for an authentic culinary experience.
VIP Transport
If you're looking for the comfort of private transport, many taxi companies maintain a fleet of luxury SUVs for VIP transport. These vehicles are typically Cadillac Escalades, Lincoln Navigators, Chevrolet Suburbans, or Toyota Sequoias.
Private transfer services can reduce wait times after arrival, as drivers wait for their guests directly outside the arrivals exit, and there's no queue.
The Fast Track service at the Providenciales Airport, which offers expedited service through customs and immigration, is often provided as a counterpart to luxury airport transfer. Combined, these services can significantly reduce the wait times when arriving in the Turks and Caicos.
Airport Transfers
The Providenciales International Airport typically has an ample supply of waiting taxis. During peak arrival times, multiple fares often share a taxi going to the same or adjacent destinations.
The taxi queue at the airport is found directly to the left of the outdoor exit of the arrivals hall.
Taxi Companies
We recommend that you keep the number of a local taxi service in case one is needed while on your trip.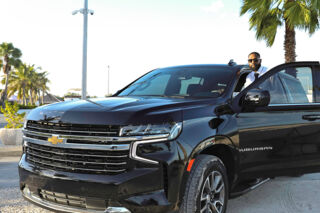 LIV Transport is a professional private car service, based on the island of Providenciales. The company provides punctual transport via elegant and modern full-size luxury SUVs. Services include Providenciales airport transits and general VIP car service for Grace Bay and the island.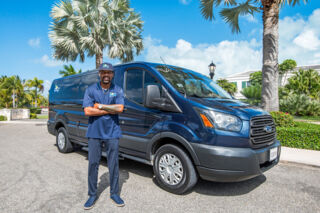 Sea Breeze Taxi and Tours
Sea Breeze Taxi and Tours provides reliable transportation services throughout the island of Providenciales. Specializing in airport pickup and drop-off, island tours, grocery trips, bar-hopping and much more.