Providenciales International Airport (PLS)
Airport Road

,

Providenciales
Unfortunately, the country's main airport has most of the problems associated with large airports and none of the advantages. Free Wi-Fi is provided, but the connection rarely works. Luggage carts are not complimentary (unlike in many European and Asian airports) and cost $5 USD (foreign currency and cards not accepted), despite the distance from the baggage carousel to taxi pickup being around only 150 feet (50 meters). The Skylounge viewing deck is closed for many early-morning flights. Saturday and Sunday check-in times can be very long due to the high number of flights. Parking is extremely expensive.
3-star rating for Providenciales International Airport (PLS) by Visit Turks and Caicos Islands
A TCI Assured Travel authorization, insurance, and COVID-19 test is no longer required.
All travelers must by fully vaccinated against COVID-19.
You may also be interested in International Flights to the Turks and Caicos Islands, Passports and Visas, Customs Allowances and Getting Around Providenciales.
All international flights to the Turks and Caicos Islands arrive at the Providenciales International Airport, a small one terminal building with one 9,199 foot (2,804 meter) runway.
The island of Provo welcomes regularly-scheduled flights from over two dozen international cities, including London, New York, Washington D.C., Miami, Toronto, Boston, Chicago, Dallas, Philadelphia and Atlanta.
Several international airlines fly to the Turks and Caicos, including British Airways, American Airlines, United, Air Canada, Delta, Jet Blue, West Jet, and InterCaribbean. All airlines share a general ticketing and check-in hall. There are no satellite terminals.
The Providenciales Airport IATA Code is PLS, the ICAO Code MBPV.
Check-in Info
Providenciales International Airport Facts
Airport Code
IATA: PLS, ICAO: MBPV
Runway Length
9,199 feet (2,804 meters)
Elevation
15 feet (5 meters)
Runway Direction
10/28
Clearance Status
International Entry
Car Parking
$2 per hour, $25 per day
Most airlines recommend at least 2 hours before international flights. For domestic flights, 45 minutes is sufficient.
The bulk of international passengers arrive 2 hours before departure. If you arrive 10-15 minutes before this, the lines will be significantly shorter.
Saturday and Sunday Flights
You should give yourself additional time to check in on Saturday and Sunday. There is a high number of flights on these days and this can lead to delays in check-in and security.
Airport Fast Track
An airport Fast Track concierge service is available at additional cost and allows guests to bypass the queues at Immigration and Customs on arrival, and check-in and security at departure. Several different Fast Track packages are offered, and prices start at $65 per person.
Immigration, Passport, and Customs Information
You'll need to clear immigration and collect your baggage before proceeding through customs. Unlike in some other Caribbean airports (such as Nassau), there are no pre-clearance facilities operated by the U.S. Customs and Border Protection for U.S. Nationals returning home.
Immigration clearance can be over an hour depending on the day and time of your arrival.
The Providenciales International Airport is a relatively small facility, and only has two baggage carousels. During typical conditions, there isn't much of a wait for luggage, and customs is generally efficient as well.
Luggage carts ($5 usage fee) and porters are onsite.
Terminal Facilities and Services
There is one departure lounge each for international and domestic flights. The international lounge can become crowded at times, but plans are underway for expansion.
The check-in hall features an open-air design, and has both traditional check-in counters with staff, and automated kiosks for some of the major airlines.
Before the international security checkpoint, there are resin copies of the stones from the Sapodilla Bay Hill Rock Carvings.
The international departure lounge features two levels, and seating is found in both areas. The upper level also offers an outdoor viewing deck and limited amounts of seating, as well as a VIP and first class lounge.
Internet
The departure lounge is covered by a complimentary Flow Wi-Fi hot spot. Unfortunately, the connection doesn't always function, and is often poor when it is operational.
Shopping and Eating
A restaurant, Gilly's Restaurant, is found outside the security checkpoint in the main terminal. Gilly's Café, a small bar which also serves food, is located in the upper level of the international departure lounge.
Several gift and souvenir, duty-free, and jewelry shops are located on the lower level of the departure lounge.
Currency Exchange
There is no Bureau de Change at the airport. You are advised to exchange currency before you arrive. Currency can be exchanged at local banks, but the fees are exorbitant and queues can be over an hour for service.
Ground Transportation and Taxis
Taxis and cars (both private and rental) are the only forms of ground transportation from the airport.
Taxis are available directly outside the baggage claim area. We advise you to confirm your fare (total for all passengers) before setting off. There are fixed fares as set in the ordinance (and often posted by other information sources), but these are not always respected.
We recommend that most visitors rent a car because of the lack of public transportation. Find out more at Getting Around Providenciales, Providenciales Car Rentals, and Driving in the Turks and Caicos. See Providenciales Taxis for more information on taxis fares, stands and availability.
Some accommodations, such as vacation rental villas, offer complimentary airport pick-up and drop-off.
Transport from the Providenciales Airport to Grace Bay
Grace Bay is the home to the majority of resorts, hotels, and restaurants on Providenciales. This region of Providenciales is about a ten-minute journey by car from the airport.
In the case of visitors picking up a rental car at the airport (recommended), it's not difficult finding Grace Bay. Simply follow Leeward Highway from the Downtown area to its conclusion at the Gateway to Grace Bay roundabout, and follow the short Allegro Road to the center of Grace Bay.
Taxi fares for two people typically cost $28-34. Be aware that taxis may multiply the fare by the number of passengers, and we advise clarifying the total rate for your party before embarking.
Airport Transport Businesses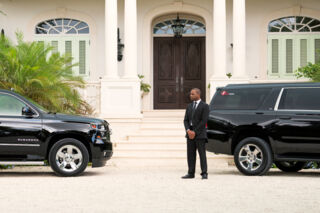 Fast Tack Transport is a luxury private car service, with punctual and impeccable rides via Chevrolet Suburban SUVs or BMW 5 Series cars. VIP car service is perfect for airport transfers or general transportation needs at Providenciales and Grace Bay.
Learn More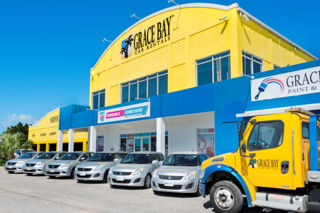 Grace Bay Car Rentals has one of the largest fleets in the Turks and Caicos, with a wide selection of car, minivan, SUV and 4x4 options. Delivery or pickup from your accommodation or the airport included. The main Grace Bay office is located within easy walking distance of most resorts on the island.
Learn More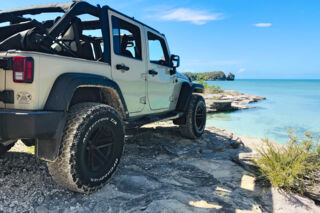 Explore Providenciales by Jeep Wrangler! Our premium and modern soft top jeeps are the perfect complement to a vacation in the Turks and Caicos. Discover beautiful and secluded beaches. Personal, friendly, and professional service.
Learn More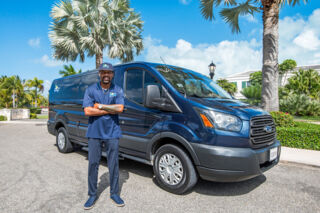 Sea Breeze Taxi and Tours
Sea Breeze Taxi and Tours provides reliable transportation services throughout the island of Providenciales. Specializing in airport pickup and drop-off, island tours, grocery trips, bar-hopping and much more.
Learn More
Parking
Parking fees are on par with major international airports such as London Heathrow and Miami International Airport. It is illegal to leave cars unattended at the curbside.
The small car park is located a short distance from the terminal, which does become full at times. As usual, don't leave any valuables in your car as there isn't security personnel at the car park.
The Providenciales Airport Authority has recently begun the practice of towing and clamping improperly-parked vehicles. We advise against leaving a car unattended for any length of time outside of the car park.
Parking Fees

Hour (or part)
$2.00
Day
$25.00
Week
$175.00
Terminal Map
Arrivals
Departures
Map & Location
Directory
Last reviewed by an editor on 4 May 2022.