Turks and Caicos
Butler Services
Hiring a butler for your vacation to the Turks and Caicos Islands is easier than you think. In recent years, personal butlers have become more and more popular for tourists staying at luxury hotels, villas, and private homes in the territory. Butlers can take a lot of the logistical planning and busy work off of your plate, leaving you with more free time to hit the beach, make memories with your loved ones, and achieve total relaxation.
What Do Private Butlers Do?
Private butler duties vary, yet butlers are generally in charge of overseeing the operations and events of a private home or residence. Many butlers in the Turks and Caicos Islands are formally trained by certifying bodies like The International Butler Academy, Magnums Butler Academy, or British Butler Academy.
These service professionals can act as concierges, making dinner reservations, booking tours, serving drinks, and arranging private dinners. They can also act as heads-of-houses, turning your private home or luxury villa into your very own hotel by bringing you fresh towels, overseeing housekeeping services, managing event staff, and ensuring that your vacation is smooth sailing from start to finish.
How Much Does a Private Butler Cost?
Given the demands of the job, private butlers don't come cheap. Prices for butler service depend on the company and services required, yet often start at around $300 per day, excluding tips, which can be as high as $100. If you're looking to hire a private butler or two for your time here in the Turks and Caicos, there are several companies that offer their guests private butler services, and some properties may provide a complimentary butler service as well, including stays at some of the premium accommodations at Beaches Turks and Caicos, Beach Enclave, and some of the larger luxury villas.
Booking a Butler
Want to hire a butler for your next vacation to the Turks and Caicos Islands? Several independent companies provide butler and concierge services for either single events, or for entire stays. If you work with your butler in advance of your stay, services such as grocery pre-stocking and airport transits can be arranged as well.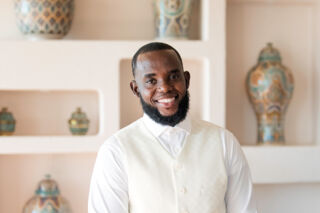 OMNI Luxury Island Services
OMNI TCI provides friendly and professional butler, bartending, concierge, personal shopping, and private dining services. The company is based on the island of Providenciales, and provides services at private villas, hotels, and for visiting vessels.