Turks and Caicos
Charter Flights
The Turks and Caicos is a rather small archipelago country, yet small aircraft remain a primary means of transport between islands. There are two domestic airlines based in the country, with scheduled flights between several islands, yet due to irregular schedules and large groups traveling together, charter flights may be necessary, or simply make financial sense in some cases.
The Turk and Caicos features several inhabited islands, and guests staying on one of our smaller boutique islands may opt for the convenience of a charter flight over scheduled domestic flights and ferry services. Charter flights on Providenciales often depart from one of the island's two private FBOs, so the usual airport queues are avoided and there's typically very little wait.
All Scheduled International Flights Land at Providenciales
All scheduled international flights to the Turks and Caicos land at the Providenciales International Airport (PLS). The Grand Turk JAGS McCartney International Airport (GDT) is also an international airport, yet no scheduled flights service the island at this time. These two airports are the only two in the country typically used by jet aircraft.
Guests arriving via a scheduled international flight and staying on an island other than Providenciales will have to travel to their final destination island by boat or small plane.
See Domestic Flights and Ferries for information on regular services.
Charter Aircraft
Charter aircraft in the Turks and Caicos tend to be small twin-engine planes, such as the Beechcraft King Air, Britten-Norman Islander, de Havilland Twin Otter, and Cessna 402.
Destinations
Grand Turk, South Caicos, Salt Cay, North Caicos, Pine Cay, and Ambergris Cay all have functioning and surfaced airports or airstrips.
Middle Caicos does not have an operational airport and does not see any flights. North Caicos and Middle Caicos are connected by a road causeway, so guests wanting to fly to Middle Caicos land on North Caicos and make the scenic 15-minute drive over to their final destination.
Other Islands without Functioning Airstrips
The boutique island of Parrot Cay does not have an airstrip or airport. Passenger transfers typically take place by boat from Providenciales.
West Caicos has a disused unpaved airstrip. It's currently unsuitable for aircraft. The airstrip was originally constructed in 1972 by an oil company that was considering an oil transshipment hub on the island.
Destinations Outside of the Turks and Caicos
The two local airlines, Caicos Express and interCaribbean, also serve as the primary charter flight companies in the Turks and Caicos. Both airlines have scheduled regional international flights, and are happy to accommodate charter flights to many destinations in the Caribbean.
Aircraft Charter Companies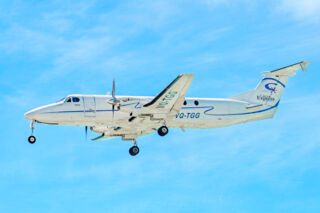 Caicos Express is a Turks and Caicos airline that offers scheduled domestic and international flights to many cities, and also offers custom charters as well.
Turks and Caicos Airports
Providenciales International Airport (PLS)
Providenciales International Airport (PLS) information. Learn about flight arrivals, departures, check-in times, parking, transport, shops and dining, and more.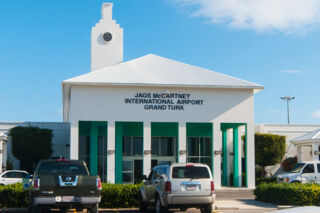 Grand Turk JAGS McCartney International Airport (GDT)
The JAGS McCartney International Airport (GDT) is the only airport on Grand Turk and one of only two international airports in the country.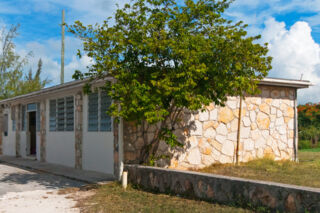 North Caicos Airport (NCA)
This small and quiet airport on North Caicos (NCA) has an asphalt runway. There are no regular scheduled flights that land here.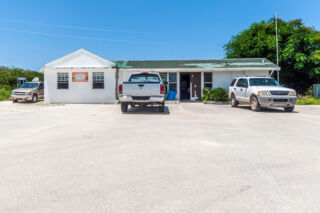 Middle Caicos Airport (MDS)
This closed airport is found near the settlement of Conch Bar and has been inactive since the construction of the North Caicos–Middle Caicos causeway in 2007. The airport has a small terminal building and a 2,461-foot (750 m) paved runway.
South Caicos Airport (XSC)
The South Caicos Airport (XSC) is a small regional airport with a 6000-foot (1829 m) asphalt runway. Several scheduled flights from Providenciales and Grand Turk land here each week.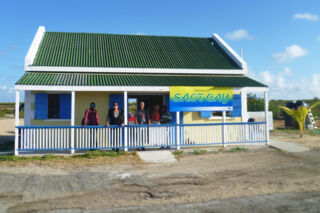 This small single runway and terminal airport is domestic only and services the island of Salt Cay.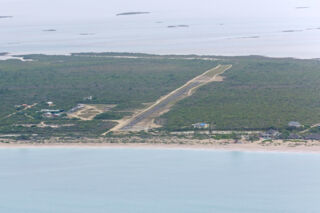 This small private 2800-foot (850-meter) asphalt airstrip is located on the small island of Pine Cay.
Transportation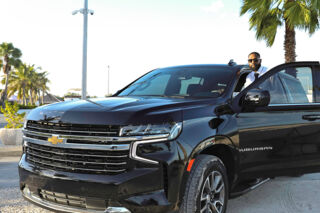 LIV Transport is a professional private car service, based on the island of Providenciales. The company provides punctual transport via elegant and modern full-size luxury SUVs. Services include Providenciales airport transits and general VIP car service for Grace Bay and the island.