Providenciales
Luxury Private Charters
Our Opinion
A private charter allows for the excursion to be tailor-fit to your exact destination, activity and dining preferences, albeit at a higher rate than on shared cruises.
5
star rating for
Providenciales Luxury Private Charters
by
Visit Turks and Caicos Islands
Providenciales offers an excellent selection of luxury yacht charters across a wide range of vessels.
The majority of luxury charters do not follow a fixed schedule. Rates are typically based off of half or full day prices, with departures times according to customer's wishes.
If guests are staying at a beachfront accommodation, luxury charters will usually offer passenger pick up directly in front of their hotel or resort on the world famous Grace Bay Beach. For those staying at one of the remote luxury resorts in the Turks and Caicos, such as Amanyara or Parrot Cay Resort, additional fees may apply. For those that would rather depart from a marina, land transport can be arranged.
Refreshments and Dining
Most excursions will be able to cater to your exact dining and refreshment preferences. Typically, a wide complement of alcoholic and non-alcoholic beverages, fresh snacks and fruit is offered on half day excursions, and lunch is included on full day adventures.
Beach lunches and BBQs are another great option. There's no better dining setting than one of the perfect beaches in the Turks and Caicos. The larger tour vessels feature galleys, so dishes can be created fresh.
Sights and Destinations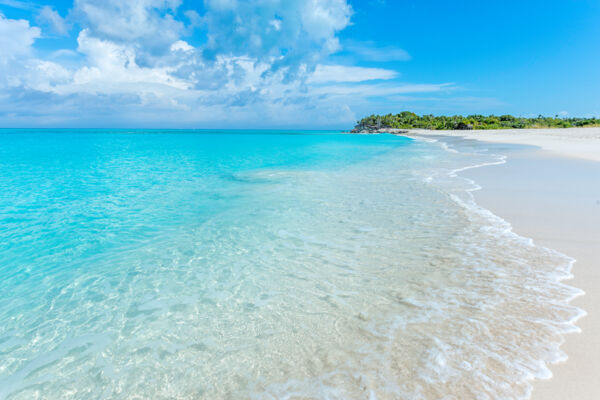 A great aspect of a private boat charter is that you'll be able to spend the cruise how you'd like, unlike on the scheduled cruises, which tend to follow a regular routine.
A Turks and Caicos yacht charter is one of our top vacation activities, simply because it offers a little of everything that makes our archipelago a great destination.
Uninhabited Islands and Beaches
The most popular thing to do on excursions is simply to discover and relax on one of our may uninhabited cays. With over 100 named islands and cays, the Turks and Caicos certainly doesn't disappoint in this regard.
Island cruising brings a little of everything. There are great beaches, coral reefs to snorkel on, and iguanas to see. A yacht charter can also be equipped for scuba diving or deep sea fishing as well if so desired.
The sandy islands of Little Water Cay, Water Cay, Pine Cay, and Fort George Cay are favourite destinations, yet some of the cays further afield also hide spectacular sights.
French Cay is one such spot. Renowned for its incredible wall dive sites, this tiny nature reserve islands also attracts fascinating birdlife and nurse sharks.
Snorkelling
The Turks and Caicos hides a wonderful array of snorkelling reefs, and no two sites are alike. There are small sheltered reefs that support wide menageries of reef fish, barrier reefs with incredible yellow sea fan beds, and the deep blue open ocean off the wall.
As custom cruises are more likely to travel the extra distance to the best locations, the chances to spot dolphins and whales increases. It's truly an unforgettable experience to snorkel with these majestic sea mammals.
Scuba Diving
Small-group scuba diving is another great activity. You'll have the full attention of dive masters, a less hectic space to set up in, and you'll get to see the interesting marine life before it's scared off by others.
Fishing
Interested in trying your hand at fishing? Deep sea sport fishing and bottom fishing is great in the Turks and Caicos, and you'll won't have a long journey out to the prime fishing grounds either.
History and Nature
West Caicos is another amazing destination, with features that everyone will enjoy. There's Bernard Bay, a sheltered beach with perfect water, scenic coastal cliffs and snorkelling, the historical site of Yankee Town, and the impressive wall diving of the West Caicos Marine National Park.
The Caribbean offers some spectacular ocean hues, yet the incredible blue waters off in the West Caicos Marine National Park have to be seen to be believed. Due to the travel distances from Grace Bay, many of the scheduled cruises don't make it out to West Caicos. A private yacht charter is the perfect way to discover this pristine coast.
Yachts and Vessels
There's an incredible selection of excursion boats in the Turks and Caicos, ranging from small open vessels to extravagant 80 foot (25m) yachts.
Many of the luxury yachts are larger than the typical tour boats, which in turn tends to offer a smoother ride as well. They also often feature enclosed and air conditioned cabins, complete with bathrooms, comfortable seating, and in some cases, bedrooms for overnight expeditions.
Reservations and Booking
Yacht excursions can be booked directly through the charter business (which typically results in the best rates), or through your local accommodation or concierge service.
During the December through February high tourism season, availability may be limited and it's advisable to make reservations well in advance of your scheduled visit.
A 12% government tax is applied on tour prices.
Most private charters require a deposit upon booking.
Cancelations
Be aware of cancelation policies. Due to the limited number of local tour vessels, cancelling an excursion close to the scheduled departure date may incur stringent fees as it is unlikely that a new booking could be made with little notice.
If a tour is cancelled due to weather, a re-scheduling or refunding is typically offered at no charge.
Local Businesses
Last reviewed by an editor on 15 August 2018.