Turks and Caicos
Vegetarian and Vegan Restaurants
Many restaurants in the Turks and Caicos offer vegetarian dishes, and a much smaller selection offers vegan options. It's undeniable that the Turks and Caicos isn't the best destination for plant-based dishes! A consolation is that many restaurants are happy to create vegetarian versions of many of their dishes upon request.
As an arid tropical archipelago, the Turks and Caicos doesn't have a strong agricultural industry, and there isn't much produce that is grown locally. Providenciales is home to one hydroponic farm that grows tomatoes, cucumbers, lettuce, and sprouts. Likewise, a few upscale resorts have small hydroponic gardens to raise herbs and greens. The island of North Caicos has long been the garden island of the country, and has a few farms that grow peppers, tomatoes, legumes, papaya, squash, and sweet potatoes. Due to the limited agriculture in Turks and Caicos, nearly all produce is imported into the country from the United States.
Salads, Veggie Burgers, and More
For salads, a great option is simply the self-serve salad bar at the Graceway Gourmet supermarket, located in central Grace Bay. The salad bar is stocked with dozens of types of fresh greens, vegetables, fruits, nuts, cheeses, and dressings, and salads are sold by weight.
For those seeking a vegetarian burger, Big Al's Island Grill serves a black bean burger, a veggie burger, and a portabella mushroom burger, and they also offer a grilled veggie panini, an arugula salad, and a Caprese salad as well.
Thai Orchid, located at the Regent Village in Grace Bay, has a menu that includes several vegetarian dishes, with a steamed vegetable salad, spicy tofu, vegetable curry, and more. Turks Kebab, also in Grace Bay, is a Mediterranean restaurant with some salads and appetizers that are free of meat. Bay Bistro, Solana, Baci Ristorante, and Mango Reef all also have very wide menus, which have some vegetarian choices as well.
For breakfast, coffee, teas, and snacks, some great options include Lemon 2 Go, Shay Café, and Beans & Leaves.
Private Chef Services
For guests staying at a vacation villa, another option that works well for those with dietary and food concerns is to arrange the services of a private chef. Providenciales is home to many talented chefs, and dishes can be created to conform exactly to vegan, vegetarian, and gluten-free needs.
Restaurants with Vegetarian and Vegan Choices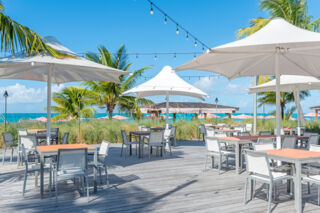 Solana is a beachfront restaurant, located at Ocean Club West on Grace Bay Beach. Open for breakfast, lunch, and dinner, the restaurant serves a menu of seafood, Japanese, and Italian cuisine.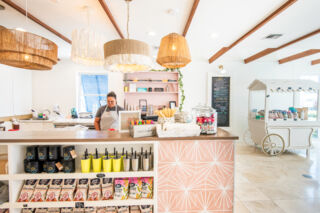 Crest & Berry is a smoothie, juice, breakfast, and lunch café, located in central Grace Bay at Venture House near Regent Village. The menu includes a number of freshly made and healthy options.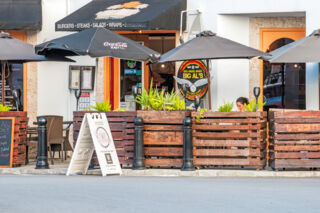 Big Al's Island Grill is a burger, pizza, and grill diner, located at the Saltmills plazas in central Grace Bay. Choose from wide array of burgers and fries, milkshakes, custom pizzas, steaks, and more.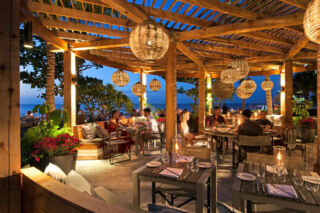 Infiniti Restaurant & Raw Bar
Infiniti Restaurant & Raw Bar is an upscale beachfront bar and gourmet restaurant, located at the Grace Bay Club resort. The restaurant serves a menu of contemporary dishes, created with fresh ingredients.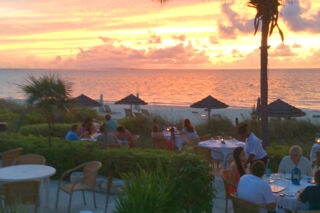 Beachfront restaurant at the Sibonné Hotel. Serves freshly caught seafood and freshly made desserts and ice cream. Open for breakfast, lunch and dinner.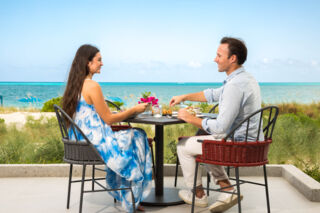 Coralli is a beachfront restaurant, located on Grace Bay at the Ritz-Carlton luxury hotel. The restaurant is open for breakfast and lunch, and offers both outdoor and indoor air-conditioned seating.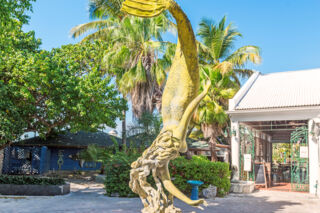 Baci Ristorante is a popular Italian and seafood restaurant, located at Turtle Cove Marina in central Providenciales. Discover handmade pastas, local fish and lobster, classic pizzas, and more.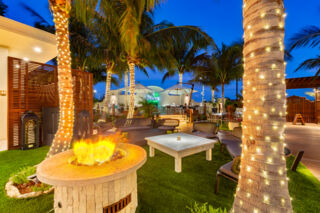 The Farm is a fine dining restaurant the strives to create unique dishes from fresh ingredients, including produce raised onsite. The restaurant is located at the luxury Seven Stars resort in Grace Bay.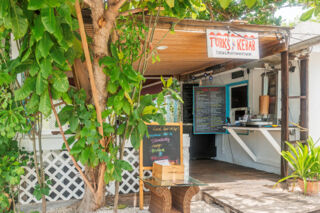 Turks Kebab is a restaurant in Grace Bay that offers Turkish, Greek, Middle Eastern, and Mediterranean fare at a great price. Dine in or take out. Open for lunch and dinner.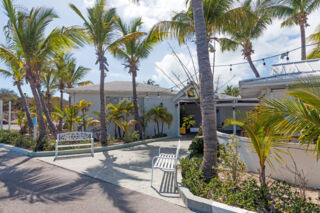 Mango Reef features waterfront fine dining at Turtle Cove on Providenciales. Explore a menu of seafood, Caribbean, and international favorites.