Turks and Caicos
Pizza Restaurants
The island of Providenciales has a small yet select collection of pizza parlors, pizzerias, and Italian restaurants, with choices ranging from American-style take out to gourmet thin crust. Many of the casual and bar eateries serve pizza too, with personal pan pies offered in a few classic flavors.
What is the Best Pizza in the Turks and Caicos?
The timeless question!
The Pizza Garden at Bella Luna is one of our favorites for thin crust and gourmet style, with their artisan pizzas baked in a brick oven, and a great selection of fresh toppings. They have one of the widest selections of pizzas, which includes all your normal toppings and also more interesting ones such as seafood and conch.
For a classic full size pie and takeout, we'd go with Baci Restaurant in Turtle Cove or the Leeward Highway location of Pizza Pizza. Baci is located on the water at Turtle Cove Marina, and Pizza Pizza has two locations: one in central Providenciales on Leeward Highway, and another in Grace Bay that's within easy walking distance of many resorts and hotels. Both of Baci and Pizza Pizza work with fresh mozzarella, dough made in-house, and have a wide selection of toppings and pies.
Fairways Bar and Grill, the restaurant and bar at the Provo Golf Club, also serves a selection of flat bread pizzas. This laid-back yet elegant setting features a great view over the lush greens of the Provo Golf Club.
For those staying in Chalk Sound, Taylor Bay, Sapodilla Bay, and the west coast, Mother's Pizza in Downtown is one of the closer establishments. This pizza parlor offers one of the best dinner values on the island, with large pies made with fresh dough and sauce. Select from classic or thin crust. There's a wide menu of pre-designed pies, ranging from the enduring cheese, margarita, pepperoni, and Hawaiian favorites, to the Caribbean inspired Jamaican Jerk Pizza. If you'd prefer to build your own, toppings include peppers, onions, mushrooms, olives, garlic, tomato, pineapple, pepperoni, ham, BBQ chicken, seasoned ground beef and more.
If you're on the go and can't wait for a pizza to be created, the Graceway Gourmet supermarket in Grace Bay and Graceway IGA on Leeward Highway typically have pies and individual slices ready to go.
Another place for pizza in the Grace Bay area is Lupo restaurant in the Regent Village. This casual Italian restaurant features Roman style crust and topping choices of margarita, Parma, or pesto.
Pizza Delivery
Pizza delivery isn't as widespread in the Turks and Caicos as it is in the United States, Canada, and the UK. Pizza Pizza and Mother's Pizza deliver to most regions on Providenciales, including the central tourism district of Grace Bay.
Grabet, a unique food delivery service, is another option. This service will order, collect and deliver food to your door from many restaurants. The menu isn't limited to pizza, as Grabet works with twelve restaurants, representing cuisines ranging from local flavors, bar and grill fare, Indian, Mexican, Chinese and more.
Typical delivery times are often a little longer in the Turks and Caicos than other destinations. We'd recommend budgeting 45 minutes to 1 hour.
Reservations
The restaurants that primarily serve pizza typically don't require a reservation. We do however recommend making a reservation in the case of Baci Ristorante and Bella Luna.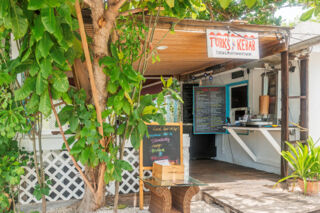 Restaurant, Asian Cuisine...
Turks Kebab is a restaurant in Grace Bay that offers Turkish, Greek, Middle Eastern, and Mediterranean fare at a great price. Dine in or take out. Open for lunch and dinner.
Learn More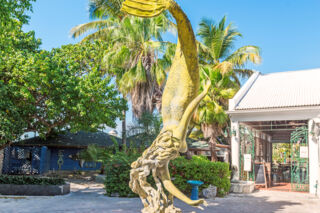 Restaurant, Seafood...
Baci Ristorante is a popular Italian and seafood restaurant, located at Turtle Cove Marina in central Providenciales. Discover handmade pastas, local fish and lobster, classic pizzas, and more.
Learn More
Restaurant, Pizza...
Pizza and Italian fare. Dine in, take out or delivery. Centrally located in Grace Bay.
Learn More
Pizza, Restaurant...
Specializing in large American-style pies, Mother's Pizza is located in Downtown Providenciales. Dough is made fresh daily and sauce is specially blended from scratch. Dine in or take out. Delivery available.
Learn More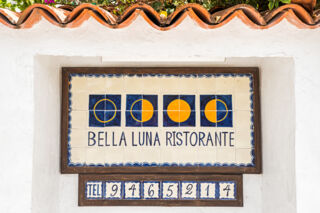 Fine Dining, Restaurant...
Bella Luna is a popular Italian fine dining and thin crust pizza restaurant in central Grace Bay. Reservations recommended.
Learn More
Last reviewed by an editor on 16 February 2021.