Turks and Caicos
Steakhouse Restaurants
Fine dining in the Turks and Caicos is largely characterized by seafood, yet the island of Providenciales (home to world-famous Grace Bay Beach), does feature several excellent steakhouses.
The Turks and Caicos imports nearly all fresh produce, steaks, and other meat products from the United States, typically via refrigerated shipping containers or by plane. Consequently, due to the relatively rapid journey, perishable products are often both fresh and expensive. Small amounts of locally grown produce complement the imported goods. USDA prime-graded beef is common in the Turks and Caicos, with grass-fed and Black Angus selections often available. A wide range of cuts and steaks can typically be found, including tomahawk, T-bone, New York strip, flank, filet mignon, and bone-in ribeye.
Steakhouses and Restaurants
The island of Providenciales is home to a few restaurants that are well-known for their steaks. Many fine dining establishments have at least one steak dish on their menus, yet a few specialize in or are well-known for their steaks.
BLT Steak
The BLT American Steakhouse, located at the luxury Ritz-Carlton hotel on Grace Bay Beach is the only restaurant in the Turks and Caicos that's primarily a steakhouse. The restaurant serves 100% naturally raised and certified Black Angus beef, and also offers fresh seafood and salads. They also maintain a complement of premium wines from around the world.
Both indoor air-conditioned and outdoor courtyard seating is available. Reservations are recommended.
WE Kitchen
WE Kitchen, located at the Kokomo Botanical Resort, is a gourmet restaurant that features an open kitchen design and works with many locally sourced and specialty foods, which includes a collection of dry-aged steaks. Cuts include a massive 48 oz. tomahawk steak, a New York strip, and a Black Angus ribeye.
Reservations are required, and the dress code is elegant casual.
Opus
Opus Restaurant and Wine Bar doesn't advertise themselves as a steakhouse house, yet is popular locally for their Black Angus tenderloin steak, grilled rack of lamb, and surf and turf. The restaurant is located on the eastern side of Grace Bay, and near the Ocean Club Resort and the Royal Turks and Caicos Golf Club. Reservations are recommended.
Steakhouses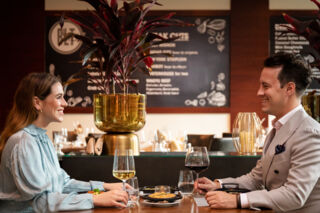 The newly-opened BLT Steak at the Ritz-Carlton offers a contemporary take on an American steakhouse, with a full complement of 100% naturally raised and certified Black Angus, as well as fresh seafood, salads, and a premium wine list that represents the world.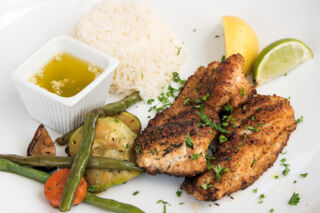 Le Bouchon du Village is a gourmet French restaurant, located at in the Regent Village in the heart of Grace Bay. Discover a varied menu of French classics, freshly caught local seafood, and wine.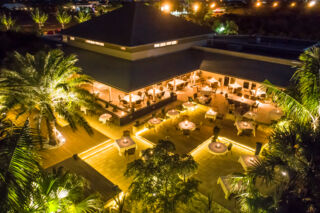 Opus Wine Bar and Grill is a gourmet restaurant, located in eastern Grace Bay. The restaurant serves a menu of classic dishes, including steaks, seafood, pasta, salads, and surf and turf.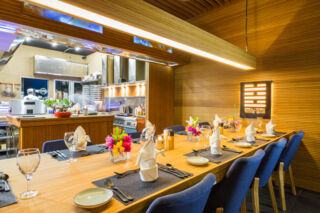 WE Kitchen is a gourmet restaurant, located at the Kokomo Botanical Resort in central Providenciales. The restaurant specializes in dishes created from fresh and locally sourced ingredients, as well as dry-aged steaks, smoked and grilled meats, and fresh-made pasta.