Turks and Caicos
Traditional Food & Cuisine
As is the case everywhere, cultural and geographical factors have influenced the everyday foods of the Turks and Caicos, and many unique dishes and tastes have been the result.
Today it can be hard to find an authentic Turks and Caicos meal, especially on Providenciales. The less-populated islands of North Caicos, Middle Caicos, Salt Cay, and South Caicos are a bit closer to their roots, and old-style dishes are still commonplace.
Island Specialties
If you walk into any of the favorite island restaurants and ask for their signature dish, chances are that the answer will somehow involve conch.
There are several popular local ways to prepare this giant sea snail, yet it's likely that it'll either be breaded and fried "conch fritters", or served raw as a mixed conch salad. Conch salad traditionally incorporates lime juice and vegetables, and the acidic juices 'cook' the conch.
Other seafood definitely also factors in, including fish and lobster. Delicious grouper and snapper, either pan-cooked or fried, tends to be the fish dish of choice.
Lobster does have an August to March season, so you won't always be able to order it fresh.
History of Turks and Caicos Cuisine
As would be expected for a small Caribbean nation, seafood has historically played a primary role in local cuisine.
There's very little fertile soil and freshwater naturally in the Turks and Caicos, so farming has always been difficult. However, okra, peas, pigeon peas, peppers, beans, papaya, plantains, and maize was raised in little patches across the islands and would add some much-needed greenery and vegetables to the diet.
Drought-resistant maize, which was dried and ground into what was known as 'hominy' or 'grits', was also raised and was largely used in place of the rice and cereals common today.
It's still possible to see maize growing in some of the settlements, such as at Lorimers on Middle Caicos or on the remote west end of Providenciales near Wheeland.
Some food items could also be gathered from the land. Giant blue land crabs, common to many of the country's wetlands, also provided a bit of variance. Sea grapes and tamarinds added a bit of tang, and sugar apples were the main source of sweet.
On the salt-producing islands, there was a bit more money to buy imported staples such as rice and some grains, as well as comparatively small quantities of tea, coffee, sugar, and salt meat.
Johnny cake, a pan-baked and slightly sweetened cornbread, largely took the place of wheat breads in the past. The name 'johnny cake' is derived from "journey cake", as this baked good preserved well and was a staple for long fishing and sloop trading trips.
Today, locally caught conch, lobster, and fish continue to define local dishes.
The agricultural scene in the country has seen much improvement due to the increased availability of fresh water and modern hydroponics. Both North Caicos and Providenciales have multiple farms that produce tomatoes, cucumbers, papayas, bananas, herbs, and lettuce, and these fresh vegetables are becoming increasingly used throughout the country.
Interestingly, two of the most famous local dishes, conch fritters and conch salad, are relatively recent culinary inventions that weren't on the menu 100 years ago.
Popular today, deep-fried fish is another relatively new cooking method. In the past, cooking oil was very hard to come by, so light pan frying, poaching, boiling, or roasting was the norm.
A good current example of authentic local cuisine is pan-poached fresh grouper, peas and rice, and a side of locally grown mixed greens.
Regional Influences
Out of the Caribbean, the countries of the Bahamas and Jamaica have especially had an influence in modern Turks and Caicos cuisine.
Because of close geographical ties and natural population movements, the Bahamas has had the heaviest impact, and many conch dishes and stews here were inspired by the neighboring country.
Originating more to the south, flavorful BBQ jerk chicken and fish from Jamaica added another spicy element.
Elements of Haitian cuisine, typically known as Haitian creole, were brought over by immigrants from nearby Haiti. Pork girot is an example of a locally popular and imported Haitian dish.
Turks and Caicos Food Restaurants
When on vacation in the Turks and Caicos, chances are that you'd like to try some authentic island food. What is the best restaurant for Turks and Caicos food? The answer of course depends on who you ask. In our opinion, some of the best choices are the local seafood dishes from Mangrove Bay Restaurant on Providenciales, and Sunset Café & Bar at Cockburn Harbour on South Caicos.
Popular Local Cuisine Restaurants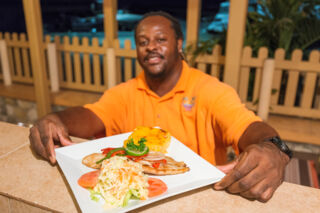 Sunset Café & Bar
Stubb's Street
This small restaurant and bar serves classic local dishes and freshly- caught seafood. Located in the heart of Cockburn Harbour and across the street from Seaview Marina.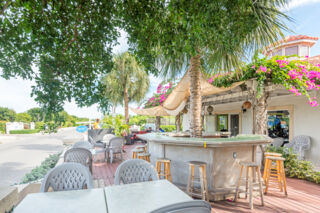 Simone's Bar and Grill
107 Lower Bight Road
Simone's Bar and Grill is a Turks and Caicos and Caribbean cuisine restaurant located in Turtle Cove in central Providenciales. Enjoy fresh conch, fish, and lobster dishes in a casual and comfortable environment.
Prices shown are inclusive of tax. Gratuity is not included and is appreciated by staff. This venue charges Government Tourism Tax (12%).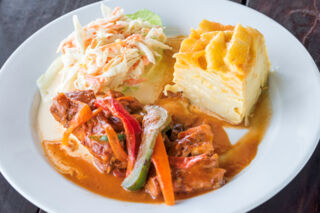 Mangrove Bay Restaurant
Industrial Drive
Mangrove Bay Restaurant is a Turks and Caicos cuisine establishment near Downtown on Providenciales, and specializes in fresh local seafood dishes. Enjoy island favorites such as whole steamed fish, pea n' rice, BBQ, souse, conch, lobster, and more.
This venue does not charge any taxes. Gratuity is optional and is appreciated by staff.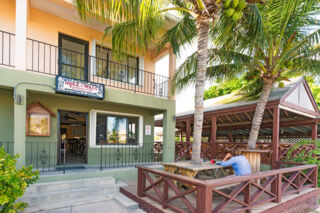 Hole in the Wall Restaurant
Williams Plaza, 34 Old Airport Road
Hole in the Wall is a popular Jamaican and Turks and Caicos cuisine restaurant, located in the Downtown region of Providenciales. Enjoy jerk chicken and pork, oxtail, fried fish, and much more.
Breakfast, Lunch and Dinner
Prices shown are inclusive of tax. Gratuity is not included and is appreciated by staff. This venue charges Government Tourism Tax (12%).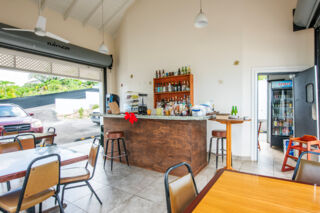 Miss B's Island Restaurant
King's Road
Miss B's is one of the most popular restaurants on North Caicos. Enjoy local seafood, grill favorites, fresh homemade ice cream and baked goods, live music, and pizza. Located near Major Hill and the airport.