Providenciales
Cafés, Ice Cream Shops, & Bakeries
There are several places on Providenciales to get a great cup of coffee, with both indoor and outdoor settings.
In Grace Bay, gourmet cafés can be found in the Regent Village, Saltmills Plaza, Caicos Café Plaza, and at the Graceway Gourmet supermarket. These sites are within easy access of many of the Grace Bay resorts.
The Turks and Caicos is also lucky to have TCI Coffee Roasters, which imports organic green Arabica beans from around the world and roasts them on Providenciales. Coffee blends are offered as whole beans or ground.
On the Leeward side of the island, a great place for a light snack and coffee is The Market at Blue Haven Resort. This site offers groceries, sandwiches, baked goods and pizza.
There are no drive-through coffee shops, Starbucks, Dunkin' Donuts, Dairy Queens, or other chain restaurants in Providenciales (there is a Starbucks at the Grand Turk Cruise Center).
Bakeries
There are several bakeries on Providenciales, and they offer a wide selection of fresh breads, pastries, cakes and cookies.
Caicos Bakery is found in the small Caicos Café Plaza. This French bakery serves a wide selection of baked goods that are made fresh every morning, as well as perfectly-brewed cups of coffee made from local TCI Coffee Roasters beans. Choose from bread, croissants, sandwiches, small pizzas, and desserts.
The Graceway IGA supermarket on Leeward Highway and Graceway Gourmet supermarket in Grace Bay both stock freshly-baked bread, baguettes, croissants and cookies.
Local Ice Cream and Gelato
There are several ice cream shops on Providenciales that feature locally made ice cream, sorbet and gelato. In Grace Bay, there's a great choice in almost every plaza.
Turk Berry at the Saltmills Plaza is a very popular place for those with a sweet tooth and offers frozen yogurt in several proprietary blends along with a great selection of toppings.
The Patty Place, a Jamaican-inspired confectionery that has two locations, sells Devon House ice cream of Kingston, Jamaica fame and locally made ice cream cones and patty pastries, which are a flat pastry with a flaky pie-like crust that may be filled either with savory meat, or sweet fillings.
In Turtle Cove, Jammin' Gelato serves a wide selection of gluten and egg free gelato in fruit and regional dessert flavors. The proprietor often makes the trek with an ice cream cart up to the Bight Reef area, so you can enjoy this treat on the beach as well.
Candy and Sweets
The Grace Bay ice cream parlors offer the best selection of candies on Providenciales.
The Turks and Caicos traditionally doesn't have a wide repertoire of desserts, yet there are a few authentic and local recipes. Caramel made with the excellent Salt Cay salt, Bambarra Rum Cake, and semi-baked sweet fruit cake are some of the sweet flavors that have a close connection to our islands.
Turks and Caicos Cafés, Ice Cream Shops, and Bakeries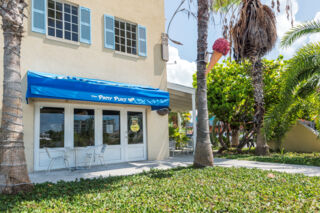 The Patty Place (Grace Bay)
Patty Place in Grace Bay is a popular takeout restaurant and ice cream parlor in the Turks and Caicos. Experience authentic Jamaican patties, a savory pastry that's a Caribbean favorite.
Learn More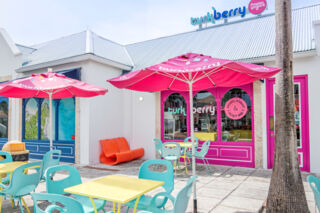 Turkberry is located in central Grace Bay and serves fresh-made frozen yogurt. Discover a range of delicious frozen yogurt flavors and toppings, donuts, coffee, and more.
Learn More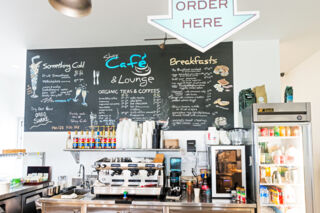 Shay Café is a coffee shop and restaurant, located at Le Vele Plaza in Grace Bay. Discover wraps, sandwiches, fresh baked goods, smoothies, hot and cold coffees, pizzas, and more.
Learn More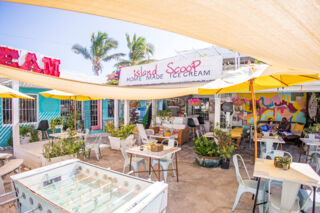 Island Scoop Ice Cream Parlor
Island Scoop serves freshly-made and unique ice cream and sorbet, along with smoothies and coffee. Located within walking distance of many of the Grace Bay resorts.
Learn More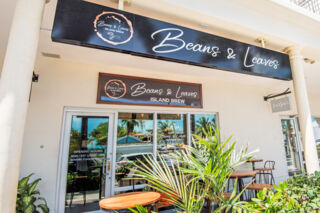 Beans & Leaves is a café and coffee shop, located in the heart of Grace Bay at Regent Village. The menu includes cold and hot coffees, teas, baked goods, sandwiches, and more.
Learn More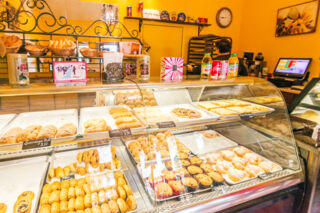 Caicos Bakery is located in central Grace Bay at the Caicos Café Plaza. This quaint shops serves freshly baked bread, pastries, croissants, Danishes, and a selection of drinks and coffee. Garden seating can be found outside the bakery. Caicos Bakery also creates beautiful custom cakes for special events!
Learn More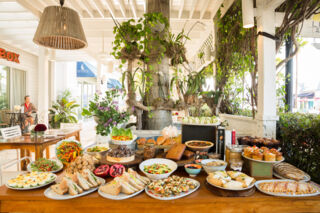 Lemon 2 Go is a boutique coffee shop and café, located in the heart of Grace Bay, and within walking distance of many hotels. Choose from a wide range of coffees, teas, smoothies, and juices, as well as breakfast and lunch dishes.
Learn More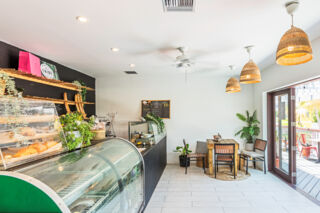 Tribe is a deli, restaurant, and bakery, located in central Grace Bay at Ports of Call Plaza. The establishment serves a range of healthy and fresh made sandwiches, salads, pizzas, and more. Open for breakfast, brunch, and lunch.
Learn More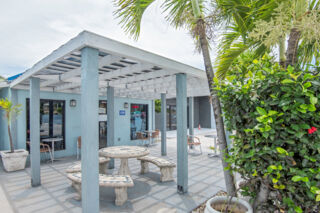 Top O' the Cove is a New York-style deli located in central Providenciales that has been operating for more than 20 years. Explore a range of sandwiches, baked goods, pizza, soups, coffee, desserts, and much more. Catering services available as well.
Learn More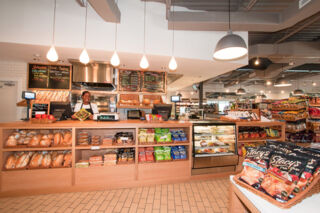 This onsite grocery store and cafe sells a range of produce, cheeses, wine, beer and other products. It's located at the Blue Haven Resort and Marina in Leeward.
Learn More