Grand Turk Cruise Center
Grand Turk
Our Opinion
This cruise center is well-designed and provides a variety of shops and restaurants for visitors. It's located on the southern-end of Governor's Beach, which is the best beach on the island. A large pool provides an alternative for those not wishing to go in the ocean. Shuttles, taxis and rental cars/scooters are easily available.
5
star rating for
Grand Turk Cruise Center
by
Visit Turks and Caicos Islands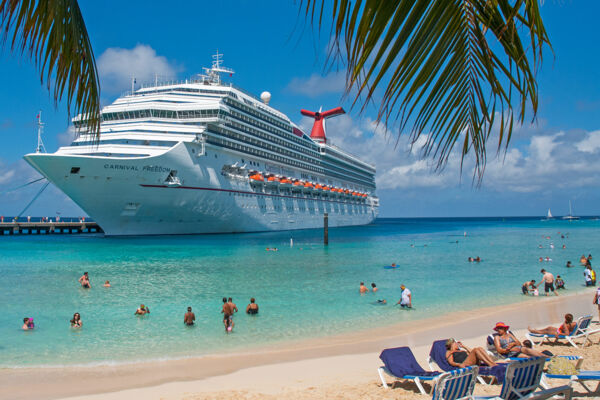 The Grand Turk Cruise Center is a 13 acre complex and cruise port on the southern end of Grand Turk. This site serves as the launch point for cruise ship shore excursions, and offers onsite gift and jewellery shops, restaurants and a spa, as well as the largest Margaritaville in the Caribbean (which features a swim-up bar). As many as three ocean liners are welcomed here each day.
The beautiful Cruise Center Beach (SunRay Beach) fronts the complex, and is one of the nicest cruise port beaches in the region.
Unlike many other Caribbean vacation cruise stops, Grand Turk is a very small island, and offers a completely different atmosphere than better-known destinations. There isn't a crowded city or waterfront, just a laid-back little town with great beaches and a little British Bermudian Colonial heritage.
The Grand Turk Cruise Center is the only cruise port in the Turks and Caicos, and the $50 million complex was opened by Carnival Cruise Lines in 2006.
Sights and Attraction at the Cruise Center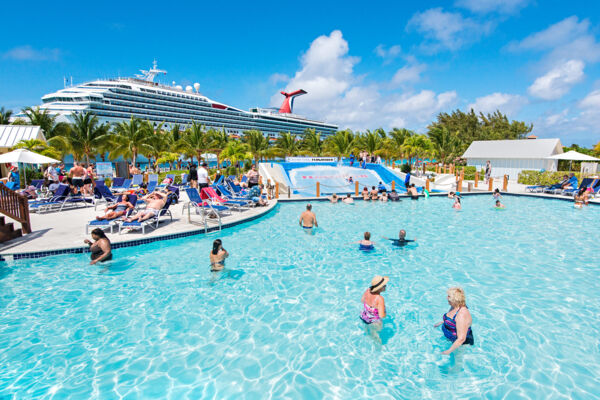 The highlight of the Grand Turk Cruise Center is the huge, lagoon-like swimming pool. Private pool-side cabanas with waiter service can be rented, but be sure to reserve yours early as availability is limited.
The Cruise Center is located on the beautiful Cruise Center Beach (SunRay Beach) (also known as SunRay Beach), and the section next to the cruise ship pier is the poorest section – you'll want to head north up the coast a short distance to experience the best sand and water. Here you'll also find Jack's Shack, a popular restaurant to grab lunch. Complimentary beach lounge chairs are found fronting the complex, although depending on the number of ships in port, this area of the beach can become extremely crowded. Grand Turk is one of the few destinations in the Caribbean where a great beach can be enjoyed directly off the cruise ships.
To the south of the Cruise Center, the beach becomes a bit more secluded, albeit rocky as well. If you continue to the southern point of Grand Turk, you'll be at Boaby Rock Point, and near some snorkelling reefs. Further on is White Sands Beach.
The unparalleled Governor's Beach is found less than a mile (1km) to the north, unfortunately, it's not possible to walk to this location on the beach due to the Government Dock which interrupts the coast. It's necessary to take the inland roads to get to Governor's Beach.
One of the exciting attractions in the Cruise Center is the FlowRider. Water is jetted over a pre-formed cushioned surface to create an artificial surfing attraction. Both stand-up surfing and body-boarding are possible, and it's fun to simply watch other's attempts as well.
The Space Race
A little-known fact is the island of Grand Turk played a part in the 1962 Mercury Space Mission. John Glenn's first step on dry land after returning to Earth was on Grand Turk, and a U.S Navy Base that was operation on the island at the time, NAVFAC 104, helped in the recovery operations.
There's a memorial to John Glenn and the historic event at the Cruise Center, and the display features a statue, a replica of the Friendship Seven space capsule, and informative plaques.
Also nearby is a statue of a breaching humpback whale, highlighting the excellent whale watching at Grand Turk during the winter months.
Restaurants and Dining
If you're looking to enjoy some food and drinks, there are two restaurants within easy access of the Cruise Center: Jimmy Buffet's Margaritaville, and Jack's Shack. Both eateries serve a menu of American and international grill favourites such as burgers, sandwiches, grilled seafood, and chicken.
Margaritaville fronts the expansive swimming pool at the Cruise Center, and Jack's Shack is located a short walk up the coast on a perfect piece of beach with crystal clear ocean water.
There are quite a few restaurants in Cockburn Town and near Pillory Beach, including the gourmet Guanahani Restaurant at the Bohio Dive Resort.
Immigration and Customs
Immigration and Customs are handled by your cruise agent. Immigration and Customs personnel are present on site, and you may be selected for a secondary inspection. To obtain a stamp in your passport, you must notify your cruise agent during clearance, or visit the Immigration Department located in Cockburn Town.
Transportation and Getting Around Grand Turk
Transportation to other sites of interest on Grand Turk is available directly outside the Cruise Center. Here you'll find taxis waiting, and rental car pickups take place here as well.
If you'd like to rent a car, golf cart, or scooter, we advise making a reservation in advance of your visit. However, the local rental companies may be able to accommodate walk-ins.
Exploring the sights, town and beaches of Grand Turk is one of our recommended ways of spending the day on Grand Turk. There's so much to see, including the small yet interesting Turks and Caicos National Museum, the Grand Turk Lighthouse, and the waterfront at our capital city of Cockburn Town (where many of the island's hotels are located).
If you'd prefer to have a guide on your island tour, many of the taxis will be happy to show the sights and sounds of the island.
Shopping
There's a wide range of tourist gift and souvenir shops, art galleries, and jewellers at the Grand Turk Cruise Center. Some of these store are regional chains, such as the Ron Jon Surf Shop, Margaretville Trading Post, Dufry duty-free, and Diamonds International.
If you're interested in finding an authentic Turks and Caicos gift, see Shopping in the Turks and Caicos for ideas. The National Museum and a few other shops also offer local items.
Local prices are similar to other Caribbean destinations, and the majority of the souvenirs and trinkets are re-labelled versions of the typical mass-produced mugs, refrigerator magnets, and items seen at every other cruise port (usually from China). Likewise, sea shells tend to not be local, and are of Pacific origin.
Cruise Center Map
Port Schedule
Map & Location
Directory
Last reviewed by an editor on 8 October 2018.