Portraits and Family Photography
A family or personal photo-shoot should definitely be on your things to do list when visiting Providenciales. There are several excellent local photography studios who will provide you with the perfect souvenir to take home with you.
Whether you're looking for a classic snapshot or a vintage look, your local photographer will help you capture that perfect moment. Many of our local photographers have won international awards and have worked with international magazines, such as Conde Nast Bride.
Photographers are able to work on location at your resort or villa accommodation, or can recommend a beach setting depending on your preferences.
Beaches and Sunset Photo Shoots
There is a wonderful selection of beaches on Providenciales, including coasts suitable for sunrise and sunset shoots. Of course there's no guarantee of an incredible and colourful display, however chances are in your favour.
The prime sunset and sunrise shooting times are quite limited, so it makes sense to book well in advance with your chosen studio.
Another unique option is a combination island boat cruise and photo shoot, so the best moments of your vacation can be captured.
Underwater Photos
As a tropical destination with a spectacular marine environment, another great setting for photos is in or under the water.
Underwater and over-under (split photos with half above and half below the water surface) photo shoots are available from a few of the local photographers.
Underwater photography is notoriously difficult, so having a professional with the right equipment on hand will give you the best chance of getting beautiful ocean shots.
Local Photographers
Italian Passion with a Caribbean Flair is the motto of Attimi Photography. Led by WPPI award-winning photographer Ileana Ravasio, the Turks and Caicos' exclusive wedding photographer for Conde Nast Bride, this boutique photography studio will do everything to perfectly capture your special moment.
Learn more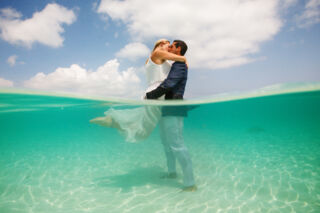 With over 20 years' experience operating in the Turks and Caicos, award-winning Brilliant Studios specializes in destination wedding and family photography.
Learn more
Kaieri photography by Sean Brady is a boutique photography company in the Turks and Caicos Islands that specializes in wedding photography and offers services for family portraits, underwater, and real estate.
Learn more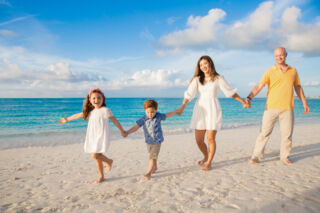 Paradise Photography is a full service photography company specializing in weddings, portraits and events, and boutique video production.
Learn more
Sheque Style Fashion Photography
Sheque Style is a fashion forward photography company for the savvy traveller who likes to have fun with fashion surrounded by a picturesque backdrop of island and ocean. They offer hair, makeup, photo and fashion styling where they focus on your shine during your vacation.
Learn more