Wedding Photographers
When your big day comes along, you'll want to capture that moment perfectly to remember for years to come. You'll need to work with a local photographer that you and your wedding planner (we recommend you use a planner) are comfortable with.
It's important that you set aside time to discuss directly with your photographer what you're looking for. Our internationally award-winning photographers can give you the classic look, vintage, casual, 'trash the dress', or a combination of several styles.
You'll want photos not just of the wedding, but the entire event. Many professional photographers offer package deals which cover shots not just of the married couple, but groomsmen and groom, bride and bridesmaids, wedding party, and more casual 'honeymoon' shots.
Our Local Photography Studios
There are about ten full-time boutique wedding and portrait photography studios on Providenciales. These business employ both local and international creative artists.
Several of our local studios have received international awards from industry publications and associations. The top local photographers and videographers will work with you to capture the moments exactly as you'd like.
Video
A few of the local studios also offer video production, which may include aerial drone video, which is the perfect way to show the guests and important event in the beautiful environment of the Turks and Caicos.
Prices and Packages
The price for basic one hour wedding photography of the ceremony starts at about $500. The typical package that includes photos of the ceremony, dinners, and formal portraits begin at around $2000.
Video packages tend to be expensive, starting at $1500-2000 for a produced and edited movie.
Venues and Settings
The Turks and Caicos does one backdrop really well: perfect and pristine beaches. Each of our islands feature a range of exquisite beaches with varying atmospheres.
Sunrise and sunset photo shoots are also popular. We have beaches facing both east and west, so there's always a beautifully-lit coast to choose from. See Turks and Caicos Sun for scheduling information on sunrise and sunset times.
Many of the larger resorts and villas offer quiet courtyard venues, complete with lush landscaping. Local wedding planners and caterers maintain selections of décor, decorative arches, and tents, and are able to source floral arrangements.
The options for a garden or park setting are a bit more limited due to our dry environment. The Provo Golf Club is one of the few sites in the country with a vibrant lawn!
Churches
The Turks and Caicos features one of the highest number of churches per capita in the world. On Providenciales, there aren't many historical places of worship due to the young age of the island's development.
Grand Turk, Salt Cay and South Caicos, due to their lucrative sea salt industry past, feature several beautiful albeit small colonial and Victorian-era churches. These old buildings were constructed from cut limestone blocksfrom the Turks and Caicos or Bermuda, with tropical wood finishing. Quite a few of these churches are beachfront, such as St Mary's Anglican Church on in Cockburn Town on Grand Turk and St John's Church in Balfour Town on Salt Cay.
Local Photographers
Italian Passion with a Caribbean Flair is the motto of Attimi Photography. Led by WPPI award-winning photographer Ileana Ravasio, the Turks and Caicos' exclusive wedding photographer for Conde Nast Bride, this boutique photography studio will do everything to perfectly capture your special moment.
Learn more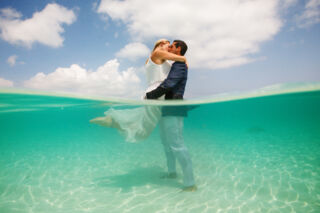 With over 20 years' experience operating in the Turks and Caicos, award-winning Brilliant Studios specializes in destination wedding and family photography.
Learn more
Kaieri photography by Sean Brady is a boutique photography company in the Turks and Caicos Islands that specializes in wedding photography and offers services for family portraits, underwater, and real estate.
Learn more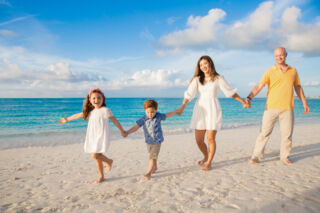 Paradise Photography is a full service photography company specializing in weddings, portraits and events, and boutique video production.
Learn more
Sheque Style Fashion Photography
Sheque Style is a fashion forward photography company for the savvy traveller who likes to have fun with fashion surrounded by a picturesque backdrop of island and ocean. They offer hair, makeup, photo and fashion styling where they focus on your shine during your vacation.
Learn more