One Week Itinerary for a
Family Vacation with Kids
The Turks and Caicos is a spectacular family vacation destination. This guide is intended for families with children staying on the island of Providenciales. This guide is largely not applicable for families staying at the expansive Beaches all-inclusive resort.
We generally advise that all guests rent a car for their stay. Rates start at around $40 per day, and having your own transport is very convenient.
Kids usually love the beach, so planning elaborate excursions to all of the possible sights often isn't required for a great vacation.
What to Bring
See What to Bring to the Turks and Caicos.
Arriving residents and visitors to the Turks and Caicos are allowed certain customs duty exemptions, so if you have luggage space, consider bringing in some snacks. See Importing Food.
The sun can be quite intense in the Turks and Caicos, and you'll definitely want to bring sunscreen (please use reef safe) and long sleeve rash guards.
Great Family Restaurants and Dining
Consider Bugaloo's, Da Conch Shack, Sharkbite, Pizza Pizza (Grace Bay), Mango Reef, Graceway Gourmet (for takeaway), and the pizza garden at Bella Luna.
A few restaurants on Providenciales have a family-friendly ambiance and setting. Sharkbite in Turtle Cove is in the marina and on the water, and the fish and occasional shark swimming by are interesting to watch (sit near the water). Bugaloo's and Da Conch Shack are located right on the beach, so kids will have something to do while you wait for the food.
Ice Cream and Confections
There are some great ice cream and dessert places to try! Turkberry is located at the Saltmills Plaza and offers frozen yogurt, Patty Place serves Jamaican-style ice cream and pastries, and Island Scoop and Giggles have good old-fashioned ice cream.
Arrival
All international flights to the Turks and Caicos arrive at the Providenciales International Airport.
During the summer and fall months, it typically takes about 30-40 minutes to clear immigration and customs and collect luggage. The winter and spring "high season" often experiences longer waits, with peak arrival times possibly having waits of well over an hour.
An expedited Fast Track service is available, and costs $60-100 per person. This service allows passengers to bypass queues.
Day 1—The Beach
A perfect way to spend your first day in the Turks and Caicos is simply to enjoy the beach, and Providenciales has plenty of choices. Most accommodations are near a spectacular beach, be it Grace Bay Beach, the Bight Beach, or Leeward Beach, so get out and enjoy them.
If you're not staying within easy walking distance of the beach, there are many perfect locations with beach accesses and adjacent parking. Consider the central Children's Park access at the Bight Beach, Stubb's Point (also known as Pelican Point or Sunset Beach) or Emerald Point on Leeward Beach.
Many of the island's beaches offer minor yet interesting snorkeling sites such as rock jetties that shelter fish, seagrass beds, and low coastal cliffs.
Day 2—Boat Cruise in the Caicos Cays
Our favorite activity is taking a boat cruise. There's a wealth of options: private and shared excursions, sailing and power vessels, dedicated snorkeling trips, and sunset cruises.
Top sights and destinations include Little Water Cay and the Turks and Caicos Rock Iguanas that live there, the incredible beach and lagoon at Half Moon Bay, Water Cay, Pine Cay, Fort George Cay, Dellis Cay, and snorkeling on the barrier reef.
Cruise availability can be limited, especially private charters, so you'll likely want to reserve well in advance of your visit.
When out on the water near Providenciales, there's always a chance that JoJo the Dolphin will be spotted!
Several tours operate off the southwest coast of Providenciales, and visit a different collection of sights, including the small coastal cave and historical rock inscriptions at the scenic West Harbour Bluff, and the beautiful and secluded Bonefish Point beach.
Day 3—More Great Beaches
One of the wonderful and defining features of Providenciales is the island's number and variety of beaches. Several smaller south coast beaches have shallow and calm water, and are perfect for kids.
Sapodilla Bay is found between Sapodilla Bay Hill and Chalk Sound National Park. Due to its sheltered location, this exquisite beach offers some of the calmest ocean water on the island. The surrounding cliffs also offer interesting snorkeling, with small turtles and stingrays.
The hidden Taylor Bay is also located near Chalk Sound. This coast is a little larger than Sapodilla Bay, and also features shallow, calm water, and soft white sand.
Another beautiful beach that's great to explore is Turtle Tail Beach. This small coast can be difficult to find, yet is tranquil and has little rocky cays off the beach that can be waded out to.
Day 4—Beach Snorkeling
Snorkeling is something that all ages enjoy.
Kids usually don't need the most spectacular reef to be kept interested, so it's best to choose one of the sheltered snorkeling sites that's close to the beach.
The Bight Reef (Coral Gardens), is a good place to start, and is the most popular snorkeling site on the island. The reef starts directly off the beach and is marked by buoys, so it's easy to find your way around. The surrounding beach is also excellent, and an ideal place to relax at.
Smith's Reef is a larger and more complex system near Turtle Cove. Much of this reef is too far out for children, yet two sections are found off the beach: one spot at the West Access, and at the East Access.
It's very important that children understand to not touch or stand on the reef. Doing so is very damaging to the delicate corals, and there are many fish, creatures, and corals that are capable of giving painful stings or bites. Dangerous animals to be aware of are the lionfish, scorpion fish, and the many varieties of stinging and fire corals.
Please only use reef-safe sunscreen in the Turks and Caicos. Conventional sunscreens have been proven to cause irreparable damage to reefs and the marine environment.
Children will have the best time snorkeling when they have the right equipment, which includes long-sleeve rash guards to prevent sunburn, flotation vests, and a properly fitting mask, snorkel, and fins.
When snorkeling from the beach, one hint is to start on the upwind side of the reef, and then simply drift over the underwater sights. Doing so will ensure that everyone won't have to fight the current.
At the central reefs on Providenciales, the upwind side of the reef is usually the eastern side.
Day 5—Eco-Adventure
Another great thing for kids to do is go on an eco-adventure or kids camp. Several resorts and tour companies offer excursions especially geared toward children. Big Blue Collective, the largest eco-tour company in the Turks and Caicos, hosts dedicated kid camps at times as well.
There are so many ways to discover the environment. Excursions can be by boat, kayak, stand-up paddleboard, and bicycle.
The mangrove wetlands that surround many of the Caicos islands act as nurseries to the fisheries. It's common to spot juvenile fish, nurse sharks, turtles, stingrays, conch, starfish, and interesting birdlife.
When the kids are out enjoying nature, it can be the perfect time to visit the spa or go shopping in Grace Bay!
Day 6—Potcake Place and Horseback Riding
A very popular activity with kids and adults alike is to take a local Potcake puppy out for a walk on the beach. Potcake Place, a non-profit animal rescue charity that's located at the Saltmills Plaza, welcomes visitors to take puppies out to Grace Bay for a few hours of socialization and exercise. All of the Potcakes are available for adoption, so you may end up with a new pet!
A great afternoon activity is to go horseback riding on the beach with Provo Ponies. This small stable rides on the beautiful Long Bay Beach, and there's often the opportunity to ride in the shallow turquoise water too!
As an alternative, a jet ski or boat rental tour is another great and exciting option.
Departure
We advise arriving at the Providenciales International Airport three hours prior to departure during the winter and spring high season, and two hours during the low season.
The Fast Track service is also available when departing.
Extra Ideas
What better time to capture family photos than during your vacation? There are several professional photography studios on Providenciales that cater to boutique vacation and wedding photography. Photo shoots are fun, and can even be done in the ocean with underwater cameras!
The Undersea Explorer is a semi-submarine boat that tours the reefs near Turtle Cove.
Long Bay Beach is one of the top kiteboarding spots in the Caribbean, and if the wind is blowing, it can be quite interesting to watch the show. The best spot is the public beach access near the Shore Club resort.
The secluded Malcolm's Road Beach on the west coast of Providenciales is a great place for a day trip. There's a tranquil beach, great snorkeling, beachcombing, and wildlife abounds. Be sure to bring plenty of drinks and snacks, as it's easy to spend much of a day here. If you're staying at a vacation rental or small hotel and want to have the resort experience, consider a day pass from one of the island's all-inclusive resorts.
West Caicos can be an excellent choice for kids that are a bit older. There's great snorkeling, the historical ruins of a Victorian-era sisal plantation town, and exciting cliff jumping.
Hobie Cats are small catamaran sailboats that are fun and easy to sail. Many of the larger resorts keep a few of the vessels for guest use, and there are a few places to rent them from as well.
Great Activities and Attractions for Kids and Families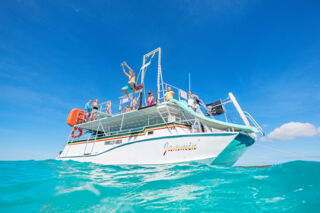 Ocean Outback Adventures offers fun cruises on western Providenciales on a comfortable and stable 40' catamaran that has a slide, trampoline, swing, and jumping board. Complimentary drinks, rum punch, and snacks. Exciting for all ages!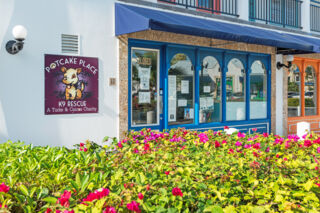 Potcake Place is a dog rescue charity located at the Saltmills Plaza in Grace Bay. The non-profit's mission is to find caring homes for stray dogs, and they welcome visitors and locals alike to take puppies out for socialization walks.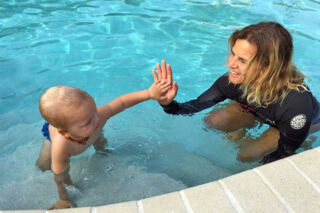 Provo Swim School offers infant self-rescue swimming (ISR) lessons for your children age 6 months-6 years, and Red Cross swimming lessons for 6 years and up including adults. Drop-in swimming classes every Saturday.