South Caicos is a bit more remote than the other main islands in the Turks and Caicos, as the island is separated from the Turks Islands by the twenty-mile wide Turks Island Passage, and is bordered on the western side by the uninhabited East Caicos and the sparsely populated Middle Caicos. Flights are currently offered to South Caicos from both Providenciales and Grand Turk, and a passenger ferry service runs from Providenciales as well.
Complimentary air connections from Providenciales are typically arranged for guests staying at Sailrock resort, if reservations are booked direct with the resort.
Once on South Caicos, the larger resorts typically provide complimentary transits to their properties. Car rentals are also available on South Caicos.
Ferry Service
Started in mid-2012, a small passenger ferry route connects South Caicos and Providenciales. Run by Caribbean Cruisin', this service operates twice weekly and covers the 45 miles journey in about 90 minutes. Return rates are $120 for adults and $80 for children (2023 prices). Some baggage limitations may apply, but are typically ample. Ferries depart from Heaving Down Rock Marina (Walkin Marina) on Providenciales and arrive at the main settlement of Cockburn Harbour on South Caicos.
Flights
The fastest way for visitors to get to South Caicos is by domestic flight from Providenciales or Grand Turk. interCaribbean is currently the only airline offering scheduled flights. Airfares start at around $150 for a return ticket (2023 price).
As mentioned, Sailrock Resort generally offers complimentary flights for guests booking direct.
For information on connecting through Providenciales, check out Getting to Providenciales. You'll find visa and passport requirements (nationals of the United States, Canada, and the United Kingdom do not require a visa), flight information, and local connections.
Flight or Ferry?
Our advice is simple: If you're traveling light, the flight is the better choice. However, if you have several pieces of large baggage, choose the ferry.
Due to the smaller size of the island hopper planes flown by the local airlines (such as the Twin Otter), luggage hold space on flights is often quite limited.
Private Charter from Providenciales
A few of the private charter companies based on Providenciales are able to arrange private transfers to South Caicos via sea.
Arriving By Yacht
The Government Dock in Cockburn Harbour is a port of entry. If you're planning to visit South Caicos by yacht, we recommend contacting Seaview Marina in Cockburn Harbour for information on the area and facilities.
Local Businesses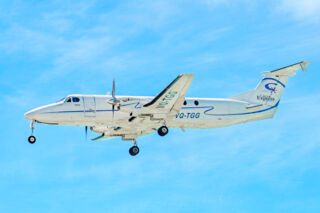 Caicos Express is a Turks and Caicos airline that offers scheduled domestic and international flights to many cities, and also offers custom charters as well.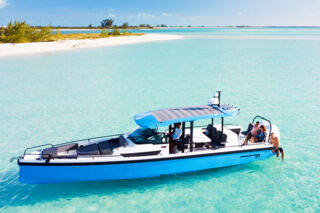 Okeanos Charters is a private luxury charter, with custom adventures to the beautiful beaches, cays, and reefs that surround the Turks and Caicos. Discover paradise at your own pace.