South Caicos
Hotels & Resorts
South Caicos has two luxury resorts, East Bay Resort and Sailrock Resort, a nice hotel (Ocean & Beach Resort), and several vacation rental properties.
East Bay Resort is currently undergoing refurbishment and is closed, however it will reopen in 2024 under a new name.
Amenities
East Bay Resort offers guests the complimentary use of water sports equipment use, including kayaks, sailing kayaks, and snorkeling gear, as well as bicycles.
The new Sailrock Resort is found on the secluded Long Beach on the northern peninsula of South Caicos. Guest amenities include the use of kayaks, paddleboards, Hobie Cat sailboats, and snorkeling gear.
East Bay Resort and the Ocean and Beach Resort are within a short bike ride of the small groceries stores of Cockburn Harbour, the island's primary settlement.
South Caicos has quite a few varied and impressive coasts, however, only a few beaches are excellent for general swimming. East Bay and the remote Long Beach and Plandon Cay Cut Beach offer the finest ocean conditions.
Traveling to South Caicos from Providenciales
All scheduled international flights to the Turks and Caicos land at the Providenciales International Airport (PLS).
There are two regularly-scheduled ways to get from Providenciales to South Caicos: a domestic flight on a small plane, and a passenger ferry. Both are similar in cost.
The flight option is of course the faster option at under 20 minutes. interCaribbean offers several daily flights, typically on 15-seat turboprop Beech 99s or Beech King Airs. These aircraft are not very large, so there may be luggage constraints, especially for those bringing water sports equipment such as kiteboarding gear.
Caribbean Cruisin' offers a twice-weekly passenger ferry service, which takes under two hours each way. The ferry may be the better choice for those with large amounts of luggage.
Charter flights and ferry services can be arranged as well, and may make sense for groups.
Ongoing Projects, Development, and Real Estate
South Caicos has begun to see a change with several projects that have begun over recent years.
The Sailrock project is one such example, and offers both vacation accommodation and private ownership. Sailrock Resort is located on the secluded northern peninsula overlooking both Long Beach to the east and the scenic Bell Sound to the west. Vacant land and completed luxury villas are available.
Vacation Rental Villas
At this time, there are no rental villas or bed and breakfast type accommodations available other than what's offered through the full-service resorts.
Hotels, Resorts, and Villas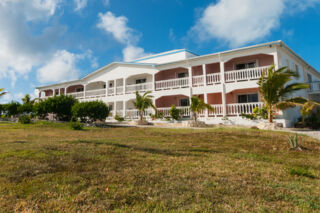 The Ocean and Beach Resort is located on Tucker Hill overlooking Cockburn Harbour and East Bay Beach. This hotel features a spectacular ocean view over the uninhabited cays off South Caicos. Onsite is the Dolphin Grill restaurant, swimming pool, and Jacuzzi.
East Bay Resort features 86 modern ocean-front suites featuring breathtaking views of the white beach and turquoise water. A range of water sports and activities are offered, including kayaking, snorkeling, diving, fishing, and kiteboarding.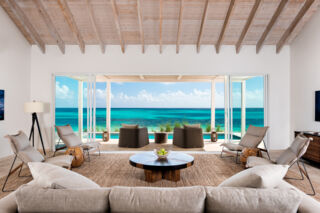 Nestled along the pristine Long Beach, Sailrock Resort is South Caicos' newest luxury resort and features beautiful villa accommodations, the Great House Restaurant, and a tranquil setting.