South Caicos
Restaurants & Dining
The quiet island of South Caicos doesn't support many restaurants, yet for its small size, the dining choices are varied and excellent.
The island's two new luxury resorts, East Bay Resort and Sailrock Resort, each feature a gourmet restaurant. BLU Bar and Grill at East Bay Resort serves international and local flavors, and The Great House Restaurant at Sailrock Resort offers Caribbean and international fusion dishes.
A favorite Cockburn Harbour establishment is Sunset Café & Bar, which offers local cuisine and seafood dishes.
The Ocean & Beach Resort at Tucker Hill also has an in-house restaurant, which boasts some of the finest views of any restaurant in the country. The outdoor patio faces the Admiral Cockburn National Park and Long Cay, and the range of blue and turquoise ocean hues of this coastal region is breathtaking.
The luxury resorts on South Caicos typically offer complimentary breakfast for guests.
Fresh Seafood
South Caicos is the capital of the small-scale fishing industry in the Turks and Caicos Islands, and as such local seafood plays an important part in the island's cuisine.
Conch, lobster, snapper, grouper, wahoo, and mahi-mahi are brought in fresh almost every day, and are caught in some of the cleanest tropical Atlantic Ocean water on the planet. The quality and difference of the fresh seafood is unmistakable.
If you're visiting South Caicos for the excellent sport fishing, one of the island's restaurants may be able to prepare the day's catch.
Reservations and Opening Times
Due to the relatively few visitors that make it to South Caicos, the island's restaurants may not keep regular hours. We highly advise reserving in advance for dinner.
Some restaurants in the Turks and Caicos may close on certain days of the week or during the late summer and autumn Atlantic hurricane season. If you're visiting South Caicos on a day trip from Providenciales, establishments are often able to accommodate your schedule if contacted in advance, especially if your party is greater than two.
Likewise, the resort restaurants are usually able to cater to dietary requests if given appropriate notice.
Prepared and packed lunches are available from many of the local restaurants upon request.
Groceries
Many of the island's accommodation feature kitchenettes or full kitchens, so it's an option to prepare meals on your own during your stay.
South Caicos supports three small grocery stores, which stock a range of basic dry goods, produce, and frozen meat and poultry. The selection of fresh vegetables, specialty, and gourmet items is quite limited, so you may want to consider bringing some supplies from one of the larger Providenciales grocery stores when connecting to South Caicos.
If you're simply visiting South Caicos on a day trip, the island's shops are great for cold drinks and snacks.
Restaurants
The oceanfront BLU Bar and Grill is found at the East Bay Resort and serves international and island dishes. Open daily for breakfast, lunch and dinner.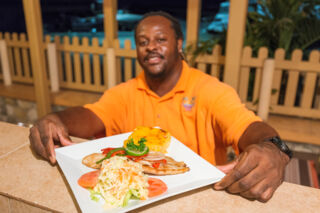 This small restaurant and bar serves classic local dishes and freshly- caught seafood. Located in the heart of Cockburn Harbour and across the street from Seaview Marina.
Cove Restaurant + Beach Bar
The Cove Restaurant + Beach Bar is the complement to Sailrock's Great House Restaurant. This casual dining experience, located directly on the beach, is one of the best restaurants on South Caicos and features an array of Caribbean cuisine.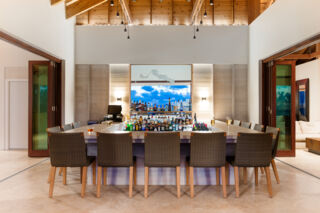 The Great House Restaurant
The Great House Restaurant at Sailrock Resort offers fine seafood, international, and Caribbean dining and incredible panoramic views over Bell Sound and Long Beach. Open for breakfast, lunch, and dinner.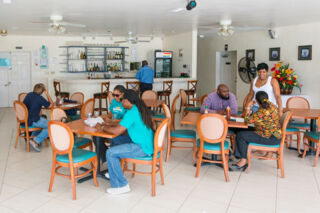 Found at the Ocean and Beach Resort, this small establishment is located near Cockburn Harbour and features spectacular views over the south coast of the island. Choose from indoor or poolside dining.