Providenciales
Luxury Private Transport
The island of Providenciales has several luxury transport service companies, which can get you to where you need to be in a stress-free and timely manner.
VIP transport companies tend to be very punctual, and operate clean and modern luxury SUVs. Typical vehicles used are the Cadillac Escalade, Lincoln Navigator, Land Rover Range Rover, Chevrolet Suburban, GMC Yukon, or the Toyota Sequoia. Some companies also offer town cars as well. Car amenities may include Wi-Fi and refreshments.
The quintessential stretch limousine generally isn't available in the Turks and Caicos.
The luxury SUVs tend to offer superior rides on unpaved roads, and can be a great choice for the more remote accommodations in the Turks and Caicos.
VIP transport is also great for special occasions such as weddings, anniversaries, and corporate events. With such occasions and large group sizes, it makes sense to reserve well in advance of your date to ensure availability.
The local transport companies can also be great for island tours, with custom excursions to the beaches, scenic coastal neighborhoods, and sights of Providenciales.
Airport Transfers and Pick Up
Luxury transport services are great for airport transfers, with guest pick-up directly outside of the arrivals hall at the Providenciales International Airport (PLS).
Car services are also able to provide pick-up from one of the
private aircraft FBOs
located at the airport.
Advantages of VIP Transport over Taxis
Taxis on Providenciales operate large passenger vans and often take multiple fares per journey, especially in the case of airport arrivals. Taxis will typically wait 10-15 minutes to collect several guests going to a single or adjacent resorts.
Luxury transport services are pre-scheduled, so guests are met and picked up at the arrivals area of the airport, and whisked away to their accommodation with no wait, and no shared ride.
Another consideration is large parties. For groups of 4 or more, private car services typically have rates comparable with taxis. Taxis multiply the fare by the number of passengers, and car services often have a fixed fee.
Fast Track at Providenciales International Airport
Private VIP transport is a great complement to the fast track service available to guests arriving at the Providenciales International Airport, as it allows additional wait times to be cut, getting you to your resort in less time.
Fast Track is a pre-booked service that bypasses the typical immigration and customs arrival queues, which can be longer than 1-2 hours during the high season.
FBO and Marina Transport
The Turks and Caicos attracts a large number of visiting private aircraft and yachts, and local transport companies are well suited to cater to any transport needs.
Blue Haven Marina in the picturesque and turquoise Leeward Channel is the primary marina for visiting yachts. Providenciales has two luxury FBOs (fixed base operators) that welcome private aircraft from around the world.
Resort Transport and Airport Transfers
Several of the luxury resorts on Providenciales maintain vehicles or cars for transport and special occasions.
One of the more notable examples is the elegant 1965 Rolls-Royce Silver Cloud of Point Grace Resort, definitely one of the more eye-catching cars in the Turks and Caicos.
The remote and exclusive Amanyara resort has a fleet of distinct white Land Rover Discoveries, which are well-suited for the long unpaved road out to the accommodation.
Local VIP Transfer Companies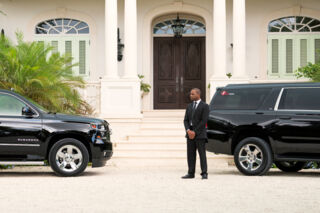 Fast Track Transport is a luxury private car service, with punctual and impeccable rides via Chevrolet Suburban SUVs or BMW 5 Series cars. VIP car service is perfect for airport transfers or general transportation needs at Providenciales and Grace Bay.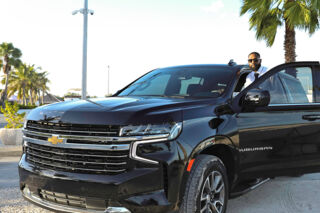 LIV Transport is a professional private car service, based on the island of Providenciales. The company provides punctual transport via elegant and modern full-size luxury SUVs. Services include Providenciales airport transits and general VIP car service for Grace Bay and the island.