Luxury and Specialty
Car Rental in Turks and Caicos
The island of Providenciales in the Turks and Caicos is home to a wide collection of car rental companies, yet only a relative few have what could be considered luxury or upscale specialty vehicles.
Before driving in the Turks and Caicos, we advise visitors to see Driving in the Turks and Caicos. There are several safety and convenience issues to be aware of, and the unfortunate fact is that our islands have many poor drivers.
When choosing a rental car, it's also important to consider what you'd like to do on your vacation in the Turks and Caicos. Most of the roads on Providenciales and at Grace Bay are paved, so jeeps and 4x4s are typically not needed, yet they are the right choice if there's interest in exploring the remote west coast national parks on Providenciales, and for those staying in the Chalk Sound area of the island.
The companies that rent high-end and luxury-class cars typically have great airport pick-up and drop-off service, or offer free pick-up and drop-off at hotels and resorts or villas. During peak travel times, the experience at the Providenciales International Airport (PLS) admittedly can be quite poor, with long waits at immigration and customs. Services such as Fast Track, which offers queue priority, can significantly reduce waits, yet renting from one of the car agencies that have cars and agents onsite at the airport is a clear way to save time. The boutique car rental companies typically have little or no wait for guests, as there are available agents for each renter, and there are no queues or shuttling to offsite locations.
Vehicles Available for Rent
Most of the higher-end car rental options in the Turks and Caicos are full-size SUVs with better trim packages, which are typically Chevrolet Suburbans and Tahoes, the Toyota Prado, Ford Expeditions, and the GMC Yukon. There is also a limited selection of mid and large luxury-class SUVs, including the Range Rover Sport, a top-trim Range Rover Vogue, and BMW X6 vehicles available.
Another fun and unique option are bespoke and upfitted Jeep Wranglers. Options include soft-top jeeps with either two or four doors, which are complete with suspension and tire upgrades, trail lights, and air conditioning. The jeeps offer a great ride over rough roads and superior visibility when driving, and are simply more exciting to drive than the typical car.
Some of the smaller yet unique rental car choices also include Mini Cooper compact cars, BMW and Volkswagen sedans and coupes in both automatic and manual, and hybrid compact cars, which our customs regulations and taxes encourage to be imported over conventional cars.
There's also a limited selection of pickup trucks and medium-duty trucks such as the Kia K Series or Toyota Dyna series, which are great for special projects or transporting kayaks, paddleboards, or kiteboarding water sports equipment.
The Turks and Caicos does have a few Tesla cars and SUVs now, yet unfortunately, there are none in rental fleets. This is also the case with Land Rover Defenders, of which you'll likely see a few when on vacation in the Turks and Caicos. As a British Overseas Territory, the islands actually have a number of authentic diesel Land Rover Defenders in right-hand drive and with manual transmissions, rather than the gas V8-powered automatic transmission variants that were imported into the United States for a limited time.
Private Car Service
Another transportation option is one of the private car services, which is perfect for airport transfers and evening transport for a night out. Car services (locally called VIP transport) almost exclusively use full-size SUVs by Chevrolet, GMC, or Cadillac, and vehicle comfort, cleanliness, and punctuality are typically far superior to taxis.
Luxury Car Rental Locations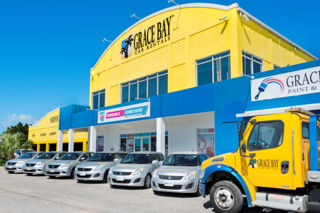 Grace Bay Car Rentals has one of the largest fleets in the Turks and Caicos, with a wide selection of car, minivan, SUV and 4x4 options. Delivery or pickup from your accommodation or the airport included. The main Grace Bay office is located within easy walking distance of most resorts on the island.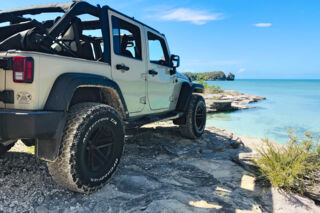 Explore Providenciales by Jeep Wrangler! Our premium and modern soft top jeeps are the perfect complement to a vacation in the Turks and Caicos. Discover beautiful and secluded beaches. Personal, friendly, and professional service.