Providenciales Vacation Rental Villas
Providenciales (fondly known as Provo) offers a wide range of rental villas, with varying degrees of luxury, numbers of bedrooms, and amenities.
In addition to stand-alone houses, the term villa generally refers to any non-hotel or resort accommodation, and may include private condominium units, part of a multi-unit residence, or at times, even single bedrooms.
Why Choose a Villa?
The accommodations on Providenciales can be divided into three categories: all-inclusive resorts, hotels and resorts, and rental villas. These options all have various advantages and disadvantages.
Villas are great for those who appreciate a little extra space, a bit of seclusion and privacy. When compared to resorts, a villa can be more economical for groups or a large family.
Many luxury properties are located directly on one of our smaller beaches, and typically these coasts are far less busy than the famous Grace Bay.
On the smaller and outer islands in the Turks and Caicos, a rental villa or guest house may be the only lodging options available.
The Best Times to Visit
Choosing when to visit the Turks and Caicos is a common point of consideration for tourists, and rightly so.
Weather
The Turks and Caicos generally experiences beautiful weather conditions throughout the year, yet there is a little variance in ocean temperature and wind speed.
The winter months feature great air and ocean temperatures, yet the days can be a little breezy. There's a great percentage of sunny days, yet the ocean can be a little choppy at times.
The spring months can bring periods of rainfall, and with it some cloud cover. It's far more likely to be sunny than not, yet over the spring season there are usually two or three times where it may remain overcast for a few days.
Excepting the passing of a tropical cyclone, summer tends to bring calm, sunny days and clear ocean waters, which is great for the beach, snorkelling, and diving. Air temperatures can become quite hot, which isn't conducive to land sports such as hiking and golf.
Availability and Pricing
Rates and availability is another concern. The winter months and holidays are the busiest time of year in the Turks and Caicos, and there may be limited vacancies. Rates are often raised at the time as well.
In contrast, the late summer and autumn months experience the lowest number of visitors and, many accommodations and tour companies offer special deals and pricing to attract customers, or simply shut down for repairs and maintenance.
What You Need to Know About Locations
Location should be a major consideration when choosing a villa in the Turks and Caicos.
Providenciales is home to quite a few distinct regions, and it's important to be aware where your villa is, and what beach or coast is near.
Several areas are uniquely located near natural sites that excel for snorkelling, kayaking and stand up paddle boarding, and villas near such sites often include the complimentary guest use of water sports equipment.
Location does not make much of a difference for activities such as fishing, golf and SCUBA diving.
For the most part, villas and rental houses are found in one of a few coastal residential regions on Providenciales. See our villa map below for information on where each region is on the island.
Due to their lower levels of development, the villas on the smaller islands in the Turks and Caicos are more likely to be on or near the beach.
Transport
Grace Bay, and to a lesser degree, Turtle Cove, are the only areas where a rental car or transportation may not be needed. Generally for all other locations, we strongly recommend reserving a rental vehicle for the duration of your stay. See Driving in the Turks and Caicos.
Overlooking the amazingly-turquoise Caicos Banks, some of the south coast regions such as Turtle Tail and parts of Long Bay, are only accessed by unpaved and occasionally rough roads, which may be as long as four miles (6.7 km).
Grace Bay
Quite a few villas are found near this spectacular beach, but very few are actually on it due to the premium of the land. The inland Grace Bay area is quite convenient, with shops, restaurants and a grocery store within walking distance of most accommodations.
Leeward
Directly to the east of Grace Bay, the Leeward area is largely residential and home to an incredible beach as well. A short drive away from the amenities of Grace Bay, this area tends to be a bit more tranquil.
The exquisite Leeward Beach does attract visitors from across the island, yet the beach is extensive and you'll have plenty of paradise to enjoy.
Accommodations near Leeward Channel are within paddling distance of Mangrove Cay and Little Water Cay in the Princess Alexandra Nature Reserve, which is a great destination to explore by kayak and paddle board.
Turtle Cove
Quite a few beachfront villas are located at the central Turtle Cove. The coast here is Smith's Reef, a site which offers excellent snorkelling, yet isn't the nicest beach for general swimming.
The Turtle Cove enclave and marina has several restaurants and small shops, and is a relatively short drive away from nearly everything important on the island.
Chalk Sound, Taylor Bay, and Sapodilla Bay
The Chalk Sound general region on Providenciales is a very popular site for vacation cottages and villas. Quiet and residential, the peninsulas and ridge between Chalk Sound National Park and the Caicos Banks is incredibly scenic.
Two comparatively small beaches, Sapodilla Bay and Taylor Bay, are the significant beaches in the area. Although they would never be close to being considered "crowded" when compared to famous coasts worldwide, due to their limited extent they can at times feel a bit busier than other spots on Providenciales.
Limestone ironshore makes up the majority of the coastline at this part of Providenciales, both on the interior Chalk Sound and fronting the south shore.
The accommodations on both the southern Caicos Banks oceanfront and lagoon side of the Chalk Sound peninsula offer amazing views of brilliantly-turquoise water.
Only a few restaurants are found nearby. Chalk Sound is about a 9 mile (15 km) drive from Grace Bay, with portions of the journey leading past the industrial areas at South Dock, Five Cays and Downtown.
Long Bay
A beautiful three mile (4.8km) stretch of white sand beach fronts this south side residential region, and villas are found both on the coast and at the inland Long Bay Hills.
The water here is exquisite, yet it's consistently shallow at 2-5 feet (.6 to 1.5 meters). For general swimming, the north coast beaches Grace Bay, Leeward and The Bight may be the better choice.
Long Bay is the natural choice if kiteboarding is a consideration.
Turtle Tail and Venetian Road
A long and winding unpaved road leads to the central south coast Turtle Tail and Venetian Road districts.
Many villas here are found on the thin ridge of land between the shallow inland marine ponds and the southern shore. The view from the peaks of the hills here over the shallow ocean of the Caicos Banks is spectacular.
There is no large beach in this area, however many houses hide tiny patches of sand between the low limestone cliffs, some of which are so small that they are submerged at high tide.
Blue Mountain and Babalua Beach
Another central region and found close to Turtle Cove, the Blue Mountain and Babalua Beach area is relatively quiet, and due to the high elevation, many accommodations in this vicinity offer unparalleled vistas over the northern barrier reef.
The beach is decent, albeit shallow with sea grass and the occasional rock. The snorkelling can be good as well.
Every beach in the Turks and Caicos is public to the high tide point, yet due to coastal cliffs and treacherous reefs, several small beaches fronting Blue Mountain are only easily accessed from the adjacent residence, and consequently are as close to a private beach as one might find on Providenciales.
The bustle of Downtown and Blue Hills however isn't far off.
Which Location is the Best?
Due to the tranquillity and wonderful beach, if all else was equal we'd probably choose Leeward. For those with an avid interest in snorkelling, Turtle Cove and Smith's Reef is perfect.
How to Get the Best Rates
Rates vary quite a bit throughout the year in the Turks and Caicos.
The high season, which generally consists of the winter months, tends to have significantly higher accommodation rates than the "low seasons" of the end of summer, autumn and early spring. This peak in rates is typically most pronounced during the Christmas and New Year's weeks.
Contacting the villa owner or manager directly instead of booking online will also often result in savings. If there are vacancies at one of the larger vacation rentals, it's often possible to obtain a discount if only two persons are lodging at a site that sleeps more.
As may be expected, beachfront villas and those with wonderful views tend to rent at a higher price than inland accommodations. For example, a condo in Grace Bay that's only a short walk from the beach will rent for 50-100% less than a comparable site directly on the beach.
Amenities
The Providenciales villas tend to be better equipped than accommodations on our other islands, yet it makes sense to be aware of what is available. Many offer internet, clothes washers, kitchens and BBQ grills. Swimming pools are a little less common, yet widely available.
The kitchen in the average villa will be full-size and better than the smaller kitchenette found in some of the resort suites, and there are typically multiple bathrooms as well.
Water sports and outdoor equipment often include kayaks, stand up paddle boards, snorkelling gear, beach toys, umbrellas, coolers and beach chairs. Having the complimentary use of such equipment can potentially save quite a bit in rental or purchase expenses.
Concierge and Butler Services
Full-time concierge service, housekeeping, maid services, private chefs and butlers can typically be arranged by the villa manager if requested.
A concierge can book activities and day trips, offer friendly advice and information, and generally make your trip run smoother.
Terms and Policies
The villa situation in Providenciales is quite interesting. Many of the luxury villas are full-time rentals, yet others are vacation homes which are rented out when the owners are not on the country.
Booking a villa is usually done directly with the accommodation owner, or as increasingly becoming the case, through one of the local villa management companies.
In many cases, the villa management will meet guests at the airport, and either provide transport to the accommodation, or in the case of visitors having a rental car, guide the way to the property and give an introduction to the house and grounds.
Accepted payment methods typically include wire transfer, bank draft, or credit card. When a reservation is made through one of the popular international rental marketplace websites, part or all of the payment may be held by the online rental website until the conclusion of the stay, when the payment is released to the accommodation owner. This practice is intended to protect renters against fraud.
Unlike the common hotel practice of rates being affected by the number of persons per room, vacation villas are typically rented for the same cost regardless of the number of persons staying, whether every bed is filled or not. If your party is greater than two, check with your booking company if additional fees apply.
Most vacation rentals in the Turks and Caicos require a two or three night minimum booking.
Government Tax
A 12% government tax (2016) is applied on top of the villa rental fee.
Some accommodations falsely state this rate to be higher, or include a "service charge" or some other "tax", which is not a government tax. There is no government-sanctioned "city tax".
Air Conditioning
Many of the villas on Providenciales have air conditioning, and this feature will likely be greatly appreciated by visitors throughout much of the year.
Due to the high cost of electricity in the Turks and Caicos, air conditioning usage may be billed, either at a flat rate, or according to metered usage.
When metered, usage is often charged at the going rate. Electricity is priced at around 50¢ KWh (2016), compared with a U.S. national average of 13¢ KWh (March 2016). If such is the case, an estimate of full-time air conditioning usage for a single bedroom is about $45-75 per week (constant use, and with windows and doors kept shut!). You may want to verify with your lodging what their air conditioning or overuse electricity rate is before booking.
Condominium Unit Rental and Amenities
Be aware that the same condominium unit may be available for rent both through the condominium management organization, and by the owner directly on a third party listing website.
The rate offered by the unit owner is often lower, however it may not include the same access to the complex amenities and housekeeping that booking through management might provide. We advise clarifying the situation before your unit is reserved.
Security
See Safety and Crime and Private Security.
Visitors should definitely be aware of the crime situation on Providenciales.
The Turks and Caicos is one of the safest countries in the Caribbean and tropical Atlantic, yet crime does occur. On a whole, Caribbean tourism information tends to largely ignore crime issues. We strive to present an unbiased view.
Both burglaries, and to a far lesser extent, home invasions, have taken place. Official statistics are lacking, however we estimate that between 0 and 2 armed villa invasions take place during the average year. Burglaries of unoccupied villas occurs more often.
Some residential areas, such as Leeward and the Smith's Reef regions, have full-time security patrols, and this does greatly increase security, it however isn't a guarantee against crime.
Things to Remember
There are several things to note before booking your villa.
There is a 12% government tax on top of all rates.
Villas vary widely on size, amenities and location.
Each "villa" may in fact simply be a single room or floor, not a whole building.
There may be additional charges or fees, such as for A/C.
Prices are subject to change.
Information listed below, such as prices, may not be up to date.
The expansive Casa Varnishkes estate is perfectly located on the secluded Long Bay Beach on Providenciales. This luxury villa offers 9 bedrooms, a pool, and tennis court.
Learn more
This beachfront four bedroom and five bathroom villa is found in the secluded Turtle Tail region of Providenciales and offers a great view over the Caicos Banks.
Learn more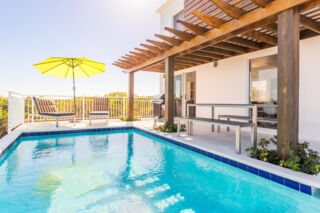 Hakuna Matata is a three bedroom villa in the Long Bay region of Providenciales. This fully-equipped rental offers a pool and is minutes from the beach.
Learn more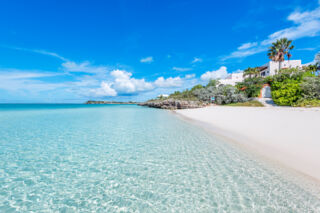 The luxury La Koubba villa is a seven bedroom accommodation located on the tranquil waters of Sapodilla Bay Beach near Chalk Sound.
Learn more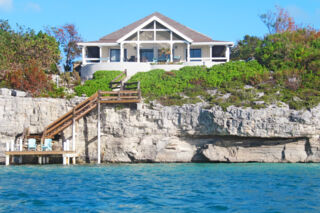 Mariposa Villa is a three bedroom and three bathroom villa at the tranquil Ocean Point peninsula near Chalk Sound. This villa offers a free form infinity edge pool and access to the secluded Taylor Bay Beach.
Learn more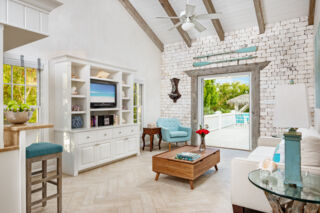 This tiny one bedroom and one bath cottage is located on the beach at Smith's Reef at Turtle Cove. Additional features include a pool and a little lookout tower to watch the sunset from. Within walking distance of the shops and restaurants of the nearby marina.
Learn more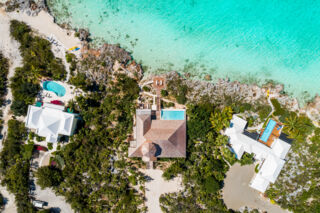 This four bedroom and three bathroom oceanfront villa is found in the secluded and quiet neighbourhood of Silly Creek near the Chalk Sound National Park.
Learn more
Situated on the beach at the excellent Smith's Reef snorkelling site, this property consists of a two bedroom main villa and a two bedroom guesthouse. Amenities include a pool and air conditioning. Close by are the restaurants and shops of Turtle Cove.
Learn more
This three bedroom villa is located within close walking distance of Smith's Reef.
Learn more
Rock Spray is a two bedroom and two bathroom villa on a small private peninsula in the incredibly scenic Chalk Sound National Park. This waterfront villa offers air conditioning, a full kitchen, are great privacy.
Learn more
Sea La Vie is a vacation villa complex within easy walking distance of Long Bay Beach. There's a selection of accommodations to choose from, including single bed suites to full villas.
Learn more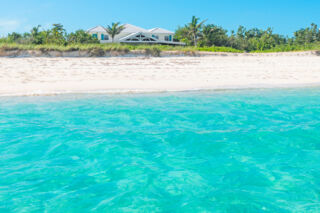 Serenity House is a six bedroom luxury villa on the spectacular Bight Beach in central Providenciales. This accommodation is suitable for 12 guests and features a pool.
Learn more
The small yet select Sugar Kube villa is ideally situated on the beach at Smith's Reef near Turtle Cove. This private one bedroom villa offers a swimming pool, balconies with spectacular views, and great snorkelling.
Learn more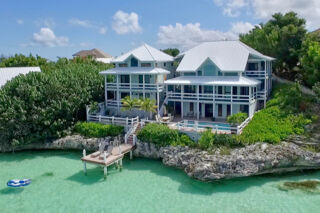 The four bedroom Sunset Point Villa is located in the Chalk Sound area and adjacent to the tranquil Taylor Bay Beach. This accommodation features great ocean views, a swimming pool, and a fully-equipped kitchen.
Learn more
Tucked behind the pristine sand dunes of Long Bay Beach, Triton occupies over 2 acres of lush landscape and 12,000 sq. feet of lavish beachfront living space. Grab your kite and ride on your own private stretch of Long Bay beach.
Learn more
This luxury beachfront five bedroom villa is located directly on the quiet beach at Smith's Reef. Suitable for up to ten guests, amenities include an infinity edge pool, air conditioning, and a mini lighthouse turret.
Learn more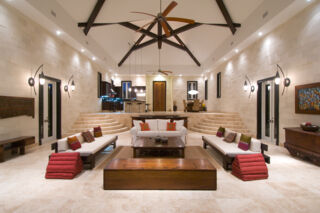 Villa Balinese is a exquisite three bedroom luxury villa in the Turtle Tail region of Providenciales. This beautifully-furnished oceanfront mansion offers an infinity edge pool, hot tub, and gourmet kitchen.
Learn more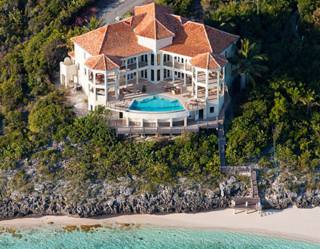 This seven bedroom, seven bath villa is located in the Thompson Cove area, in the Blue Mountain area. Good snorkelling in front.
Learn more
Situated on a limestone bluff in the Silly Creek region of Providenciales, this three bedroom luxury villa offers a pool and large open terrace. Located on the interior sheltered water of the Chalk Sound National Park, the spectacular Taylor Bay Beach is only a short drive away.
Learn more
White Villa is a beautiful retreat located at Long Bay Beach on Providenciales. Directly adjacent to a beach access, this 2 bed/3 bath villa accommodates 4 to 6 people. White Villa features large windows, retracting overhead doors, an ocean view terrace, hotel-style pool, and modern style. Its location, amenities and elegant design is the perfect setting for your stay.
Learn more
Windchaser Villas is a private development with direct access to central Long Bay Beach, home to 3 miles of white sandy beach and astounding flat turquoise water. The fully equipped villas are divided into 3 modern suites: 2 individual studios + 1 spacious two-bedroom flat.
Learn more