Turks and Caicos
Mobile Spa & Massage Services
The Turks and Caicos has one of the finest collections of luxury vacation rental homes in the Caribbean. Consequently, there are spa and beauty professionals that cater to this market by providing mobile spa services at villas and accommodations. It's now easy to arrange for a menu of treatments ranging from classic Swedish massages, to deep tissue massage, aromatherapy, skin treatments, facials, nail care, and more.
Many of the spas in the Turks and Caicos also have their own locations, often at one of our luxury Grace Bay beachfront resorts, so visiting the spa rather than a mobile service is an option for those that desire so.
The island of Providenciales, as the center of tourism in the Turks and Caicos, offers the greatest selection of spa and wellness services. Our less-populated islands have limited choices, with the exceptions of the private islands of Parrot Cay, Pine Cay, and Ambergris Cay, which are each home to a luxury resort that has a spa.
A mobile spa and beauty service can be the perfect choice for wedding parties and events. With notice, a full menu of spa and salon services can be arranged, from nail care, makeup, and hair, to massages, hot stone, body wraps, and wellness treatments. Spa Tropique, Ayur Spa, Touch of Bliss Spa, and Teona Spa provide mobile spa and beauty services.
Mobile Yoga and Fitness Training
In addition to spa and beauty services, it's also easy to schedule private yoga and fitness classes, both in the privacy of your accommodation or on the beach. On the island of Providenciales, yoga, Pilates, and fitness sessions are offered.
Turks and Caicos Wellness Products
Like many Caribbean destinations, the Turks and Caicos has its own collection of traditional treatments. The sea salt industry was once a critical part of the economy. Today, skin care products utilizing local sea salt can be found in shops and hotel boutiques, and are complemented by locally handcrafted soaps, scrubs, lip balms, lotions, and oils.
A great place to shop for Turks and Caicos health and beauty products is the shopping plazas of The Saltmills, Regent Village, and Le Vele Plaza.
Mobile Spa Services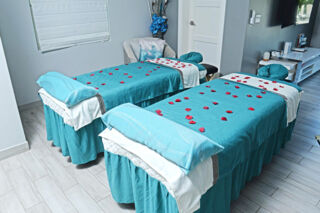 Turquoise Paradise Spa & Salon
Turquoise Paradise Spa and Salon is a luxurious spa service headed by Natrice Williams, who has more than 20 years in the hospitality industry. She oversees a team of professionally-trained massage therapists who provide a range of spa and salon treatments.