Turks and Caicos
Spas & Wellness
For some, simply relaxing on the world's best beach may not offer quite enough in the way of tranquility and well-being. The Turks and Caicos Islands feature a wide arrange of spas, collectively offering a numerous list of treatments.
Many of the larger luxury resorts have on-site spas and wellness centers, yet there are also many independent choices as well. Elegant Point Grace Resort is home to Thalasso Spa, Grace Bay Club has Anani Spa, Wymara Resort offers Exhale Spa (which features Eminence Organic products), Windsong Resort resort has Drift Spa, and the expansive Beaches all-inclusive resort offers their Red Lane spa. Spa Tropique is the largest independent spa, with several locations across the island of Provo. The exclusive COMO Parrot Cay Resort and Ambergris Cay Resort also have their own spas, located on secluded and intimate oceanfront.
A few businesses provide a mobile service, so if you're staying at a private vacation villa, they're able to come right to you. If you're looking for the ultimate in a serene setting, a few spas also feature ocean and beachfront facilities on beautiful Grace Bay Beach, which are perfectly complemented by the breeze.
There's a complete menu of spa treatments and amenities to choose from, including cleansing facials, massages, manicures and pedicures, hot stone massages, wax treatments, salt scrubs, and romantic couples massages. Organic products are the typical choice at many of our spas and salons.
Spa and Wellness Packages
Turks and Caicos spas typically offer special package deals which combine several wellness treatments under one rate. Common wellness package includes a full body massage, manicure, and facial.
When you book your accommodation, inquire about complimentary spa visits or add-ons, as many of the luxury resorts and villas work with local spa and salon partners.
The larger all-inclusive resorts all feature spas on-site, yet be aware that treatment is typically at an additional cost to the accommodation stay, although spa packages can often be included with hotel stays when bookings are made direct with the accommodation.
Yoga and Pilates are often available as part of a spa well-being package, which is a great complement to a relaxing massage. Acupuncture treatments are now also offered on Providenciales, and there are a couple of licensed and professionally trained practitioners that regularly operate on the island.
Reservations and Bookings
We highly advise reserving in advance of the expected visit. Many establishments are able to accommodate walk-ins, yet there is no guarantee of availability.
Appointment cancellations made with reasonable notice usually do not incur fees or charges, yet inquire before booking if there is a likelihood of such an event. As is the case with many accommodations and activities, rates and availability vary a bit according to the time of year, and tend to be highest during the tourism 'high season'.
Turks and Caicos Spa and Body Care Products
Several varieties of unique Turks and Caicos spa and wellbeing products, made locally in the islands, are available at the boutiques and art galleries in the central Grace Bay region.
A great place to shop is the shopping and dining plazas in central Grace Bay, including the Saltmills, Regent Village, and Ports of Call. There's a wide collection of handmade soaps, exfoliation products, and salt treatments to discover. Also offered locally are imported products, including essential oils, skin clays, shea butter, and activated charcoal and mineral skincare products. Some great stops include the Wellington Collection, which offers art, handmade gifts, and local soaps, Anna's Art Gallery, which carries skincare products from the Salt Cay Salt Works and Skintinuous, and Island Organics a Turks and Caicos brand which offers handmade soaps and scented candles.
Like our Turks and Caicos cuisine, bush medicine and skincare recipes evolved through necessity and hardship, at a time when the islands were poor and had little connection with the Caribbean and the outside world. Traditional natural treatments were typically plant-based and vegan, utilizing native flora such as Bahama Strong Back, Scorpion Tail, Gumbo Limbo, and Bitter Bush. Most of these therapeutic treatments were brewed into soothing teas, yet herbal salves and lotions were also made. Introduced aloe plants and coconut trees were also raised and were incorporated into treatments, yet they were generally exceptions, as the harsh climate in the islands isn't very conducive to botanical pursuits.
Turks and Caicos Salt
Natural sea salt was once a critical part of Turks and Caicos history, as our environment of shallow marine ponds and dry climate lends itself well to ocean water evaporation. At the height of the sea salt industry in the early 1900s, the islands of Salt Cay, South Caicos, and Grand Turk collectively exported millions of bushels of the valuable commodity. The industry ceased in the later 1950s due to the inefficiencies of the small-scale production.
Today, local gourmet and beauty product businesses have begun to recognize the potential of the boutique Turks and Caicos salts, and there has been an increasing number of unique island salt products appearing, from handcrafted caramel candies topped with salt, to skin exfoliation treatments.
Turks and Caicos Spas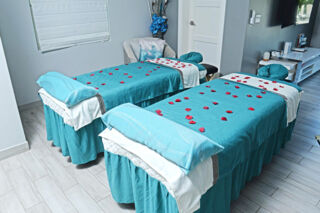 Turquoise Paradise Spa & Salon
Turquoise Paradise Spa and Salon is a luxurious spa service headed by Natrice Williams, who has more than 20 years in the hospitality industry. She oversees a team of professionally-trained massage therapists who provide a range of spa and salon treatments.