Shopping in the Turks and Caicos
By Island
Discover Locally-made Gifts, Duty Free Jewellery, and Original Art!
As a small country, the Turks and Caicos generally doesn't have the extensive shopping options that other major tourist destinations offer.
Both Providenciales and Grand Turk offer a good selection of gift and souvenir shops, yet all of our islands do vary greatly in terms of what's available, so you'll want to look at our island-specific shopping pages.
On Providenciales, Grace Bay is the centre of upscale retail. The majority of shops are found in plazas, including the Regent Village, Saltmills Plaza, and Ports of Call.
Grand Turk's shopping in mainly found at the Grand Turk Cruise Center, and at smaller sites such as the The Salt House and Turks and Caicos National Museum.
Luxury and Duty-Free Shopping
Luxury items such as watches, jewellery, perfumes and leather goods can be found on both Providenciales and Grand Turk. Many of these shops offer duty-free items.
Duty-free products are imported into the Turks and Caicos customs tax free, and are offered to non-Turks and Caicos residents only.
In theory, this allows visitors to purchase certain goods and take them home for considerably less than buying them at home, but be aware that some countries have restrictive customs allowances for returning residents.
See Customs Allowances for information on how much stuff you can bring back duty free to your home country.
Conchs and Sea Shells
One of the most popular souvenirs to take back home, the Queen Conch can be found for sale at many shops and markets.
There are some restrictions on quantity and procedures on exporting conch shells. See Buying, Collecting, and Exporting Conchs, Shells and Corals.
Be aware that many of the seashells for sale in the Turks and Caicos are not of local origin, especially in the case of smaller shells, starfish and coral. Such shells are often sourced in dubious manners from Asia and Africa and should be avoided.
There are other Turks and Caicos shells offered, such as triton's trumpets and queen's helmet conchs, yet these are not always harvested in a legal manner.
Souvenirs made in the Turks and Caicos
As is the case at most tourist destinations, much of the items in Turks and Caicos shops are re-branded imports. However, if you know what to look for, it's possible to find some great gifts and souvenirs that locally made and have a true connection to the islands.
In the United States and Canada, there is no duty on products manufactured in the Turks and Caicos. If you're close to the maximum of your home country's custom allowance, this fact can help you save on possible customs duty fees.
Art and Crafts
The art scene on Providenciales is quite varied. The many art galleries on Providenciales display a beautiful range of paintings, prints, sculptures, ceramics, crafts, fine art photographs, and more.
The best place in the country for browsing are the adjacent Saltmills Plaza and Regent Village in Grace Bay.
Handmade on the laid-back islands on North Caicos and Middle Caicos, the baskets, hats, model sailboats and dolls that are distributed by the Middle Caicos Co-op are authentically Turks and Caicos. Woven and carved from materials harvested locally, much of these items are made by the older members of society using techniques passed down through generations. The Co-op is an organization that represents over sixty such artisans.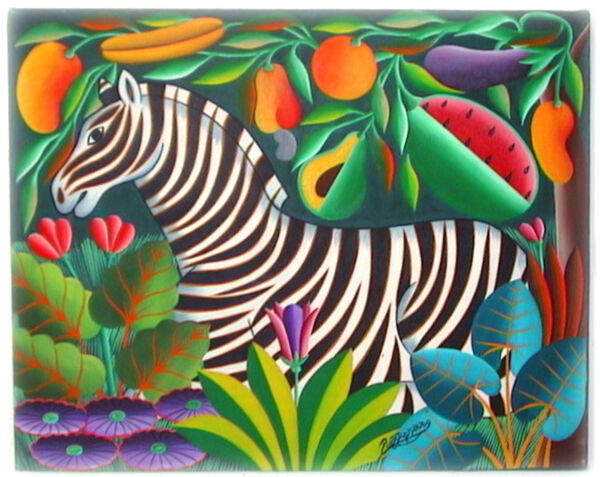 Fashion and Jewellery
Several new brands have been making their debuts. Konk Apparel offers a unique angle to sunglasses, hats and clothing.
Several local artisans craft jewellery, using semi-precious stones, Turks and Caicos sea glass, conch pearls and more. Another flash of colour are the unique silk scarves by Sea Sage Designs.
Food and Drink
If you're looking to take home a taste of the islands, you have a few choices. There are four local flavours of locally-produced Turk's Head Beer (lager, amber, an IPA, and lite) and Bambarra Rum.
Island Coffee Roaster's coffee is another great choice, offering several gourmet blends (many named after the highlights of the country).
For those looking for a bit of spice in their lives, Peppa Joy hot sauces are the obvious way to go.
Conch and Shell Creations
Conch shell crafts are another option. Most items tend to be cut shell pieces that are glued together to form cups, paper weights and spoons. Although these works can be quite interesting, they're often a bit clunky.
Popular Local Shops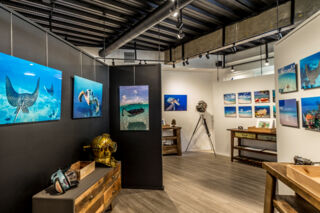 Brilliant Studios Gallery
Explore exquisite fine art prints at the Brilliant Studios Gallery at the Saltmills Plaza in Grace Bay. Brilliant Studios is an award-winning and long-established boutique wedding and portrait studio in the Turks and Caicos, and their new gallery reflects the passion they have in capturing the incredible vistas of the Turks and Caicos.
Learn More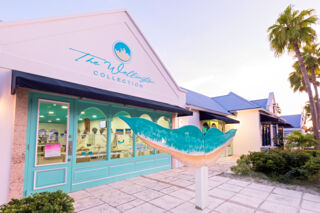 The Wellington Collection
The Wellington Collection is a jewellery, gift and art shop found in central Grace Bay at the Saltmills plaza. The store features a wide range of unique handmade souvenirs and paintings, nearly all of which are creations of local artist and jeweller Wellington Williams.
Learn More
More Information