Grand Turk's shopping is largely limited to tourist-oriented souvenirs and trinkets. Although there are a few stores that sell locally produced wares, the majority of articles for sale is imported souvenirs that are common across Caribbean tourist destinations, with the main difference being the 'Grand Turk' stamp instead of 'Jamaica' or 'Bahamas'.
The small gift shops and art galleries found in the old part of Cockburn Town tend to have more local and handmade souvenirs, although there are many newer stands selling mass-produced trinkets.
Shopping Areas
Grand Turk Cruise Center
The Grand Turk Cruise Center is the center of attention for tourist shopping on the island. This complex was opened in 2006 and along with several bars and restaurants, has about 15 chain retail and duty-free outlets onsite. The vast majority of the goods sold at the cruise center are the common imported items found at most tourist destinations, and include items such as jewelry, alcohol, t-shirts, and mass-produced trinkets. For Starbucks fans looking for a souvenir coffee mug, it's also the site of the only Starbucks store in the Turks and Caicos.
If you buy shells, see Buying, Collecting, and Exporting Conchs, Shells, and Corals.
Front Street, Cockburn Town
On days when a cruise ship is in you'll find a wide range of stalls and stands along Front Street. There's a few permanent shops on Front Street, but lots of shops are closed when there isn't a cruise ship in port.
National Museum Gift Shop
The Turks and Caicos National Museum on Front Street has a shop that stocks many authentic gifts and books relating to the islands, along with a great selection of postcards (both vintage reprints and modern ones). This is also the Grand Turk retail outlet for the Middle Caicos Co-op.
The Middle Caicos Co-op is an organization that represents more than sixty local artisans that produce baskets, hats, model sailboats, and other souvenirs, so you'll more likely to find something actually made in the islands.
Shops and Stores on Grand Turk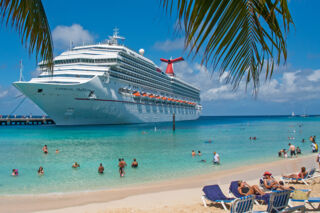 The Grand Turk Cruise Center is the only cruise port in the Turks and Caicos, and is a large complex that's home to many shops and the largest Jimmy Buffett's Margaritaville in the Caribbean. A beautiful beach fronts the complex.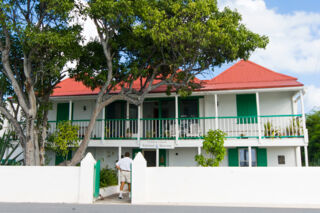 Turks and Caicos National Museum
The Turks and Caicos National Museum on Front Street houses many fascinating displays. Notable among its exhibits are thousand-year-old Lucayan artifacts and the extensive Molasses Reef Wreck collection, where remains from the oldest European shipwreck excavated in the Western Hemisphere can be seen.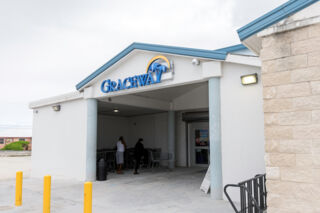 Graceway Grand Turk is the largest grocery store on Grand Turk, and is part of the extensive Graceway family of stores in the Turks and Caicos. This supermarket is open seven days per week, and stocks a wide range of fresh and dry foods, prepared deli foods, cold drinks, and essential household products.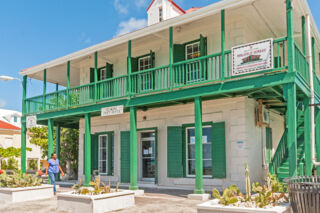 One of the beautiful old colonial buildings on Front Street in Cockburn Town, the Post Office is a great place to browse the colorful and interesting Turks and Caicos stamps, and of course, send letters and packages!