The Best Turks & Caicos
Boat Charters & Cruises
Discover the Beautiful Waters of the Turks and Caicos!
This page offers an overview of boat and yacht cruises and charters in the Turks and Caicos. We have island-specific cruise information for
Providenciales
and
Grand Turk
.
Boat cruises and tours are the single most popular activity for visitors in the country, and an unrivaled way to experience our scenic islands.
There are numerous businesses offering excursions in the Turks and Caicos across a wide variety of vessels, from tranquil sailing catamarans, to luxurious yachts.
Sights and Activities on a Boat Tour
Boat excursion destinations, sights and activities vary greatly. Tours often bring a little of everything, including snorkeling, stops on some of the best beaches in the world, a beach BBQ, and visits to iguana and stingray sanctuaries.
Beautiful and Uninhabited Cays
There are so many breathtakingly beautiful cays and islands to visit in the Turks and Caicos, all of which features pristine white sand beaches.
Half Moon Bay, Water Cay, Fort George Cay, Dellis Cay, and West Caicos are the popular stops, yet we have over 100 islands to explore in the Turks and Caicos!
Snorkeling
As to be expected for a tropical island destination, snorkeling is a key activity. Excellent reefs and vibrant coral can be found by boat throughout the country.
The barrier reef surrounding the Caicos Islands is particularly impressive. Coral gullies, arches, and overhangs are common, and colorful reef fish abound.
There are large creatures as well. Majestic eagle rays, green turtles, and nurse sharks can be seen, and if you're lucky, you may even spot JoJo the Dolphin, our unique Atlantic bottlenose dolphin.
A dedicated snorkeling cruise (especially one offered by one of the dive companies) can be amazing and typically offers a superior underwater experience than a combination beach snorkeling cruise.
Iguanas and Stingrays
Two special and uninhabited cays in the Turks and Caicos are particularly popular boat cruise destinations.
Little Water Cay is found close to Providenciales. This little nature reserve island is the finest site in the country to see the Turks and Caicos Rock Iguana. A very friendly and approachable animal and indigenous only to our islands, the iguanas are the center of attention on this cay. How often do you get the opportunity to see a critically endangered animal in its natural habitat?
Found off of Grand Turk, the rather small Gibbs Cay is another great site for nature lovers. The shallow water off the west beach on Gibb's Cay is an amazing spot to see the Southern brown stingray. The stingrays flock to any visiting boats, so you'll be able to get a close-up view of these interesting marine animals.
Conch and Beach BBQs
Want to enjoy a delicious lunch on a secluded beach? A beach BBQ excursion is perfect.
You also may be able to dive for your own conch. The catch is often prepared by the crew into conch salad. It doesn't get any fresher than that!
Private Charters
If you're looking for a tranquil private cruise, one of our boutique charter excursions will be a perfect choice. You'll be able to enjoy the beautiful sun, sand, and ocean waters of the Turks and Caicos exactly how you'd like.
The Turks and Caicos doesn't see as many visitors as some other popular Caribbean destinations do, and tour adventures visit our countless uninhabited cays and islands. You'll typically have miles of secluded pristine beach paradise to explore.
The larger and more luxurious charter vessels are suitable for more than simply landing at a great beach. There's custom scuba diving, deep sea fishing, and cruises past the exclusive home and resorts of Parrot Cay, Pine Cay, and North Caicos.
Another spectacular site is the shallow Caicos Banks off of Middle Caicos and East Caicos. The ocean floor here is perfect white sand in many places, and when combined with our signature crystal turquoise water and the shining sun, the Caicos Banks appears like the world's largest swimming pool. This region is a bit more remote than other sites, so it's typically only visited on custom boat charters. Another unique sight in the region is the Middle Caicos Ocean Hole, which is the widest blue hole in the world.
Sunsets and Glowworms
The perfect ending to a vacation day, an evening cruise offers the perfect viewpoint for watching the sunset (or maybe even the elusive green flash!).
For a few days near the full moon, glowworms bring another fascinating sight. For about 20 minutes on only a couple of days per month, these microscopic bioluminescent marine worms put on a dazzling display.
Boat Excursions throughout the Turks and Caicos
The availability and selection of boat excursions vary greatly by island in the Turks and Caicos.
On Providenciales and Grand Turk, there's a wide array of regularly- scheduled trips to choose from, including tours dedicated to specific activities such as snorkeling or partying. Tours on Providenciales, and to a lesser degree Grand Turk, feature a tremendous selection of vessels. Choose from private luxury yachts to tranquil sailing catamarans, and everything in-between.
On our smaller islands of North and Middle Caicos, South Caicos, and Salt Cay, the options are a bit more limited. In many cases, there isn't sufficient tourism to support full-time cruises, so excursions are piloted by generational fishermen—captains who have an unparalleled knowledge of the local water and sights.
The tour boats on our less-populated islands may not have the amenities or be quite as luxurious as those on Providenciales, however, you'll get to visit cays and reefs that very few get to experience.
Reservations and Bookings
You can book your boat trip adventure directly with the local charter company, through local and international reservation businesses, and in the case of cruise visitors to Grand Turk, as a shore excursion with your cruise line.
In most cases, reserving directly with the tour business will get you the best rates and is generally our recommended booking method. It may be possible to obtain discounts for a family or large groups as well.
Boat charters in Turks and Caicos generally range from half-day to full-day adventures. Half-day boat charters can be a great choice if you're looking for a slow-paced day, yet full-day trips allow the time to travel to some of the more remote and exquisite sites such as West Caicos, West Harbour Bluff, or in the case of charters departing from the island of Grand Turk, the incredible Big Sand Cay.
Pickup and Transport
Pickup will typically be included with most tours, so you won't have to drive or pay for a taxi. For guests staying at a Grace Bay resort on the island of Provo, your boat will often meet you directly on the beach outside your hotel or resort.
The majority of cruise ship shore excursions at Grand Turk depart from the Grand Turk Cruise Center, so transport is unnecessary for cruise ship guests. A few SCUBA diving trips depart from the nearby Cockburn Town, however, complimentary pick up and drop off is typically included.
Off the Beaten Track
If you're looking for a unique and unforgettable experience, there are custom adventure charters that explore our natural environment and historical sites.
One option for those with an avid interest in marine life is turtle tagging. The Department of Environment and Maritime Affairs (DEMA) works with business partners to tag and track green turtles and hawksbill turtles. Much of this takes place on the turquoise Caicos Banks, where turtles are caught by hand, tagged, and fitted with a GPS tracker, after which its local and regional migration is monitored.
A kayaking or paddleboard safari into the remote Caicos mangrove creeks is another great adventure. Extensive red mangrove lined tidal waterways lead for miles on the southern coasts of North Caicos, Middle Caicos, and East Caicos. These channels are difficult for typical vessels to approach due to the surrounding shallow water and shoals, so the wilderness is completely undisturbed. These tours usually depart from Providenciales, where the kayaks and paddleboards are loaded on a small boat, then there's the journey across the crystal-clear and shallow water of the Caicos Banks to where the channels begin.
The wildlife sightings in the mangrove creeks are unparalleled. You'll see turtles, stingrays, and the fins of small lemon sharks gliding by, and on the bottom are conch and sea stars.
If you're more interested in the historical, a camping boat trip to one of our uninhabited cays is a great choice. There are Loyalist plantations, guano caves, sisal ruins, and more to discover.
Turks and Caicos Charter Companies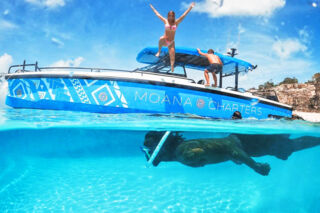 Moana Charters is a luxury private day charter company, based in the Turks and Caicos Islands. Discover amazing beaches, uninhabited cays, beautiful reefs, and much more. Choose from sporty Axopar day yachts, or a spacious and luxurious Windy yacht with air-conditioned cabin.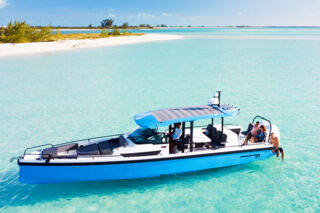 Okeanos Charters is a private luxury charter, with custom adventures to the beautiful beaches, cays, and reefs that surround the Turks and Caicos. Discover paradise at your own pace.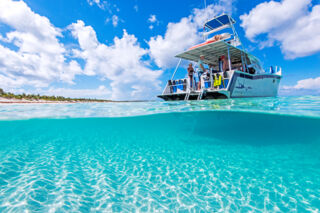 Big Blue Collective offers the widest variety of half and full day charters to places near by, like Half Moon Bay and Ft George or out to French Cay, West Caicos and beyond. Snorkel gear is always provided while scuba divers can add a tank or two to any charter. Whether an adventurous group, a small family or a relaxed party, Big Blue you will experience the difference and escape the ordinary.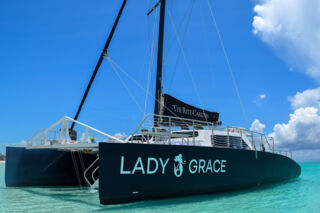 Lady Grace is an elegant 64-foot sailing catamaran, and features a full range of luxury amenities. Choose from private charters, sunset sails, snorkel adventures, and more.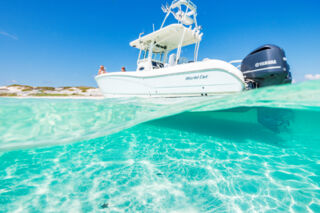 Jedi Charters specializes in unpretentious and off-the-beaten-path boat excursions that are fully customized to guest preferences. Snorkel on beautiful reefs, explore deserted beaches, or experience an exhilarating kite downwind safari across the turquoise waters of the Caicos Islands.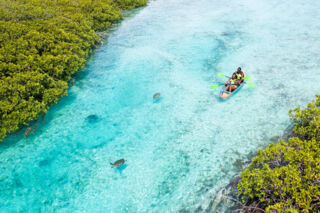 Turks Ventures is a small eco-tour, water sports, and boat charter based on Providenciales, with a focus on fun and interesting tours to many beautiful locations in the Turks and Caicos. Excursions include an economical water taxi service to Half Moon Bay, Little Water Cay, and the floating bars.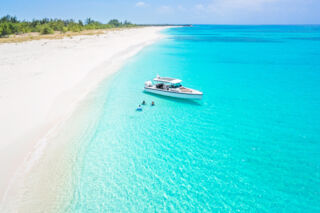 Ocean Frontiers is a boutique and private eco-friendly charter that visits the incredible and secluded locations that make the Turks and Caicos such an amazing destination. Discover spectacular beaches, reefs, and sights aboard a luxurious 37-foot Axopar boat.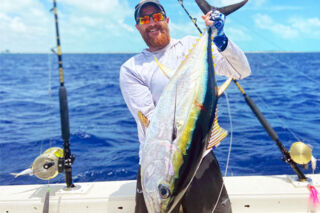 Grand Slam Fishing Charters
Grand Slam Fishing Charters has been chasing game fish in the Turks and Caicos for more than 20 years. Catch wahoo, mahi-mahi, tuna, marlin, snapper, grouper, and more with the pros. Fishing, snorkeling, and beach cruising charters are also available, and are fun for all ages.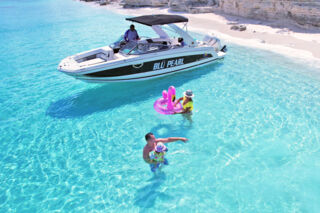 Island Adventure TCI is a small and locally-owned eco-tour company that specializes in clear kayak wetland tours and private boat charters. Excursions are family-friendly, and are great for experiencing the natural beauty of the Turks and Caicos.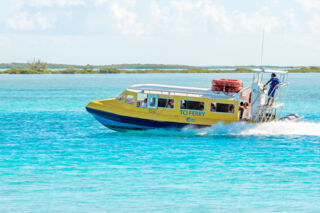 Located at Heaving Down Rock Marina on the east end of Providenciales, Caribbean Cruisin' is the primary passenger ferry service operator in the country, with routes from Providenciales to North and South Caicos. They also provide jet ski rentals and tours, boat charters, and excursions, and water sports.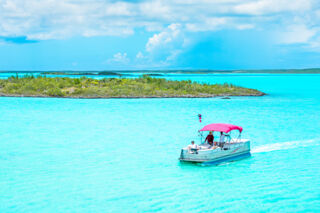 Las Brisas Chalk Sound Tours
Discover the incredible turquoise hues and sights of Chalk Sound National Park on Las Brisas Restaurant's boat tour–a favorite attraction for decades. Choose from mid-day snorkeling adventures and evening sunset cruises. Las Brisas is located on the waters of Chalk Sound and quite close to Sapodilla Bay and Taylor Bay. Kayak and paddleboard rentals are also available.