Turks and Caicos Car Rentals
The Turks and Caicos is a small archipelago nation, and rental cars and taxis are the primary means of transport. Taxis are typically quite expensive, which consequently makes a rental vehicle the best way to get around for the typical visitor.
Our country consists of six main islands. Only two of these islands, North Caicos and Middle Caicos, are connected by a drivable road causeway. There are no car ferries that travel between our islands. If you'd like to visit one of our outer islands on a day trip, it's necessary to make arrangements for a separate vehicle rental.
Car Rental Requirements
Minimum car rental age in the Turks and Caicos is in most cases 25 due to insurance policies. A few businesses have a minimum rental age of 21.
A valid driver's license required. An International Driving Permit (IDP) is not needed, unless your licence is not in English.
A valid passport and credit card are usually required to rent, especially on Providenciales.
Our Islands
Each of our main islands offer widely varying numbers of car rental companies, fleet sizes, and general levels of car conditions.
Providenciales supports by far the greatest number of rental agencies, and has large fleets of great condition cars of every class. Many of the larger companies maintain fleets that are no more than a 2-4 years old.
Grand Turk's tourism largely centres on the cruise industry. The island isn't extensive and many visitors only stay for several hours, so rental vehicles are usually compact economy class, scooters, or 4x4 buggies. Larger conventional cars and SUVs are available, yet tend to be a bit older than what's common to Providenciales.
North Caicos and South Caicos, due to the limited number of tourist arrivals, have only a few businesses to choose from. Vehicle selection is quite limited, and age and condition isn't up to the standard found on Providenciales.
Salt Cay is a very small island, and the only rental vehicles available are off-road golf carts, bicycles, and the occasional moped.
Useful Information
Airport Pick Up and Drop Off
On Providenciales, several of the car rental companies offer complimentary airport car pick up and drop off, or an airport transportation shuttle service from a nearby facility. We generally recommend selecting a company with such an amenity, as the taxi rates for two short rides will often approach a day's car rental costs. You'll typically be asked to provide flight information to ensure that a staff member is waiting for you.
On our other islands, pick up and drop off from the visitor's point of arrival is standard practice (whether airport, ferry dock or the Grand Turk Cruise Center).
Rental Rates
Economy car rates on Providenciales start at just under $50 (with taxes) per day, and up to about $170 per day for large luxury SUVs and passenger vans.
For families and groups, a larger SUV or van may be a good choice, as the typical economy car is small compared to American standards (Suzuki Swifts and Nissan Marches are typical small economy cars).
The rental rates on our other islands tend to be a bit higher due to the fewer number of visitors and greater business operating costs. Basic cars start at about $75 per day.
Fuel Prices
Gasoline and diesel fuel prices tend to be quite high in the Turks and Caicos, largely due to the import expenses associated with the lack of a deep water cargo port.
Prices are typically lowest on Providenciales, at under $5 per imperial gallon, and are a little higher on our less-populated islands.
As our islands are quite small, driving distances are not great and fuel consumption is typically far less than what may be experienced at other destinations.
Navigation and GPS
GPS navigation and mapping is typically not needed or very accurate in the Turks and Caicos.
A few beaches and sights can be somewhat difficult to find, yet in the majority of cases, inaccuracies in maps and the lack of address and street names restrict the effectiveness of GPS.
Traffic and Driving Conditions
Providenciales is centre of tourism in the Turks and Caicos, and the driving conditions on this island can be frustratingly bad due to the poor behaviour of some drivers, especially taxis and illegal jitney taxis. We advise driving with great caution. See Driving in the Turks and Caicos.
Our other islands see far fewer vehicles on the roads, and road conditions are generally stress-free.
Baby and Child Car Seats
Baby and child car seats are typically available from the larger rental companies on Providenciales. Grace Bay Car Rentals offers the complementary use of seats.
The rental car companies on our other islands usually do not have child seats.
Handicapped Customers and Accessible Vehicles
None of the local auto rental agencies offer wheelchair accessible vans for rental.
Scooters and Mopeds
Scooters are available for rent on Providenciales and Grand Turk. For guests staying on Providenciales, we suggest that an economy or "character class" car is the better choice due to the hectic road conditions, and their lower rental fees, air conditioning, and sun protection.
Existing Car Imperfections and Damages
We advise ensuring that all damages and imperfections of a rental car are noted before departing from the rental company.
On Providenciales, there is no reason to settle for a poor conditions or unreliable car. The majority of rental cars are in good condition.
Off-road Driving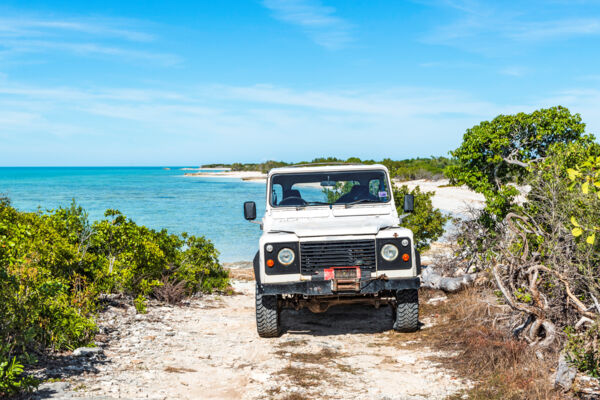 The Turks and Caicos offers a plethora of back roads and scenic routes, and many of these can be quite rough and only suitable for high clearance vehicles. Strikes from rocks can cause expensive repairs which may not be covered by insurance.
Driving off road on the beach, in salt flats and wetlands, or through light coastal vegetation is strictly prohibited. Many of these beautiful environments take decades to recover from the damage caused by a single car.
Be aware that the insurance policies offered by local car rental companies may not cover damage sustained on poor-condition roads or during off-road use. One local Providenciales company clarifies that its policies do not cover the remote albeit beautiful locations of Northwest Point, Malcolm's Road Beach, and West Harbour Bluff on the west coast of the island.
Booking and Reservations
Generally, booking direct will give you the best rate. A government stamp duty of 12% is usually applied on top of rates, and there may be additional fees.
Some local travel companies provide vacation packages which include a car rental for part or all of your stay.
Local Car Rental Agencies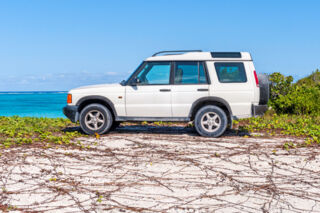 North Caicos
Al's Rent A Car offers car, van, SUV and 4x4 rentals. Free pickup or delivery to Sandy Point Marina, the North Caicos Airport, or your accommodation. Headquartered in Bottle Creek, North Caicos.
Learn More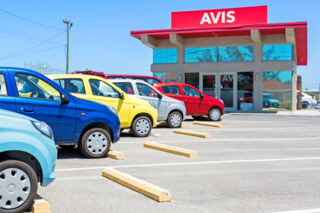 Providenciales
Local branch of the international chain. Car, SUV and mini-van rental. Daily and weekly rates. Branches are located near to the airport, on Leeward Highway at Bayview Motors, and in the Grace Bay area.
Learn More
Providenciales
Located on the west side of Grace Bay, Bayside Car Rental offers cars, minivans, SUVs, 4x4s, scooters, and speciality dune buggy and three-wheelers. Free delivery or pickup from your accommodation or the airport.
Learn More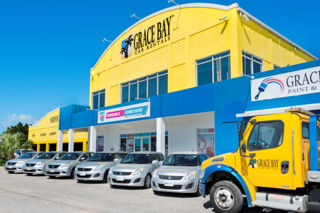 Providenciales
Grace Bay Car Rentals has one of the largest fleets in the Turks and Caicos, with a wide selection of car, minivan, SUV and 4x4 options. Delivery or pickup from your accommodation or the airport included. The main Grace Bay office is located within easy walking distance of most resorts on the island.
Learn More
Grand Turk
Car, jeep, scooter and golf cart rentals on Grand Turk. Complimentary pick up and drop off available from both the Grand Turk Cruise Center and the airport.
Learn More
North Caicos
Old Nick's offers car, SUV, Jeep and pickup truck rentals on North Caicos. Delivery and pickup from Sandy Point Dock or the North Caicos airport available for free.
Learn More
Providenciales
The oldest still-operating car rental business in the country, Rent a Buggy offers compacts, SUVs, a wide selection of Jeeps, and the unique and Jamaican-produced Island Cruiser.
Learn More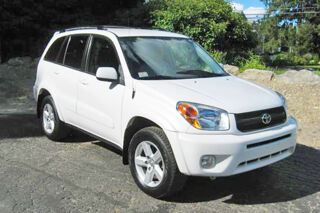 Providenciales
Scooter Bob's is the oldest car and scooter rental company in the Turks and Caicos, and has been serving visitors and locals alike for decades. Choose from jeeps, cars, SUVs, mini-vans and bicycles. Daily and weekly rates, and free collection, drop-off and delivery. Rentals are available on the islands of Providenciales and North Caicos.
Learn More
South Caicos
The only car rental business on South Caicos. There's a limited selection and number of cars available, so we recommend that you book in advance. Inquire at the Seaview Supermarket near the main Cockburn Harbour dock.
Learn More
North Caicos
Silver A La Car Rental offers a range of well-maintained (with air conditioning!) compacts, SUVs and vans. Drop off and pick up from the North Caicos airport and the marinas is complimentary.
Learn More
Grand Turk
Tony's Rentals offers scooter, jeep, car, bicycle and jet ski rentals on Grand Turk.
Learn More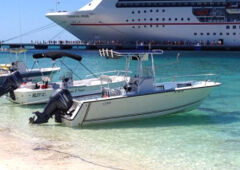 Wet Money Tours & Rentals
Grand Turk
Local water sports company specializing in snorkelling tours, whale watching, Gibbs Cay trips and fishing. Car, jeep, golf cart and scooter rentals are also offered. Daily and weekly rates available, with pick up outside the Grand Turk Cruise Center gates.
Learn More