Turks and Caicos
Car Services
Booking a car service has several advantages over a taxi. Rates are usually fixed per ride (due to the small size of the island) and are typically between $50 and $130 per car. Taxis instead are priced per person, so those in a large group will find the pricing model of car services more favorable than taxis.
Taxis typically use a Ford E-Series van, whereas car services usually use high-end luxury SUVs.
Price Compared to Taxis
If you're two people going from a Grace Bay hotel or resort to a nearby restaurant, a taxi will be cheaper. If you're a large group (4 or more persons) traveling between settlements, a car service may be a better, more comfortable choice.
The taxi fare for travel from the Providenciales International Airport (PLS) to Grace Bay is between $28 and $32 for two people, and then an additional $14 to $16 per person. More than two bags may incur a fee of $4 per bag.
A taxi for 5 persons, each with two pieces of luggage, from the airport to Grace Bay will cost between $102 and $112. Note that this is the maximum fare, and it may be possible to negotiate a lower price. However, be advised that some taxis will charge higher than the Government-mandated fare.
A car service would typically charge around $120 for this trip, with up to 6 persons and no extra bag fees (provided they fit in the vehicle).
Airport Car Service and Airport Transfers
For those arriving at the Providenciales International Airport (PLS), you won't have to wait for a taxi (although taxi queues are typically not that long), and for those in a larger group, the extra fee is minimal over a taxi.
The driver will typically meet you right outside the arrivals hall. For those who have booked an airport fast-track service, it's possible to book a car service as part of the fast-track service.
Rates, Drivers, and Availability
All private-hire car services must be licensed by the Road Safety Department and you'll see an orange sticker on the passenger door glass, showing the registration date and expiry.
All public service vehicles, including car services and taxis, must display the orange sticker. License plates were previously either a blue lettering PSV (Public Service Vehicle), or colorful 'TCI Taxi' license plate, however in 2019 they were redesigned, and then again in 2023. Current plates state the class of vehicle 'TCI Taxi' or similar above the plate number.
Car Selection and Type
Most car services use Chevrolet Suburbans or similar SUV body-style vehicles, although smaller town cars are also offered.
Car service companies in the Turks and Caicos have a smaller fleet of a couple of vehicles, due to Government quotas.
Car Service at Villas
Many of the villas on Providenciales are located a distance from the main tourist areas. For travel between the main tourist areas and the airport on Providenciales, there is a fixed rate sheet for taxis, but as the villas are outside of these areas, the standard fares generally don't apply.
As such, using a car service can be cheaper than a taxi if going to and from a villa, as they are capped at $120 and charge per car, not per passenger (as with a taxi).
Booking and Reservations
Some companies allow you to book online via a debit or credit card. It's recommended to book direct with a company for the best rates.
Turks and Caicos Car Service Companies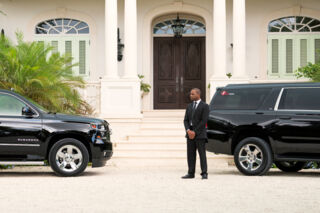 Fast Track Transport is a luxury private car service, with punctual and impeccable rides via Chevrolet Suburban SUVs or BMW 5 Series cars. VIP car service is perfect for airport transfers or general transportation needs at Providenciales and Grace Bay.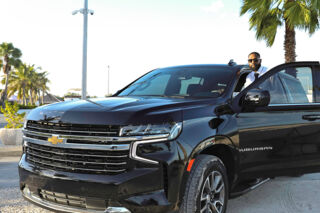 LIV Transport is a professional private car service, based on the island of Providenciales. The company provides punctual transport via elegant and modern full-size luxury SUVs. Services include Providenciales airport transits and general VIP car service for Grace Bay and the island.