North Caicos & Middle Caicos
Ferry Services
Note: Please be aware that due to ongoing dredging and maintenance works being conducted near Sandy Point, the Providenciales to North Caicos ferry services will typically be landing at Bellfield Landing until further notice. Guests transiting to North Caicos will typically not have to take any action, as car rental companies and taxis will be aware of ferry landing locations and meet guests accordingly.
Passenger ferries are the typical way to travel between the islands of Providenciales and North Caicos, and are the favored means of transport whether you're visiting our central Garden Islands of North Caicos and Middle Caicos for the day, or are staying overnight. Both islands have an airport, yet there are no scheduled flights to either island.
Visiting North Caicos and Middle Caicos from Providenciales on a day trip is one of our top recommend activities, and it's easy to plan your adventure.
There are no scheduled ferries suitable for transport of cars or vehicles. The regular ferries are small passenger vessels that carry 15-50 people.
The ferry services takes about 25 minutes each way, and follows a highly scenic route along the exquisite Caicos cays. You'll get amazing views of Little Water Cay, Half Moon Bay, Water Cay, Pine Cay, Fort George Cay, Dellis Cay, and Parrot Cay on the journey. Have your camera ready!
Two businesses provide ferries services to North Caicos: Caribbean Cruisin', and MV My Girl.
Caribbean Cruisin' is the foremost service, and operates several vessels in their signature blue and yellow color scheme. This service offers the most scheduled ferries per day.
MV My Girl operates one smaller vessel, which is suitable for about 12-15 persons.
Reservations and Booking
Both ferry services are $25 per person, one way, and $50 return fare.
Note: Reservations are not typically required, simply arrive at the dock 20-30 minutes prior to departure.
Tickets may only be valid for one day, so select the one way fare if you'll be returning on a different day. On North Caicos, fares may be purchased at the ferry.
The ferries are typically punctual and depart within about 10 minutes of scheduled times. On normal days, and if you are aware of the departure location, arrival at the dock 15-20 minutes prior to departure is sufficient. If you haven't been on the ferry before, we advise allowing for extra time.
If you're traveling with a large group, we advise contacting the ferry in advance to ensure sufficient space.
If you're traveling on the day of the Valentine's Day Cup sailboat race, we advise arriving a minimum of 30 minutes early in order to secure a spot on the ferry. Caribbean Cruisin' will typically run multiple vessels to accommodate any extra passengers, yet there may be delays.
Luggage and Excessive Cargo
Both ferry services technically have luggage weight restrictions, yet these are rarely if ever enforced.
If you'll be transporting oversized items such as a kayak or paddle board, or may be bringing large amounts of cargo, we advise contacting the ferry in advance of your journey. Bicycles are typically welcome.
Middle Caicos Ferry
There are no scheduled ferries to the island of Middle Caicos. North Caicos and Middle Caicos are connected by a road causeway, so it's possible to drive across both islands. Day trips and tours to either island simply start on North Caicos.
Where to Catch the North Caicos Ferry
The Ferry Dock on Providenciales
On Providenciales, the ferry departs from Heaving Down Rock Marina (Walkin Marina), which is on the far eastern end of the island. It's very easy to find this area on Providenciales – simply follow Leeward Highway to its conclusion. If you continue past the Gateway to Grace Bay roundabout, the dual carriageway Leeward Highway transforms into a paved road with one lane in each way, yet continues in the same direction. There are small road signs indicating the way at the Grace Bay roundabout, and near Heaving Down Rock.
It takes a little less than 20 minutes to drive from the Providenciales International Airport to the ferry dock, and less than 10 from the Grace Bay region.
Caribbean Cruisin's ferries depart from inside the marina area itself, in front of the blue and yellow building off to the right of the road, where the floating docks can be seen. This structure is the ticket office.
MV My Girl Ferry Service simply docks where the road ends at the water, and is technically outside of Heaving Down Rock Marina at the public government boat-slip area. There's a short floating dock. Purchase fares at the ferry boat.
Ferry Docks on North Caicos
On North Caicos, Caribbean Cruisin' vessels dock at Sandy Point Marina, a small and sheltered marina at the north-western point of the island. A small restaurant, Higg's Café, is found here. Sandy Point Marina is the more popular dock, and rental car agencies and tour companies will typically expect pick up here unless specified otherwise.
MV My Girl lands at Bellefield Landing, an undeveloped freight port near the settlement of Kew. This is a more convenient dock location for many North Caicos residents, yet is less popular for tourism and day trip visitors.
Caribbean Cruisin' North Caicos Ferry Schedule
Weekdays and Saturday
Departure from Providenciales
Departure from North Caicos
6:30AM
7:00AM
9:30AM
10:30AM
12:30PM
1:30PM
3:00PM
4:00PM
5:00PM
5:30PM
Sunday and Holidays
Departure from Providenciales
Departure from North Caicos
8:30AM
9:00AM
1:00PM
2:30PM
3:30PM
4:30PM
MV My Girl North Caicos Ferry Schedule
Weekdays and Saturday
Departure from Providenciales
Departure from North Caicos
9:30AM
7:00AM
12:30PM
10:00AM
3:00PM
1:00PM
4:00PM
3:00PM
Sunday and Holidays
Departure from Providenciales
Departure from North Caicos
8:00AM
7:00AM
4:30PM
4:00PM
North Caicos Ferry Services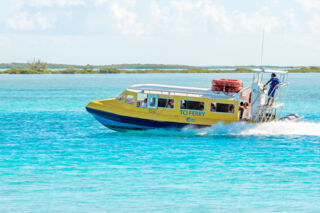 Located at Heaving Down rock Marina on the east end of Providenciales, Caribbean Cruisin' is the primary passenger ferry service operator in the country, with routes from Providenciales to North and South Caicos. They also provide Jet ski rentals and tours, boat charters and excursion, and water sports.
Learn More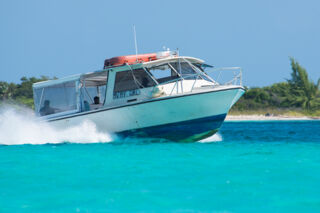 This ferry service travels between Heaving Down Rock on Providenciales and Bellefield Landing on North Caicos. We recommend calling ahead to verify the schedule.
Learn More
Last reviewed by an editor on 20 July 2021.