Grand Turk
Getting Around & Transport
Grand Turk is a relatively small island, and at only six and a half miles long, getting around and navigation is simple. Rental vehicles and taxis are the main means of transport for visitors. There's no public transport or bus service.
The island is laid-back and driving is largely free of traffic and stress. Most roads are paved, and the majority of those that are not can in most cases still be traversed (albeit a little slower) in any vehicle. The island-wide speed limit is 20 mph (32 kph), yet drivers can be expected to exceed 40 mph (64 kph) on the straightaways.
Rental Vehicles
We recommend renting a vehicle during your stay on Grand Turk. The cost for an economy car or scooter will be roughly equivalent to the cost of two taxi trips, and you'll have much greater flexibility to do what you want. Pick up and drop off from either the Grand Turk JAGS McCartney International Airport (GDT) or the Grand Turk Cruise Center is typically included with all rentals.
Note:
Rental vehicles do not always have maps. Consider printing our
Grand Turk map
.
Vehicles of all types are available for rent, with pick up typically taking place outside the Cruise Center gates. Reservations are usually not absolutely necessary, yet demand does fluctuate, so we highly advise that you book in advance. You can also save time during pick up if you have a booking.
Cars and jeeps will often be the best option for visitors to Grand Turk, especially for parties greater than two. Rates tend to be a bit high and overall vehicle quality and condition lower when compared to the offerings on Providenciales, yet there's little risk of being stranded due to the small size of Grand Turk.
Scooters are another popular option. The main downside of these machines is the lack of protection from the intense Turks and Caicos sun. Otherwise, Grand Turk and the narrow streets of Cockburn Town are perfect for scooters. The current (2020) rate is about $75 per day.
Golf Carts, 4x4 carts and ATVs are also available. These can be fun, but rates are usually higher ($80-$120 per day, 2020) than a car. As is the case with scooters, the use of sun screen is highly advised.
Taxis
Taxis can usually be found waiting at the Grand Turk JAGS McCartney International Airport (GDT), at the Grand Turk Cruise Center, and at a few locations in Cockburn Town.
There are fixed fares from the Cruise Center, yet are not for return trips. You're advised to confirm your fare before setting off. Rates (2020) are per person and each way: $4 to Governor's Beach, $5 to Cockburn Town, and $9 to the Grand Turk Lighthouse.
We recommend that you write down the number of a taxi in case one is needed on your trip.
Cycling
Bicycle rentals are available, however, they really aren't suitable for island exploration by cruise ship guests due to time constraints. The typical ship is in port for about six hours, and it's quite difficult to see everything in that time span. Another consideration is the intense heat and sun.
Rates are around $25-$30 per day, so with two people you'd pay about the same for a scooter.
If you're staying overnight in Cockburn Town, bicycles can be a great way to get around.
Walking
Although the distance isn't great at 3 miles (4.8km) we generally don't advise walking from the Cruise Center to Cockburn Town. Due to the main industrial port, it's not possible to walk along the beach, and the roads lack sidewalks.
Once in Cockburn Town, most of the sights, attractions and restaurants are located on a one mile (1.6km) strip of waterfront, so most will be able explore the town on foot with ease.
Grand Turk Shuttle Bus
The hop-on hop-off shuttle bus service on longer operates on Grand Turk. A number of local businesses offer island tours of Grand Turk. Capacity and the attractions featured on the tour differ between businesses, but generally Cockburn Town and the Grand Turk Lighthouse are included.
Key Points
We drive on the left.
Many drivers do not exercise due care and attention, especially operators of taxis (both legal and illegal).
Protect yourself from the sun. It doesn't take long to get sunburnt.
Typical Rental Requirements
Minimum rental age is usually 21 or 24 (18 for scooters).
A valid driver's license is required to rent a vehicle. An International Driving Permit (IDP) is not needed, unless your license is not in English.
A valid passport and credit card may be required.
Car and Vehicle Rentals
Car, jeep, scooter and golf cart rentals on Grand Turk. Complimentary pick up and drop off available from both the Grand Turk Cruise Center and the airport.
Learn More
Tony's Rentals offers scooter, jeep, car, bicycle and jet ski rentals on Grand Turk.
Learn More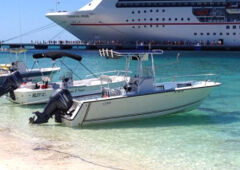 Wet Money Tours & Rentals
Local water sports company specializing in snorkeling tours, whale watching, Gibbs Cay trips and fishing. Car, jeep, golf cart and scooter rentals are also offered. Daily and weekly rates available, with pick up outside the Grand Turk Cruise Center gates.
Learn More
Taxis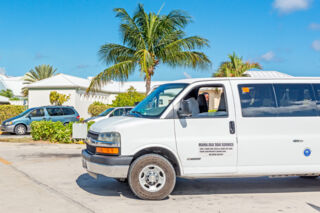 Mama Dea Taxi & Tour Service
Mama Dea offers taxis and tour services on Grand Turk. Experience the sights and attractions of the island in air conditioned comfort. Complimentary Wi-Fi available in the vehicles.
Learn More
Patsy's Taxi & Tour Services
Informative taxi and island tours on Grand Turk by long-time local resident Patsy Taylor.
Learn More
Last reviewed by an editor on 22 December 2020.