Where to Stay in the
Turks and Caicos
There's an Amazing Selection of Accommodations!
The Turks and Caicos is home to an incredible selection of vacation accommodations, and each of our islands offers a unique atmosphere and perspective. Providenciales features large and full-service resorts and family-friendly hotels, Grand Turk offers quaint colonial inns, and the sparsely-populated islands of North Caicos, Middle Caicos, and Salt Cay have small guest houses and boutique beach hotels that will appeal to those that appreciate nature and seclusion.
When planning your vacation to the Turks and Caicos, you'll have to decide which of our islands you'd like to stay on, as well as the type of accommodation that you'd prefer. This guide offers an overview and basic information on the different types of hotels and resorts available in the country, along with other important factors that may affect your vacation. Our island-specific pages have additional information and accommodation business details.
All-Inclusive Resorts
There are nine all-inclusive resorts in the Turks and Caicos: five are found on Providenciales (fondly known as Provo), and the others are located on our smaller islands.
An all-inclusive resort typically includes dining, on-site activities, and other amenities with the room rate. Because of these extra perks, the all-inclusive room rate is often at least twice as much as a comparable room at a typical hotel.
The different all-inclusive properties handle dining, food, and drinks in various ways. At Beaches Turks & Caicos, the policy is quite simple—dine when you'd like and how much you'd like. At other resorts, there may be limits or restaurant reservations may be required.
Off-site activities, including motorized sports, horseback riding, golf, and diving will usually incur an extra charge.
An all-inclusive property can be a good choice for those who want to simply relax on the beach and enjoy some water sports activities, and not have to put any effort into finding breakfast, lunch, and dinner. If you enjoy exploring and experiencing the sights, another accommodation option is probably a wiser choice and will ultimately be less expensive.
On Providenciales, the selection of all-inclusive stays includes Beaches Turks & Caicos, a family-oriented property with a wonderful selection of things to do and a water park, Club Med Turkoise an adult-only resort on Grace Bay Beach, Alexandra Resort and The Windsong, which are Grace Bay Beach properties, and Blue Haven Resort in Leeward.
If you're looking to experience the ultimate in privacy, consider the five-star COMO Parrot Cay Resort or Meridian Club on the private islands of Parrot Cay and Pine Cay. These exclusive sites front stunning beaches with white sand and clear water, yet also offer tranquil seclusion. Accommodation choices may be a small boutique hotel, of which each island has one, or are standalone beach house rentals.
There's only one adults-only all-inclusive in the Turks and Caicos: Club Med Turkoise on Grace Bay Beach.
Hotels and Resorts
Hotels and resorts provide the majority of available rooms on the island of Providenciales, and these range from small boutique accommodations, to expansive and luxurious properties. As may be expected, many of the resorts are found on the world-renowned Grace Bay Beach, and rooms often have great ocean views. The turquoise water and powdery-soft sands of this coast define what a tropical beach destination should be.
The other islands in the Turks and Caicos do feature a few resorts and hotels, however, they are typically smaller establishments than those on Providenciales. The main outliers are the spacious East Bay Resort and the secluded Sailrock Resort on South Caicos.
On Providenciales, many accommodations feature on-site restaurants, spas, tennis courts, and swimming pools, in addition to offering the complimentary use of non-powered water sports equipment such as kayaks, paddleboards, Hobie Cat sailboats, and snorkel equipment. The smaller beach hotel choices and many of those on our other islands may not have quite the range of amenities that the larger Grace Bay properties do. Most hotels have concierges who are able to advise on and make reservations for the spa, boat tours, excursions, and dinner.
If you're looking for the ultimate in relaxation, many of our larger resorts feature onsite spas and well-being centers, with friendly and professional staff.
The private ownership of units and suites at some of the condominiums has blurred the line a bit between the traditional resort and vacation rentals (which are typically offered for rent by the owners). Rooms at many such condo-hotels are individually owned, yet the complex has a front desk and concierge that's staffed full-time. Due to the limited or non-existent housekeeping and room services, rates at these locations are often a bit more economical.
Many resorts are also willing to accommodate a wedding or corporate event.
Villas and Vacation Rentals
The vacation villa rental category includes everything from luxury mansions to partitioned guest houses. These options are fully furnished (often with equipped kitchens), however, in most rentals other than the largest sites, they typically lack the room service and housekeeping that is the norm with luxury hotels and resorts. On the upside, there's usually more space and privacy.
Providenciales supports the vast majority of vacation rentals, however, most of the accommodations on the islands other than Providenciales are some type of rental villa or guest house.
On Providenciales, there's a wide range of coasts and neighborhoods. Some offer amazing beaches and others feature an exquisite view. For transport and driving information, it's best to be aware of the island's layout, so check out the Providenciales Areas and Districts map.
Amenities and style of course differ widely, yet the popular accommodations typically feature a wide array of perks, including complimentary use of snorkeling and water sports equipment, bicycles, BBQ grills, and more. Some properties may feature a hot tub, gym, or movie theater!
Another advantage of most vacation villa rentals is the full-size and properly equipped kitchen, which is typically far superior to the kitchenette found in some hotel suites. It's also possible to arrange for a caterer or concierge service to stock a villa with groceries.
Some properties are found on coasts that excel for certain activities. Smith's Reef at Turtle Cove offers some of the best shore snorkeling in the country. The Leeward and Chalk Sound locations can be great for kayaking and paddleboarding. Sapodilla Bay and Taylor Bay are perfect beaches for children due to their calm and shallow ocean.
Locations of course also vary on Providenciales (some are excellently situated, others not so much). Due to the lower real estate premiums, the villas and guest houses on our smaller islands are often found at exquisite oceanfront spots.
On our smaller boutique islands such as Grand Turk and Salt Cay, many of the authentic and quaint colonial buildings have been converted into romantic vacation rentals. One of the highlights of the smaller and quiet islands are the untouched coastlines and beaches to discover.
Price-wise, villas can make a lot of sense for larger groups and families.
Several of our larger resorts have begun to offer luxury villa stays, with exquisite offsite retreats that are overseen and managed by the parent property. These sites, such as the Wymara Villas, the Private Villa Collection by the Grace Bay Club, and Amanyara Villas, feature seclusion and privacy in incredible oceanfront settings.
Homestay and Budget Lodging
For those looking for the most economic option, single rooms rented by the accommodation owner will typically be the best choice. Beachfront paradise can be expensive, and due to the small sizes of the islands in the Turks and Caicos, even the remote and inland accommodations aren't a far drive from the ocean.
It's very important to consider the location of your lodging. Some accommodations may be located in areas that may necessitate a rental vehicle, as there is no public transport in the Turks and Caicos.
Your host will typically meet you at the airport to guide you to your accommodation, which also saves on transport.
Prices, Booking, and Deals
Accommodation rates in the Turks and Caicos are generally more expensive than equivalents in the United States and other destinations in the Caribbean. Prices per night start at a minimum of $100 for a basic room (often not near the beach), to well over $1000 for a luxury beachfront penthouse.
Rental villas are generally rented both per day and by the week, and rates vary widely according to the accommodation. A guest suite may start at under $100 per night, and expansive beachfront mansions can easily be over $10,000 per night.
There is a 12% Government tax on top of all bookings, and some properties charge a 10% service fee and up to 5% facility fee (up to 27% in fees and taxes). Resorts and accommodation management may apply additional charges, so ensure that you confirm when making your reservation what booking fees may be included. Some properties listed on booking websites also include a 10-12% 'city' tax. This is not a local tax and simply a tactic to extract additional revenue (as taxes are typically not included in the initial price presented when viewing a hotel).
To get the lowest rates on Turks and Caicos vacation stays, it's typically best to do a little online research to obtain a general idea of the going price, and then contact the accommodation or vacation rental manager directly to see what deals and packages they'll offer (such as a complimentary rental car). You'll generally receive the best price if you book directly. Due to the much greater property selection, special deals are more available on Providenciales than on our other islands. Packaged vacations, which include flights, accommodation, and sometimes car rental, may be convenient, yet typically doesn't save over booking each aspect of your trip yourself.
If you'd like to stay near Grace Bay Beach, great value options are had at the inland accommodations. These small hotels and vacation rentals are often only a few minutes walk from the beach, yet prices can be half or a third the cost of a beachfront room.
The High and Low Seasons
When planning your vacation, be advised that there is an 'on-season' and 'off-season'. Prices are often at their highest between December-April. During the remainder of the year, hotels will often tempt guests with special package deals and such as free nights or reduced rates. The late summer hurricane season sees the fewest visitors. See Best Times to Visit Turks and Caicos.
It's definitely possible to get excellent last-minute deals, especially on air travel. Some of the airlines which fly from New York and other major cities have promotions with local resorts for last-minute weekend getaway deals, to fill seats.
Popular Turks and Caicos Resorts
East Bay Resort features 86 modern ocean-front suites featuring breathtaking views of the white beach and turquoise water. A range of water sports and activities are offered, including kayaking, snorkeling, diving, fishing, and kiteboarding.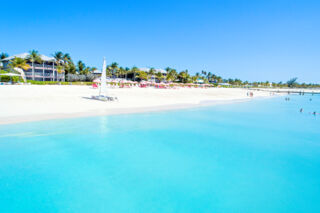 Not to be confused with its Ocean Club West sister property, Ocean Club is a beachfront resort with a relaxed atmosphere. Choose from single-bedroom studios, and one, two, and three-bedroom suites. A shuttle provides complimentary transport between both locations, and guests are welcome to enjoy many of the amenities of the sister site.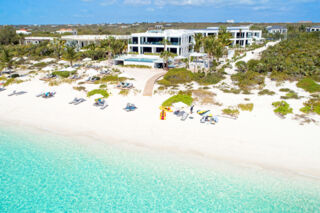 H2O is a small boutique beachfront hotel located on Long Bay Beach, and caters to those that appreciate an active and water sports lifestyle. Amenities include a tennis court, water sports equipment, a gym, and beach bar.
Wymara Resort is a luxury contemporary property on the beautiful Bight Beach in central Providenciales. There's a wide selection of amenities to be enjoyed, including an infinity pool, fine dining, an onsite spa, and non-powered water sports equipment.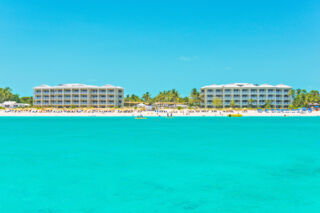 The tranquil Alexandra Resort is centrally located on the beautiful Grace Bay Beach on Providenciales. Choose from studios, 1, 2, and 4-bedroom suites. There's a wide range of complimentary water sports and luxury amenities for the perfect stay.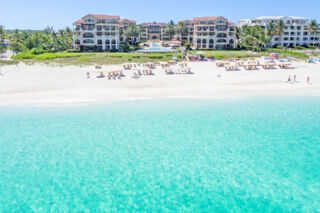 The Somerset is a contemporary luxury hotel on Grace Bay Beach. This accommodation features expansive and beautifully furnished villa suites, with one, two, three, and five-bedroom options.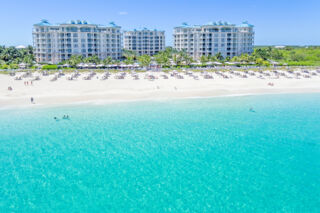 The expansive and luxurious Seven Stars is located on central Grace Bay Beach and features 115 exclusive suites. In addition to the spectacular beach, there's a beautiful mosaic pool, two gourmet restaurants, and a full-featured spa.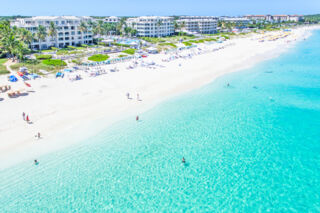 The Palms Turks and Caicos is an exquisite 72-suite property located directly on a prime stretch of Grace Bay Beach. Choose from one, two, and three-bedroom units. This premier hotel features two restaurants, a bar, a spa, and a fitness center.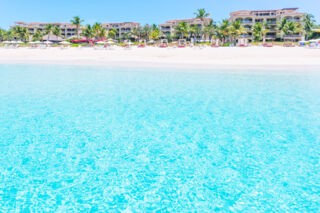 The expansive and exclusive Grace Bay Club is found in the center of the world-famous Grace Bay Beach. This luxury retreat features several pools and restaurants, as well as an impressive array of room and outdoor amenities.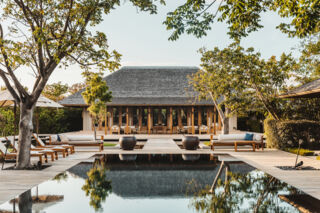 Located on the remote and secluded west coast of Providenciales, the exclusive luxury Amanyara is bordered on one side by Malcolm Roads Beach and on the other by the Frenchman's Creek Nature Reserve. A beautiful beach (albeit a little rocky) and low limestone cliffs front this retreat, and snorkeling reefs can be found nearby.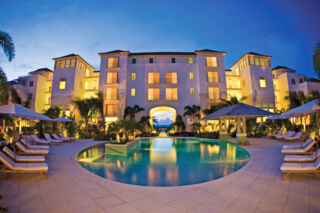 West Bay Club is located on the Bight Beach, within easy walking distance of excellent snorkeling at the Bight Reef.