Learning to Scuba Dive in the Turks and Caicos
Disclaimer: This article is for general information purposes only. Attempts have been made to ensure it's accuracy (as of 2017), but Visit Turks and Caicos Islands and it's editors accept no liability for the use or application of this information.
It may sound like a cliché, but diving truly opens up an entirely new underwater world. You'll experience the unique act of breathing underwater and you'll be able to see an endless stream of fascinating life below the surface.
If you actively swim or snorkel, scuba diving probably won't be difficult for you to learn. Obtaining a basic scuba diving certification is generally rather easy, but it's important to understand the risks and dangers involved.
Providenciales, Grand Turk and Salt Cay all support excellent diving operations, however, Providenciales has by far the greatest selection of dive shops and instructors.
Training and PADI Certification Course
You will need to have completed a certification course and be in possession of your certification card before you are permitted to dive. The foremost certification agency is PADI (Professional Association of Dive Instructors).
We recommend that most begin with the PADI Open Water Diver course. Open water means there are no overhead obstructions (such as diving in caves or a wreck), and you can surface at any time. The open water course normally has 2 in-pool/classroom days and 1-2 days of certifying dives in the ocean (or other body of water). Depending on the intensity of the course, these may be shortened by a day, but expect to spend 3 or 4 full days getting certified.
A common approach to getting scuba diving is to do the PADI eLearning course online, which costs around $100 and take about 8 hours of study. You take the online test and when you pass, you will need to complete the theory (classroom) portion of your training. You can usually book the pool-training at a local scuba club or dive centre, and take the in-pool dives locally. Finally, they give you a referral and you do your final, in the water, qualifying dives whilst on holiday, such as in the Turks and Caicos Islands. This way you don't spend any of your vacation time in a classroom or pool, and, whilst still part of your training, your first dive you get to start 'real' diving. You'll then be certified to dive to 18 metres (60 feet).
Local Dive Companies and Lessons
There are several 5-star PADI Dive Resorts in the country and a few independent instructors.
Most local dive companies offer basic PADI Open Water Diver certification and Nitrox, and some of the larger businesses also teach more advanced courses as well.
Other Courses
There are two other common dive courses available, the PADI Discover Scuba Diving course and the PADI Scuba Diver course.
The Discover Scuba Diving (also known as a DSD or "resort" course) is basically an introductory course, where you learn about the equipment and dive in a pool or very shallow water. This takes about half a day, and you probably won't see much at all. The only real point to take this is to get an idea of what scuba could be like.
The PADI Scuba Diver course is similar to the full PADI Open Water Diver course discussed above, but it only covers about 70% of the topics and you will only be permitted to dive with a PADI Divemaster to depths of 12 metres (40 feet). This means you can complete the course in a shorter amount of time. The Open Water Diver course allows you to dive with just your dive buddy, at depths up to 18 metres (60 feet).
We generally don't recommend either of these two courses. If you're interested in diving, you should plan and take PADI Open Water Diver course. These two courses are simply the 'lite' version of being a real diver, but you still put in most of the work (and most of the expense).
You can learn more about these courses, and sign-up for eLearning, at the PADI website.
Medical Considerations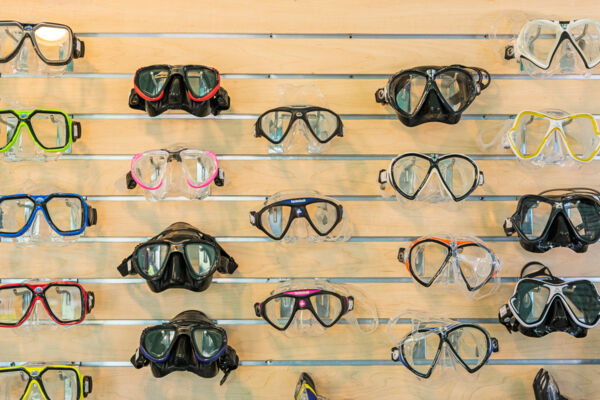 You must be in good average health and reasonably fit (but you don't need to be an athlete) to dive. You shouldn't fly for at least 12 hours (24 hours is better) after diving.
Decompression Sickness (DCS), one of two types of Decompression Illness (DCI) occurs because of increased levels of nitrogen absorption into your body. This is why you can only be underwater for a limited time (depending on your depth), and then must return for a 'surface interval'. Nitrogen narcosis (the bends) is caused by bubbles forming in your tissues.
There is a decompression chamber on Providenciales should you encounter DCI.
Providenciales and Grand Turk have modern hospitals, and there's also a wide selection of private medical practices on Providenciales as well.