Cheshire Hall Plantation
Leeward Highway
,
Providenciales
Our Opinion
Cheshire Hall Plantation was the only plantation on Providenciales to have the full complement of stone structures, including a great house, slave quarters, a kitchen and cotton press bases. Unfortunately, these buildings are in ruins and the surrounding downtown infrastructure doesn't improve the situation. If you plan to visit North and Middle Caicos during your stay, a stop at the better preserved and more extensive Wade's Green Plantation will be a better use of your time and money.
3
star rating for
Cheshire Hall Plantation
by
Visit Turks and Caicos Islands
This quiet site is a window into the historical plantation days of the Caicos Islands. Located on a hilltop near the downtown area, Cheshire Hall is the best preserved set of plantation-era ruins on Providenciales.
History
Encouraged by the success of his brother Wade Stubb's plantation Wade's Green on North Caicos, Thomas Stubb set up Cheshire Hall in the late 1700s to raise cotton. Eventually Thomas Stubbs gave up on Cheshire Hall and sold it to his brother Wade.
Up to the early 1800s, Cheshire Hall was the most important site on Providenciales and at its height was comprised of about five thousand acres and employed hundreds of slaves. After a few decades of mild success, the boll weevil insect, soil degradation and hurricane damage put an end to the cotton industry in the Turks and Caicos.
Preservation of Cheshire Hall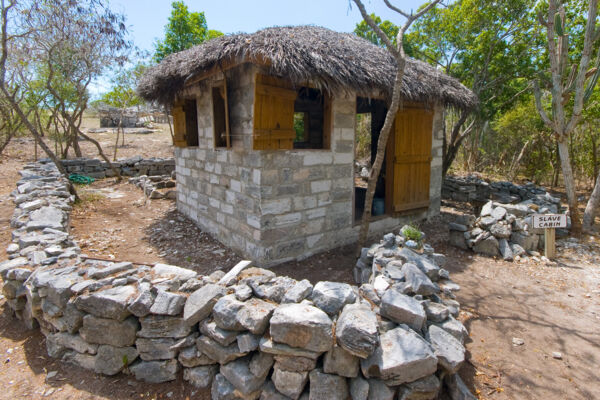 Little has been done to preserve the limited number of historical ruins on Providenciales, and although Cheshire Hall is recognized as the most important of the pre-modern constructs left on the island, it hasn't been immune to vandalism and destruction.
Most of the field walls have been destroyed over time to make way for modern construction projects, and practically all of the outlying features such as burial grounds, extra buildings and field walls have disappeared.
During a project in the 1990s intended to improve access to Cheshire Hall, cut stones that were once part of buildings were used to edge walking paths, instead of simply leaving them or using them to rebuild the walls they fell from. Also at this time the cannon near the great house was relocated to Cheshire Hall from a different site in the country.
Visiting Cheshire Hall Plantation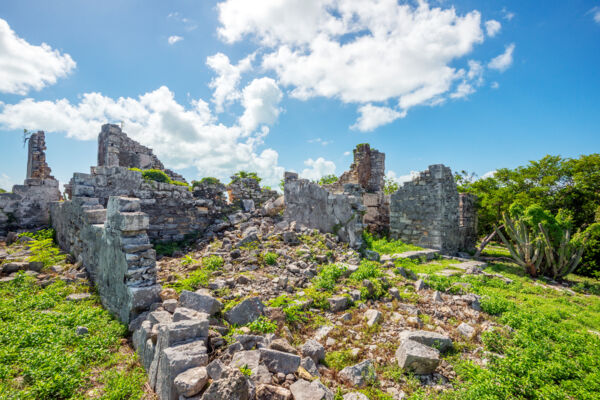 Stone-lined trails wind through about fifteen points of interest, including the Great House, a cotton press base, kitchen, cistern, well and a small modern reproduction of a slave cabin. Most of the buildings are in poor condition, although most ruins are identified by signs with explanations as to their use.
Along the paths, many of the local plants around Cheshire Hall are named and described, along with information on birds and wildlife common to the area.
Admission and Opening Times
The reception and shop at Cheshire Hall is open week days, 8:30 AM to 4:30 PM.
Entrance and 30 minute tour fee is $10. Tours run from 8:30 to 11:30 in the morning and from 2:30 to 4:00 in the afternoon. Admission is free for children under three years of age.
The small shop at the entrance to Cheshire Hall features handmade and authentic Turks and Caicos gifts.
For questions, appointments and large groups, please contact the National Trust at +1 (649) 941-5710. Tour may be arranged on Saturdays by appointment.
Map & Location
General information for the Leeward Highway area
Leeward Highway is the main motorway on Providenciales, and runs from the Downtown and airport area to the east end of the island. Many of the island's larger stores and businesses are located along this highway.
Map
Last reviewed by an editor on 9 June 2017.